By Heather Asiyanbi
April 28, 2014
2423 Views
No comments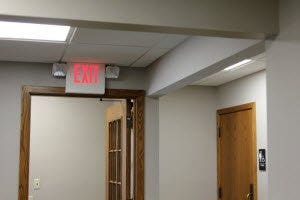 E-conolight's huge selection of exit and emergency lighting gives shoppers a variety of quality choices that come with industry-standard features and the long-lasting bright light customers have come to expect.
Exit signs have bright LED letters in either red or green and can be used in either a single- or double-face configuration. Housings are constructed of injection-molded, flame retardant ABS white virgin plastic, are sealed and include a virtually maintenance-free lead-calcium battery that provides 90 minutes of emergency operation. Signs are wall mountable and include a canopy for top mounting.
Emergency lights are conveniently equipped with two, 180-degree adjustable T5 wedge base lighting heads at just 6 volts and 5.4 watts each.
Exit and emergency lights offered by e-conolight can be used in indoor commercial, retail, or industrial applications. Browse the full selection of exit and emergency lighting at e-conolight.com/eande.
By Heather Asiyanbi
April 21, 2014
2431 Views
No comments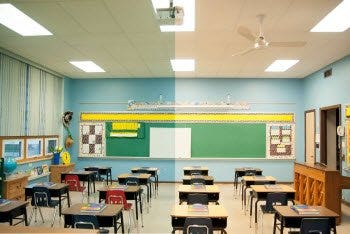 Students in Rachel Nemitz's 2nd grade class at Wisconsin Lutheran School in Racine, WI, noticed immediately there was something different about their classroom when they reported for the first day of school last fall.
"They looked up and said the room was so bright," Nemitz remembers.
Leaders of Wisconsin Lutheran last summer swapped out 1-for-1 existing T12 linear fluorescent fixtures for 2x4 LED lay-in troffers offered by e-conolight. Nemitz said the difference in the quality of light is what makes her appreciate the new fixtures.
"With the new LEDs we have bright light without the glare we had before," she added. "I really notice the difference when I'm at my desk grading papers."
Principal Paul Patterson also likes the way the troffers deliver warm, even light throughout the classroom.
"The light is brighter but also softer and not as institutional," he said. "There is definitely a better mood in the room."
Another positive factor associated with the LED troffers is that they're silent instead of giving off a low-level hum that can come from traditional lighting fixtures. For students with distraction issues, this is a nice bonus.
"Having less background noise for students who struggle with distraction is very helpful," Nemitz noted.
Nemitz's classroom is the first of what Patterson hopes will eventually be the whole school, budget permitting.
"We would love to afford doing the whole school right away," he stated. "Old ballasts are at the end of their lives so we're working additional LED fixtures into the budget."
Read more about how Wisconsin Lutheran is saving energy costs with LED lay-in troffers by clicking here.
By Heather Asiyanbi
April 14, 2014
2152 Views
No comments
E-conolight offers a five-year warranty on fixtures and electrical components; tiered pricing, so buying more is saving more; specular reflectors that increase flexibility; and factory-installed lamps that save time in the field.
Standard features include :
·

High-efficiency MIRO 4™ specular reflector for medium distribution

·

White-painted reflector for wide distribution

·

Lamps are 32W premium GE® lamps

·

120-277V instant start GE® UltraMax® High Efficiency ballast

·

Two wire-form hangers for mounting
6-lamp linear fluorescent lighting with specular reflectors are comparable to 400W PSMH high bay, and those with white reflectors can replace 400W PSMH low bay. Typical mounting height is between 25 and 45 feet for T5HO lamps and between 15 and 35 feet for T8 lamps, depending on the reflector.
All T5HO and T8 lamps are TCLP compliant.
6-lamp linear fluorescents start at $125.90 but can be as low as $82.90.