Posts tagged 'fluorescent linears'
RSS Feed
By Heather Asiyanbi
April 14, 2014
2152 Views
No comments
E-conolight offers a five-year warranty on fixtures and electrical components; tiered pricing, so buying more is saving more; specular reflectors that increase flexibility; and factory-installed lamps that save time in the field.
Standard features include :
·

High-efficiency MIRO 4™ specular reflector for medium distribution

·

White-painted reflector for wide distribution

·

Lamps are 32W premium GE® lamps

·

120-277V instant start GE® UltraMax® High Efficiency ballast

·

Two wire-form hangers for mounting
6-lamp linear fluorescent lighting with specular reflectors are comparable to 400W PSMH high bay, and those with white reflectors can replace 400W PSMH low bay. Typical mounting height is between 25 and 45 feet for T5HO lamps and between 15 and 35 feet for T8 lamps, depending on the reflector.
All T5HO and T8 lamps are TCLP compliant.
6-lamp linear fluorescents start at $125.90 but can be as low as $82.90.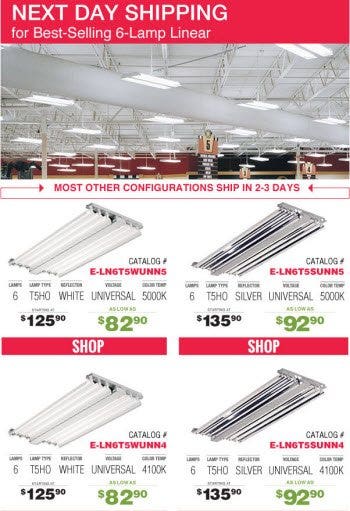 By Heather Asiyanbi
April 8, 2014
2471 Views
No comments
Utility customers in Connecticut who upgrade their lighting to more energy efficient fixtures can reap rewards on both their energy bills and through rebate incentives.

Connecticut Light & Power and United Illuminating both offer significant rebates for reducing wattages by at least 10 percent. Taking advantage of this program is as easy as filling out a form.

The form and instructions are easily accessible through an online PDF that can be filled out on a computer and then printed. UI customers should take note that an additional UI Substitute W9 is required and can be found at www.uinet.com/hvac.

Section I: Customer Facility Information is the project information, where you fill in your customer's information. Every box must be filled out in order for the rebate form to receive consideration.
Section II: Enter your information, filling out every box with the applicable information.
Section III: Check the appropriate box for where the rebate/credit should go; to your customer; to you; or applied as a credit on your customer's electric account.
Section IV: One side of the table is dedicated to your project's current lighting scheme while the other side of the table needs to include all available information about the new lighting scheme you're installing. The measure code can be found on page 3 of the form. THERE MUST BE AT LEAST A 10% WATTAGE REDUCTION FOR EACH FIXTURE FOR THE REBATE TO APPLY.

In addition to the rebate form, contractors/customers need to mail a copy of the invoice for the project as well as their e-conolight receipt. The rebate form requires a customer's signature (this could be either the contractor or the customer's if they are placing the order themselves).
By Heather Asiyanbi
March 31, 2014
123919 Views
No comments
Contractors interested in creating accurate bid packages can take advantage of free applications assistance with the Lighting Layout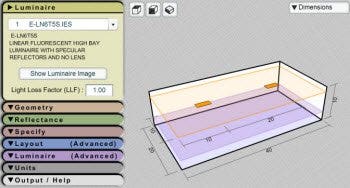 Tool offered at e-conolight.com.
This new, web-based tool eliminates hours of lighting calculations – and the potential for mistakes – by doing the math for customers. The lighting layout tool works for both large indoor warehouse or industrial spaces and outdoor parking area lighting upgrade projects.
For indoor applications, the lighting calculator allows customers to control the size of the room, including the ceiling height; enter the desired foot candles; choose the layout of rows, columns and wall spacing; and provides a printed detailed summary at the end.
Customers can configure the right light for an outdoor application – also with a printed summary – by defining how they envision laying out rows, mounting height, orientation and tilt; adding new fixtures or changing location by clicking and dragging; and setting the preferred units such as "feet" and "foot candle."
First time visitors will appreciate the attention to detail and are encouraged to click on every input section from top to bottom. Once customers become familiar with the operation of the lighting layout tool, steps can be skipped according to the needs of the project for results in seconds.