Posts tagged 'LED cable lighting'
RSS Feed
By Heather Asiyanbi
August 15, 2014
2431 Views
No comments
Patrons of Café Ole Restaurant & Cantina in Boise, ID, are enjoying their food and drinks in a great new atmosphere thanks to the installation of LED cable strip lighting offered by e-conolight.
Electrician Justin Metcalf, of Full Spectrum Services, completed the installation earlier this summer, and strategically placed the LEDs in alcoves behind the bar to highlight top-shelf liquor and underneath the bar top for ambient lighting.
"We installed the LED strip lighting behind the bar to light up the products and under the bar for a great accent," he said. "(The fixtures) were easy to install and the customers are happy."
Café Ole, Metcalf explained, was interested in a new look for their remodeled bar area.
He said he likes using the LED cable strips because the cables are user-friendly. Metcalf appreciates the flexibility of being able to cut the LEDs into different lengths to fit the application and the ability to place connectors where they're needed.
"I've had good luck using the LED cable lights," Metcalf added. "They're a great size, and it's helpful to be able to cut the cable to fit and put connectors where I need them."
By Heather Asiyanbi
March 14, 2014
2453 Views
No comments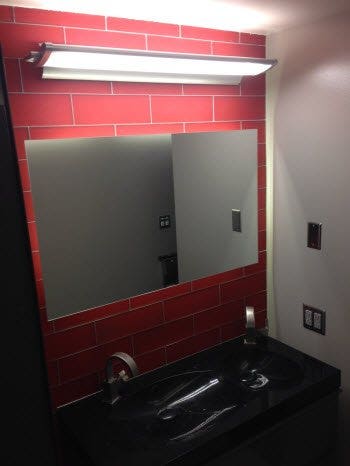 During a recent hotel stay, Marco Desrochers admired the backlit mirror in the bathroom in his room and thought about how nice it would look in his bathroom back home.
But, the prices he found at various showrooms left him shaking his head, so he did what any DIYer would do: he made his own.
Desrochers was in the middle of a bath remodel so the timing was perfect. He used two strips of LED cable lighting offered by e-conolight and wrapped them around 2x4 studs. For the power supply, Derochers said he ran a pipe in the wall to keep the power supplies under the sink.
"I wanted the power supplies under the sink and out of sight," he said. "Once that was in place, we installed the Sheetrock™ and attached the mirror with industrial grade Velcro® and epoxy."
Each LED light strip has a purpose; one brightens to 100 percent when the bathroom lights are on while the second is connected to a dimmer set to 20 percent "for a soft, night light when the main lights are off," Desrochers added.