By Heather Asiyanbi
May 20, 2014
4590 Views
No comments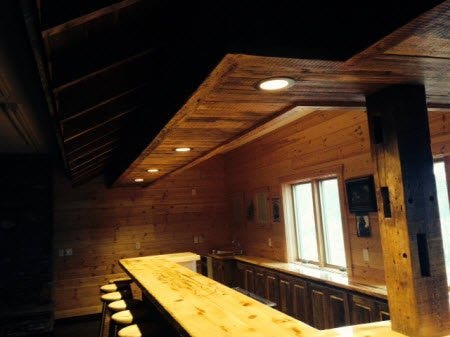 The owners of a vacation home in Hayward, WI, realized they needed more space to house visiting family. They turned part of the ground level of their 4,800 square foot garage into lodging and entertainment space using LED recessed retrofit kits offered by e-conolight to provide much-needed illumination.
Rick Christian of RC Electric did the work, and he said the homeowners wanted reliable fixtures in the soffit above the new bar inside the space that are also dimmable and to light up an exterior walkway. Between the two areas, Christian said he installed 18 units, and the homeowners are pleased with the result.
"The fixtures above the bar really make it look sharp," he said. "Outside, there's the right amount of light, and it doesn't spill out into the yard."
Christian said the new space is pretty spectacular; a new stone fireplace replaced an overhead garage door, the floors are heated concrete, and the bar was constructed of reclaimed wood from an old barn.
"Using dimmable LED fixtures means (the homeowners) can customize the look of the room for different occasions," he added.
Using long-lasting, sealed units for the exterior soffit was important to reduce the need for maintenance and to eliminate changing light bulbs.
"You really can't go wrong with these fixtures," Christian confirmed. "You don't have to clean bugs out of them and they'll last for years."
By Heather Asiyanbi
March 24, 2014
2341 Views
No comments
Upgrading existing can lighting is a snap with LED 5" and 6" recessed retrofit kits.
Valade Electric & Green Energy installed the kits offered by e-conlight for a customer in Indiana.
"The customer loves them," said company owner Alan Valade. "They're efficient at a great price."