Posts tagged 'LED directionals'
RSS Feed
By Heather Asiyanbi
May 23, 2014
69973 Views
No comments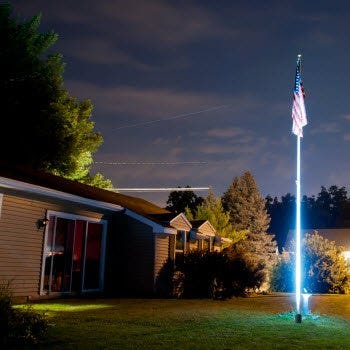 American flags dot residential neighborhoods and commercial corridors across the country, and e-conolight offers a variety of LED floodlights and spotlights to show off Old Glory no matter if it's day or night.
Lighting the U.S. flag is one of the most common uses for floodlights, but there are guidelines. The U.S. Flag Code outlines, for example, the rules for the Pledge of Allegiance, how to show respect for the flag, and the display and use of the flag by civilians. The code went into effect in 1923, but was amended in 1942 under President Franklin D. Roosevelt to include rules for citizens outside of the military and government.
According to the code, the flag should really only be flown between sunrise and sunset on stationary flagstaffs or poles. If the flag is displayed 24 hours a day, it must be lit at all times no matter the direction of the wind.
Benefits of LED Directional Floodlights & LED Spotlights

• Appropriate outdoor fixtures for lighting the American flag after dark
• Provide the bright light required by the flag code
• Half the power consumption of most PSMH and HID floodlights for greater energy cost savings
Choosing Between LED Directional Floodlights & LED Spotlights
There are several important factors that go into lighting a flag, including surrounding ambient light, flagpole height and beam spread.
Ambient light is the general overall light level in any given area. In a well-lit city or neighborhood (high ambient light), a high-output LED Floodlight should be used to counter brighter surroundings. However, in a country or rural setting, with less ambient light, a lower-output LED Floodlight will be equally effective.
Just as ambient light is related to light output, there is a similar correlation between flagpole height, beam spread and light output. Check out our basic guidelines below:
15ʹ poles require a spot beam spread (20˚) and approximately 1600 lumens
20ʹ poles require a spot beam spread (35˚-60˚) and 7200-7700 lumens
25ʹ poles require a spot beam spread (35˚-60˚) and 10,800-27,400 lumens
Additional Considerations when Choosing LED Flagpole Lighting

LED lighting provides better color quality, for brighter, truer colors
In most residential applications, a single LED Floodlight will be sufficient
Flagpole height should be approximately 3 to 4 times the length of the flag
Fixtures should be installed approximately 2ʹ to 5ʹ from the base of the flagpole
For the best LED Floodlights & Spotlights to light your flagpole:

By Heather Asiyanbi
April 4, 2014
2357 Views
No comments
Neighbors who live in the new Charleston subdivision in Boise, ID, receive a warm welcome every time they come home. Signs at each of the five entrances are illuminated by LED directional floodlights offered by e-conolight.
Each entrance to the subdivision features a sign with surrounding landscaping and two LED directional floodlights angled just right to light up the signs at night.
"There are multiple signs with the LEDs," lead electrician Justin Metcalf, of Full Spectrum Services, said. "I'm really pleased with the result."
Metcalf said he also appreciates the design of the fixtures because of how quickly they were installed.
"These lights were very easy to install, and speed is important because saving time means saving money for our customer," he added.
But, most importantly, Metcalf said the quality of the light is just what the project needs.
"The light is great," he continued. "The LEDs light up the signs spectacularly."