By Heather Asiyanbi
August 22, 2014
2496 Views
No comments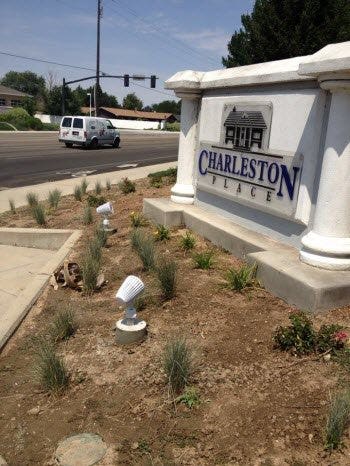 Safety, security and highlighting beautiful landscape come together in a new premium LED directional floodlight now offered by e-conolight.
The new LED directional floodlight offers up to 40 percent brighter light with 2800 lumens at just 36 watts so energy cost savings remain significantly higher than a comparable 100W PSMH. With a lifetime of 50,000 hours at L70 and a die-cast aluminum housing with a durable polyester powder coat finish in either textured black or smooth white, this LED directional offers long-term peace of mind about its operation and its construction.
Other details customers will appreciate include:
Choose from 20-degree spot or 40-degree flood configurations
Tempered glass lens, thermal shock and impact resistant
Universal voltage (120V- 227V)
1/2-inch NPS adjustable fitter
Additionally, these fixtures feature CREE LEDs inside, are UL listed for wet locations and have a five-year limited warranty.
By Heather Asiyanbi
June 12, 2014
2429 Views
No comments
Creating more secure building perimeters and parking areas can be cost-efficient without sacrificing bright light.
Large premium LED floodlights offered by e-conolight feature Cree LEDs for up to 50,000 hours of virtually maintenance-free operation in four different color temperatures; 4000K and 4100K (neutral white) or 5000K and 5700K (cool white).
Wattages well below legacy lighting like metal halide fixtures - 144W and 152W compared to 400W and 250W, respectively – mean significant energy cost savings. More, delivered lumens of up to 11,500 provide light that is up to 60 percent brighter.
Yogi Patel, a motel owner in Lodi, CA, is saving thousands of dollars after he switched existing 1000W metal halide floodlights for 152W LED floodlights from e-conolight. The original lights ran for 12 hours a day and used 54,000 watts. His new LEDs use only 7,752 watts for those same 12 hours.
"The savings were immediate, and I like the bright light my new LED lights give off," he said. "My parking lot is much brighter and looks better."
Premium LED floodlights and spotlights are constructed of durable low-copper, die-cast aluminum with a dark bronze polyester powder-coat finish. The tempered glass lens is thermal shock and impact resistant. An optional photocell offers hands-free operation after installation in the field.
E-conolight offers large premium LED floodlights and spotlights starting at just $229.90.
By Heather Asiyanbi
May 22, 2014
2329 Views
No comments
Customers looking to replace their small HID floodlights with an LED fixture now have a perfectly sized option.
The LED compact floodlight offered by e-conolight mirrors the traditional form factor of small HID floodlights but delivers brighter light at just 25 percent of the energy. Users can feel comfortable knowing they don't have to redesign their nighttime landscaping and security lighting schemes to incorporate the new LED compact floodlight.
This new LED fixture is comparable to a 100W PSMH lamp but only uses 30W of energy. Because it's available in either dark bronze or white durable polyester powder-coat finish, the LED compact floodlight will blend in with almost any outdoor landscaping design. Customers can also choose their color temperature; a neutral white light (4000K) or a crisp cool white (5000K).
Installation is a breeze with the ½-inch adjustable fitter included with every fixture; it just attaches to a junction box cover with the supplied locknut so the floodlight can be added to almost any outdoor location.
The new LED compact floodlight includes a tempered glass lens that is thermal shock and impact resistant; is UL listed for wet locations; features Cree LEDs inside; and a three-year limited warranty.