By Heather Asiyanbi
July 21, 2014
2820 Views
No comments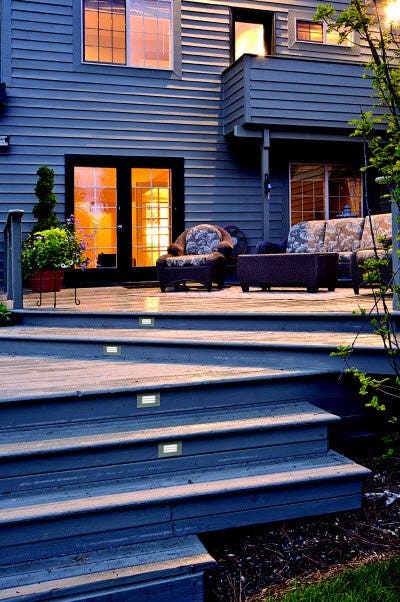 Lighting stairs and hallways both inside and out doesn't have to be challenge. The new LED step light offered by e-conolight is bright light in a small package to keep steps sure even in the darkest hours of the night.
The new LED step light is stylish and rugged so it's perfect for both indoor and outdoor use. Install the fixtures in the rise of outdoor stairways to provide the right amount of light to avoid stumbles. The new step light fits nicely into single gang boxes/outlet boxes so hallways are lit just enough to avoid stubbed toes.
A low profile and versatile installation either vertically or horizontally give homeowners the flexibility to fit the LED step light almost anywhere they need ambient lighting. More, the aluminum faceplates are paintable and louvered so the fixture fades into the background and direcst the light beam down, where it's needed.
The new LED step light is non-dimmable, includes a 4-port push in connector, is UL listed for wet locations and includes a limited one-year warranty.
By Heather Asiyanbi
June 4, 2014
2288 Views
No comments

Choosing the right lighting for worship spaces is critical for creating the appropriate mood for worship, prayer, and celebration. E-conolight offers a full line of LED fixtures to highlight important features outside while enhancing the right mood inside.
Inside, dimmable fixtures like LED recessed retrofit kits and track lights provide bright light for celebrations as well as low light for occasions when lighting needs to be a little more subtle.
Outside, LED floodlights and spotlights highlight significant architectural details while wall packs, canopy lights and parking fixtures keep walkways and parking lots safe.
Even in places of worship, exit and emergency lighting play an important role. E-conolight features several different models with the reliably bright light congregants expect when seconds might count.
New LED step lights can be recessed into stair risers – both indoor and out – to make steps more secure, and they light up a hallway just enough to avoid relying only on overhead light. Outside, the LED step light adds safety and security without sacrificing style or themes.