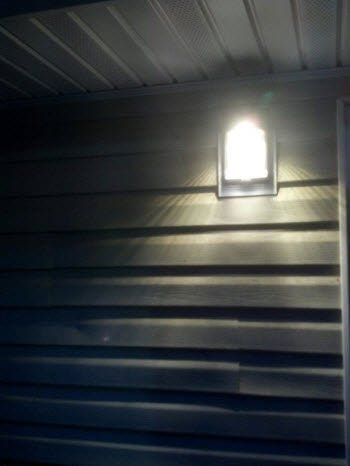 When the trustees at Fairview Baptist Church in Jonesboro, GA, needed to replace the light at the back door of their building, they turned to e-conolight for a 14W LED Wall Mount.
"We really like it," said Trustee Terry Vining. "This light replaced an old, incandescent light and it is by far the better choice."
What Vining said he likes so much about the LED wall mount offered by e-conolight is that he won't have to change the bulb anytime soon since it has up to 25,000 hours of virtually maintenance-free operation.
Additionally, the light includes a built-in photocell so congregants don't need to worry about turning the light on and off each day, and it has a low profile.
"We needed something that would give us the light we needed without being too big," Vining added.
The 14W LED Wall Mount measures just 9" x 5-3/4" x 4" and weighs only 2.4 pounds. At 600 lumens and 80 CRI, light is bright and colors stay true.
Fairview Baptist also features exit lighting purchased from e-conolight, and Vining said that as the church's supply of compact fluorescent lamps burn out, he expects to replace them with LED fixtures offered by e-conlight.
"I will definitely consider this product and other LED fixtures offered by e-conolight when the need arises," he said.
By Heather Asiyanbi
April 25, 2014
2430 Views
No comments
When Yogi Patel bought his motel property in Lodi, CA, in Fall 2013, he was ready to switch out the 1,000W parking lot lights to LED fixtures, but he worried about where to find a cost-effective solution.
"I looked around, and other companies were charging $600 or more," he said.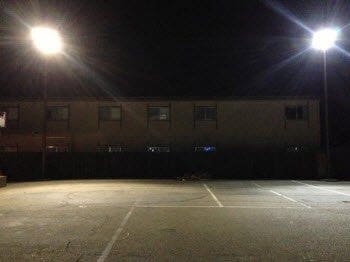 When his contractor recommended e-conolight, Patel did some research and was impressed with both the selection and the prices.
"E-conolight is a very low price compared to others I found. For less than $300 you can't go wrong," he said. "The quality of the light is exactly what I needed, and they work perfectly."
Patel purchased 52 40-degree 7,000 lumen, 152W LED floodlights offered by e-conolight for the motel parking lot and says he saw savings – in both energy and his electric bill – immediately. The original lights ran for 12 hours a day and were using 54,000 watts. His new LED floodlights use only 7,752 watts for those same 12 hours, which netted Patel an $11,500 rebate check from his utility company.
More, Patel also purchased three, 20-degree LED spotlights to wash the roof of the motel and is in the process of replacing staircase fixtures with LED wall mounts, also offered by e-conolight.
"I have put in five LED wall mounts so far, and there are nine more to go," he added. "As those lights go out, I will replace them with the same wall mounts."
Patel said he plans to keep converting his legacy fixtures with LED lighting because they're the future of lighting.
"LEDs are the generation people will go to," he stated. "And e-conolight will be my first stop going forward."
By Heather Asiyanbi
April 16, 2014
2279 Views
No comments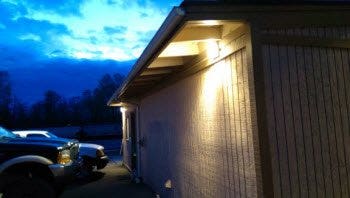 Employees at Washington Marine Cleaning in Everett, WA, have a brighter parking area and more security with the addition of 600 lumen, 14W LED wall mounts offered by e-conolight.
"We were in such need of outside lighting," said Gary Baldwin, a company manager. "Now the security outside the building is much better."
Washington Marine Cleaning provides cleaning services primarily for commercial marine and industrial applications. Crews often arrive to work before the sun has fully risen and leave after dark so having reliable lighting for greater safety and security was a priority.
Baldwin said he likes the wall mounted lights because of the way they broadcast light, the photocells work great and they look good, too.
"The lights do what they say they're going to do in the descriptions," he added. "What more can you ask?"
In addition to saving Washington Marine operation costs, the LED wall mounts also saved some money up front by being less expensive than other brands listed with the local electric utility's rebate program.
"Even without the rebate, ordering from e-conolight was the better way to go," Baldwin confirmed.