By Heather Asiyanbi
June 12, 2014
2429 Views
No comments
Creating more secure building perimeters and parking areas can be cost-efficient without sacrificing bright light.
Large premium LED floodlights offered by e-conolight feature Cree LEDs for up to 50,000 hours of virtually maintenance-free operation in four different color temperatures; 4000K and 4100K (neutral white) or 5000K and 5700K (cool white).
Wattages well below legacy lighting like metal halide fixtures - 144W and 152W compared to 400W and 250W, respectively – mean significant energy cost savings. More, delivered lumens of up to 11,500 provide light that is up to 60 percent brighter.
Yogi Patel, a motel owner in Lodi, CA, is saving thousands of dollars after he switched existing 1000W metal halide floodlights for 152W LED floodlights from e-conolight. The original lights ran for 12 hours a day and used 54,000 watts. His new LEDs use only 7,752 watts for those same 12 hours.
"The savings were immediate, and I like the bright light my new LED lights give off," he said. "My parking lot is much brighter and looks better."
Premium LED floodlights and spotlights are constructed of durable low-copper, die-cast aluminum with a dark bronze polyester powder-coat finish. The tempered glass lens is thermal shock and impact resistant. An optional photocell offers hands-free operation after installation in the field.
E-conolight offers large premium LED floodlights and spotlights starting at just $229.90.
By Heather Asiyanbi
April 25, 2014
2430 Views
No comments
When Yogi Patel bought his motel property in Lodi, CA, in Fall 2013, he was ready to switch out the 1,000W parking lot lights to LED fixtures, but he worried about where to find a cost-effective solution.
"I looked around, and other companies were charging $600 or more," he said.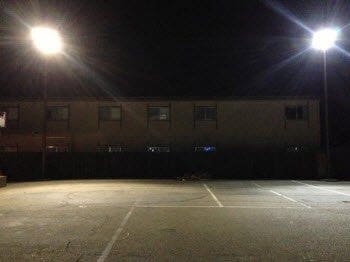 When his contractor recommended e-conolight, Patel did some research and was impressed with both the selection and the prices.
"E-conolight is a very low price compared to others I found. For less than $300 you can't go wrong," he said. "The quality of the light is exactly what I needed, and they work perfectly."
Patel purchased 52 40-degree 7,000 lumen, 152W LED floodlights offered by e-conolight for the motel parking lot and says he saw savings – in both energy and his electric bill – immediately. The original lights ran for 12 hours a day and were using 54,000 watts. His new LED floodlights use only 7,752 watts for those same 12 hours, which netted Patel an $11,500 rebate check from his utility company.
More, Patel also purchased three, 20-degree LED spotlights to wash the roof of the motel and is in the process of replacing staircase fixtures with LED wall mounts, also offered by e-conolight.
"I have put in five LED wall mounts so far, and there are nine more to go," he added. "As those lights go out, I will replace them with the same wall mounts."
Patel said he plans to keep converting his legacy fixtures with LED lighting because they're the future of lighting.
"LEDs are the generation people will go to," he stated. "And e-conolight will be my first stop going forward."