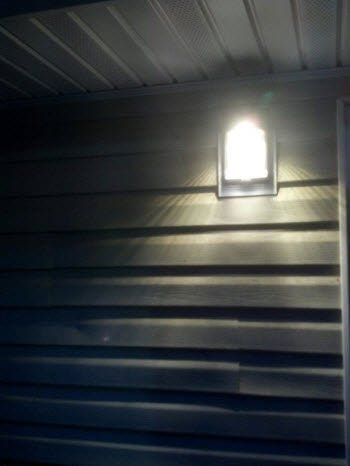 When the trustees at Fairview Baptist Church in Jonesboro, GA, needed to replace the light at the back door of their building, they turned to e-conolight for a 14W LED Wall Mount.
"We really like it," said Trustee Terry Vining. "This light replaced an old, incandescent light and it is by far the better choice."
What Vining said he likes so much about the LED wall mount offered by e-conolight is that he won't have to change the bulb anytime soon since it has up to 25,000 hours of virtually maintenance-free operation.
Additionally, the light includes a built-in photocell so congregants don't need to worry about turning the light on and off each day, and it has a low profile.
"We needed something that would give us the light we needed without being too big," Vining added.
The 14W LED Wall Mount measures just 9" x 5-3/4" x 4" and weighs only 2.4 pounds. At 600 lumens and 80 CRI, light is bright and colors stay true.
Fairview Baptist also features exit lighting purchased from e-conolight, and Vining said that as the church's supply of compact fluorescent lamps burn out, he expects to replace them with LED fixtures offered by e-conlight.
"I will definitely consider this product and other LED fixtures offered by e-conolight when the need arises," he said.
By Heather Asiyanbi
March 14, 2014
3256 Views
No comments
The entrance to a Union, SC, church is brighter and safer now that an LED dusk-to-dawn light fixture has been installed.
Church member and electrician Dennis Shetley chose the light and performed the installation.
"(The light) was very easy to mount and wire up," he wrote on the e-conolight website.
Offered by e-conolight, the LED dusk-to-dawn security kit has a durable, die-cast aluminum housing and a polyester powder coat in a grey finish for extra corrosion protection. A twist-lock photocell and mounting arm are included so once the light is wired and mounted at the perfect height, it will turn on and off automatically.
Shetley said the dusk-to-dawn lighting fixture is being used in a high-traffic area of his church that was dim and unsafe.
"Now the area is very bright and safe," he added. "(I) mounted it about 18-feet high from the ground … I would buy this product again if I need to. (It was) worth every penny."