4" LED Recessed is Bright Light in the Small Package Customers Need
Upgrading to LED recessed lighting is a lot easier now that e-conolight offers a 4-inch version of its popular LED recessed retrofit kits.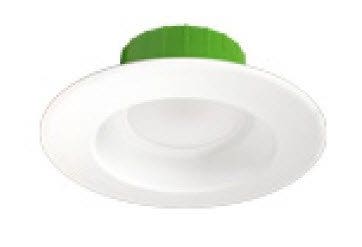 The new 4-inch LED recessed light is available with 600 lumens and 2700K or 630 lumens and 3000K. This fixture uses just 9 watts and lasts for an estimated 60,000 hours of use, making this one of the brightest, most energy efficient LED recessed retrofit kits available.
If the 4" LED recessed fixture is on for an average of five hours a day, each fixture should last for over 32 years! Not only does the 4" LED recessed light lower electricity bills, it also saves customers money because they won't have to purchase replacement lamps.
The 4-inch LED retrofit sports a one-piece design and sturdy construction with an integrated trim so installation is a snap:
Turn off power to the fixture
Plug the connector from the LED to the connector on the Edison-style socket adaptors
The push-in retention clips mean users can push the LED kit flush against the ceiling
Turn on power to the fixture
Ideal for both residential and commercial applications, the 4-inch LED recessed retrofit is rated for both retrofit and new construction projects. It is suitable for IC-rated recessed housings as well and is compatible with most dimmers to 10 percent.
The new LED 4" recessed retrofit retails at e-conolight.com for just $26.99.