LED Wall Mounts Shed Light on Parking Area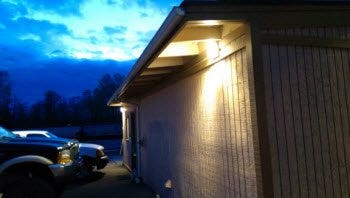 Employees at Washington Marine Cleaning in Everett, WA, have a brighter parking area and more security with the addition of 600 lumen, 14W LED wall mounts offered by e-conolight.
"We were in such need of outside lighting," said Gary Baldwin, a company manager. "Now the security outside the building is much better."
Washington Marine Cleaning provides cleaning services primarily for commercial marine and industrial applications. Crews often arrive to work before the sun has fully risen and leave after dark so having reliable lighting for greater safety and security was a priority.
Baldwin said he likes the wall mounted lights because of the way they broadcast light, the photocells work great and they look good, too.
"The lights do what they say they're going to do in the descriptions," he added. "What more can you ask?"
In addition to saving Washington Marine operation costs, the LED wall mounts also saved some money up front by being less expensive than other brands listed with the local electric utility's rebate program.
"Even without the rebate, ordering from e-conolight was the better way to go," Baldwin confirmed.