Lighting Parts and Accessories Help Get the Job Done
Lighting fixture parts are available through e-conolight.com for everything from linear fluorescents to track lighting. Whether you have wall packs or floodlights, e-conolight has the lighting accessories you need.
There are a number of accessories for linear fluorescent fixtures; cords with straight blade and twist-lock plugs to accommodate different wiring receptacles, wire guards to protect lighting tubes, lenses for more diffused light distribution, motion sensors for energy cost savings, and emergency ballasts that provide up to 90 minutes of light in case of a power outage.
A customer from JW Shaw Electric in West Bloomfield, MI, left a great review on e-conolight.com about mounting cables, which are most often used to hang linear fluorescent fixtures.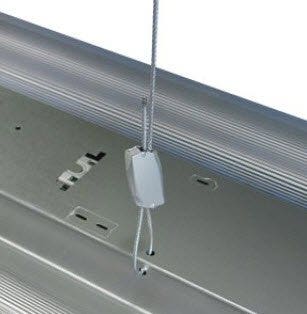 "These aircraft cables/supports are great," he wrote. "Quick install and adjustments; (this is) a must-use product for hanging light fixtures."
Track lighting also features a number of handy parts and accessories; shrouds in various sizes to better direct light, collars that fit a variety of fixtures to conceal the neck of the lamp, and flush tile T-bar attachment clips in two convenient sizes to accommodate either dropped or flush-tile ceilings.
Popular outdoor lighting fixtures like wall packs and floodlights – both LED and traditional - can be fitted with photocells for greater energy cost savings and hands-free operation.
E-conolight also carries mounting boxes with a built-in photocell for HID wall packs and wire guards to help protect lamps from damage. HID floodlights have several mounting options – arms, slip fitters and adjustable U-brackets – as well as wire guards and an internal backlight shield for better control over for backlight cut-off for some 16-inch housings.
Installing fixtures offered by e-conolight to create the lighting scheme that works best for your application is even easier and more convenient with our full list of parts and accessories.