From preschools to universities, light quality has both a seen and unseen impact on students (and teachers) in classrooms across the nation. On one hand, LED lighting has been shown to help increase reading comprehension and accuracy, as well as improve student work habits and their ability to learn. In addition to its effects on learning, crisp outdoor LED lighting can help make students and faculty feel safer on school property, while its longevity and reliability reduce energy and maintenance costs for schools, allowing funds to be spent on more direct educational initiatives. From classes to gymnasiums to exteriors, LED lighting has a lot to contribute to educational facilities.
Why is lighting important in schools?
Installing LED lighting in schools can help students concentrate and perform better in school. With the correct lighting, the possibilities to boost student productivity are endless. LED lighting can help to create a better learning space, which can assist in improving concentration and behavior in children.
Not only does light have an impact on students' concentration and learning ability, but it also affects their mental health and mood. For example, bright lighting can be helpful in the winter months to combat Seasonal Affective Disorder (SAD), which typically occurs when students have little exposure to sunlight throughout the day.
What types of lighting are used in schools?
Flat Panel Lights
Flat panel lights are an excellent option for illuminating classrooms, conference rooms, and other indoor spaces on campus. Flat panel LED light fixtures provide bright and uniform lighting without producing any harsh glare or shadows. These lights are easy to install, and their polished design allows them to blend seamlessly into the surrounding architecture. Panel lighting fixtures with energy-efficient LED technology are an environmentally friendly and cost-effective lighting solution for schools.
Downlights
Downlights are versatile lighting solutions perfect for a variety of areas in schools, such as hallways, restrooms, and administrative offices. These fixtures are easy to install right into the ceiling, and their downward-facing design provides focused lighting that improves visibility and makes a room appear more spacious. LED downlights come in an array of sizes and shapes to fit numerous applications and are fully adjustable, meaning they can provide any desired lighting intensity or color temperature.
Bollards
Bollards are outdoor lighting fixtures that enhance security and prevent accidents on school campuses. Bollards are typically found along walkways, parking lots, and building entrances to illuminate paths and deter intruders and criminals. LED bollard lighting comes in a variety of designs, sizes, and colorways, enabling schools to choose one that complements the surrounding architecture and landscape. Additionally, bollards that feature motion sensors can help reduce energy usage and operating costs.
Area Lights
LED area lights are lighting solutions that are great for illuminating large outdoor spaces such as fields, parking lots, and courtyards. Area light fixtures provide bright and uniform lighting over expansive areas and come in different wattages and color temperatures. Schools have a variety of mounting options to choose from, including poles, walls, and ceilings, to ensure optimal lighting in any location. LED technology's long lifespan and energy efficiency make area lights a cost-effective and eco-friendly alternative to traditional lighting methods.
Indoor vs Outdoor School Lighting
Proper indoor lighting is crucial for creating a productive learning environment for students. Quality lighting is necessary for classrooms, study areas, dormitories, and school libraries to ensure that students and faculty can focus. LED lighting in schools can also improve the overall atmosphere and ambiance of the learning space and create a comfortable area for students to collaborate and study. Installing high-quality LED school lighting in places like hallways and stairwells will also help improve safety campus-wide.
In addition to indoor lighting needs, outdoor lighting fixtures play a vital role in providing security to students and staff on campus. Adequate illumination in parking lots, walkways, building facades, and sporting stadiums prevent accidents and deters criminal activity. Proper outdoor lighting can also improve the aesthetics of the campus by accentuating architectural features, landscaping, and outdoor art installations. With the correct outdoor lighting, schools and college campuses can create a safe and inviting atmosphere that fosters community and promotes student engagement beyond the classroom.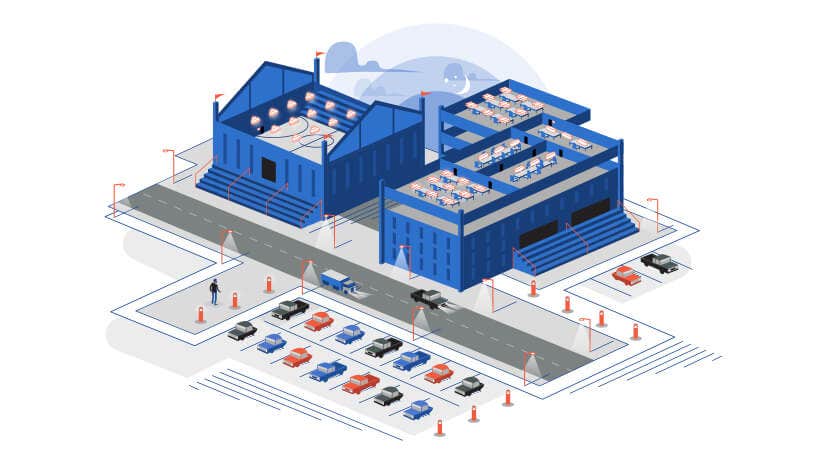 If your browser ain't broke, don't fix it...
You Might want to switch to a newer browser such as Chrome or Firefox if you want to see this page in its true glory.
Ultra-efficient LED downlights in hallways, cafeterias, and bathrooms ensure clear lines of sight that allow students and visitors to move with confidence, all the while boosting mood and energy savings.
Once the late-night sports games or study sessions end, LED parking/area lights promise safe and secure environments for visitors and students, with bright, consistent light in parking lots, parking decks, and outdoor walkways.
Designed for high ceilings, LED high bays eliminate any need for maintenance in gyms, ensuring no surprise interruptions during sports events or presentations, all the while reducing maintenance costs for institutions and taxpayers by up to 70 percent.
LED troffers/flat panels' uniform, crisp white can help improve academic performance in classrooms and dorm rooms, allowing students to read, study, and take notes with ease. Positive attitudes increase, while fatigue and energy costs plummet.
LED bollards light up pathways around buildings and quads, enhancing overall safety by enabling security to better identify faces, license plates, and vehicles
Reliable LED exit and emergency lights above doorways make it easy to identify exit and entry points, especially in the event of a hazard.
Images
LED 5" & 6" Recessed Retrofit Kit