When warehouse lights fail, so do critical operations in 24/7 facilities. This can mean a huge loss in time, productivity, and—of course—money. This is something your industrial client used to think about. You know, before you introduced them to our LED warehouse lighting. Great move, by the way.
All of our LED warehouse lighting fixtures are third-party certified by companies like UL and ETL, which means everything's guaranteed to last years longer than traditional technologies. Relamping? A thing of the past. Your clients will not only save buckets of money, but they'll also no longer need to worry about stocking replacement inventory, freeing up valuable space.
LED warehouse lights cast crisp and even lighting on inventory shelves and exterior pathways, eliminating dark spots, ensuring that loading bays and docks continue without any hiccups, and allowing security to better monitor incoming traffic. Meanwhile, in back-of-house offices, our energy-efficient LED technology increases productivity, while reducing energy costs up to 85%.
What Are the Different Types of Warehouse Lights?
When it comes to warehouse lighting, it's easy to assume that if you are able to see, the overhead lighting is doing what it should. However, as energy efficiency and reducing environmental impact becomes more integrated into regulations across different industries, it's increasingly difficult to find compliant lighting for the warehouse. With so many warehouse lighting options, it can become a daunting task.
High-quality LED warehouse lighting in industrial settings is typically compliant with environmental regulations and delivers substantial energy savings over extended periods. Lighting can also impact how efficiently your operation runs and the overall morale of your staff. Meanwhile, poor lighting from outdated lighting sources can lead to safety hazards and injuries in the workplace. Click on the different lighting options below and browse all the LED warehouse lighting fixtures we offer!
Benefits of LED Warehouse Lights
LED warehouse lights have many benefits, from security to productivity and energy savings over time. Keep reading to learn more about how switching to LED warehouse lighting fixtures can benefit you and your business.
Increased Safety & Productivity
LED warehouse lights make almost any working environment safer. It's important to keep areas like aisles, staircases, catwalks, and other high-traffic areas well-lit to ensure that employees are safe every day they come to work. Keeping tight corners illuminated will help your staff avoid accidents and help them navigate between different locations in the building.
Since LED warehouse lighting fixtures create cool light similar to natural daylight, they are a better choice for working environments. The white light emitted from LED bulbs gives workers more contrast to help them see what they are doing. Workers can identify parts and products without straining their eyes too much. Less eye strain means fewer headaches and fatigue throughout the day, increasing productivity and efficiency.
Energy Efficient
Energy and utility savings are the biggest benefits of using LED warehouse lighting. LEDs consume less energy than older lighting solutions and only require a small percentage of the power used by traditional lighting solutions to deliver ample crisp lighting. Over time, using LED lights in your warehouse can yield significant savings in energy and utility expenses. Property owners working with expansive industrial buildings will quickly see energy savings by replacing numerous fixtures simultaneously.
Warehouse LED lighting also generates less heat, making it easier for property managers to keep their facilities and buildings cooler in the summer. Less energy spent on lighting and air conditioning means more money back in your pocket. For that reason alone, LED lights are a no-brainer.
Simple Installation & Maintenance
LED warehouse lights are easy to install compared to other lighting fixtures. Each unit comes with clear instructions, so your team can quickly and efficiently illuminate the space. The easy installation also means that your warehouse will be out of order for less time. Warehouse LED lights empower managers by giving them easy time and energy savings.
Changing a burnt-out light bulb in an industrial setting can be a challenging task, especially if that bulb is 50 feet over your head and requires a lift. Flat panel LED warehouse lights are great for industrial and commercial spaces because they can last up to 100,000 hours or approximately 11 years. In a warehouse, a longer-lasting light bulb means less maintenance over time.
Increased Durability
Warehouses and industrial settings can be harsh working environments that put a lot of wear and tear on the equipment inside them. That's why LED warehouse lights are made with durability in mind to stand up to the constant abuse of an active working environment. Compared to other lighting solutions, LED lights are much harder to shatter or break, making it less likely an accident will occur and put the fixture out of order.
LED lights also come with extended warranties and longer-lasting product guarantees to give you peace of mind and more savings! Let's face it, we all want that.
Occupancy Sensors
Occupancy sensors ensure that the LED lights only turn on when needed. These sensors are a big benefit in a large industrial setting and result in even more savings over time. After a period of inactivity, the occupancy sensors will prompt the lights to turn off automatically.
Workers will not have to get off their machines to turn lights on and off before driving into areas. Occupancy sensors are more advanced than motion sensors, meaning they can discern between repetitive motion from fans, machinery and people.
How to Choose the Best Warehouse Lighting
When investing in different warehouse lighting products, there are several factors you should keep in mind before making a purchase. LED warehouse lighting factors to consider include brightness, color temperatures, spacing between fixtures, and environmental impacts. Learn more about each of these factors below.
Brightness
The paint on your walls and ceilings can impact how bright your warehouse LED lights appear. Lighter-colored paints are more reflective than darker options, meaning you can employ a lower-lumen light solution and adequately illuminate the space you're in. Lower lumens mean less power consumption and more savings. Additionally, if your workplace has skylights, you can leave some lights off during the day as they will assist with lighting. Make sure you do not get lights that are too bright for your space because they can cause glare and lead to eyestrain, headaches, and unsafe working conditions.
Color Temperatures
Color temperature is critical because it directly impacts visibility inside a building. Warehouses typically use LED lights with color temperatures between 4000K and 5000K. This color temperature range scales between a bright white and blueish tint and is proven to reduce eyestrain and maintain a productive workspace.
Light Distribution
Many industrial spaces and warehouses require either I-type or V-type light distribution models. A building's layout affects the best lighting distribution model for the facility. Commercial settings with high shelves usually need an I-type distribution model. The I-type distribution provides long lighting that illuminates the spaces above and between the shelves. Open floor plans can use a V-type distribution model to spread the light evenly over the open concept.
Fixture Spacing
Every warehouse LED lighting fixture has a limit on how far its lighting will reach. You must consider spacing between fixtures because placing lights too close to one another will increase hazards like hotspots and glare. If the lighting limits are overlapping, it can make spaces too bright and cause eyestrain. However, it is equally important not to space lights too far apart because this will result in dark spots and gaps in your illumination.
Lighting Control Systems
Warehouse LED lighting fixtures can link to various lighting controls that can increase energy savings and efficiency. The most commonly used lighting controls are occupancy and vacancy sensors; however, there are many other options to consider. Many LED lights are adjustable, meaning they can be dimmed and even change color temperature depending on your needs. Contact our professionals today to find the right equipment for your workspace's lighting requirements.
Environmental Impacts
The climate can impact which warehouse lighting fixtures work best for your needs. If your workspace is exposed to humidity, moisture, and other extreme conditions throughout the year, you must ensure that your warehouse LED lights are up to the task. Corrosion, decreased lumens, and rust are some of the challenges you might face depending on your warehouse's climate conditions.
Be sure to view our animated guide to indoor and outdoor warehouse lighting. See the different types of lighting that can increase the level of safety and performance for patients and staff!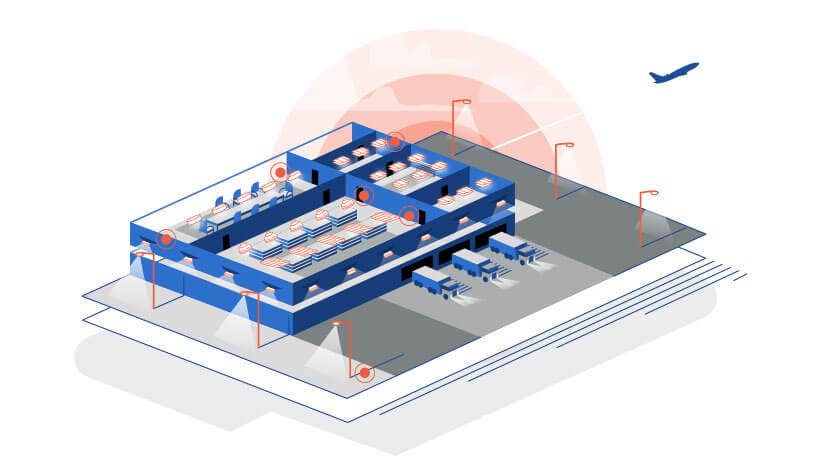 If your browser ain't broke, don't fix it...
You Might want to switch to a newer browser such as Chrome or Firefox if you want to see this page in its true glory.
Featuring over 100,000 hours of maintenance-free operation,
e-conolight
LED high bays offer uniform lighting that emits no heat, which means less cooling costs for a facility. Install these in any large, open area with high ceilings.
Using 50% less energy, LED wall packs enhance the safety of your warehouse/industrial facility perimeter by offering directional, crisp light along your walkways. They also keep operations running smoothly by increasing visibility at loading bays and docks.
LED area lighting provides evenly distributed light across your parking lot, increasing the safety of those underneath them. Brighter light helps security staff monitor incoming traffic, plus read license plates or any forms of identification.
Maintenance-free and easy to install in your back-of-house offices,
e-conolight
LED flat panels provide smooth and even light from inside a low-profile design. Productivity increases, while energy costs plummet by as much as 80%.
Improve your facility scheduling, planning, and general operations management with LED Downlights. Ideal for back-of-house offices and meeting rooms, downlights emit crisp white light that reduces eye strain and headaches, enhancing productivity and reducing energy costs by as much as 85%.
With over 100,000 hours of maintenance-free operation, e-conolight LED high bays ensure 24/7 operations don't stop, by eliminating the need for relamping. Uniform light levels make it easy to see inventory shelves, from top to bottom.