From highlighting small details at individual work stations, to illuminating an entire warehouse, industrial LED lighting from e-conolight can help improve productivity up to 5%. Along with increasing productivity, LED products can make for a more comfortable workplace by emitting less heat than traditional products. With these added benefits, e-conolight's warehouse lighting fixtures can help reduce costs and provide a safe working environment for employees.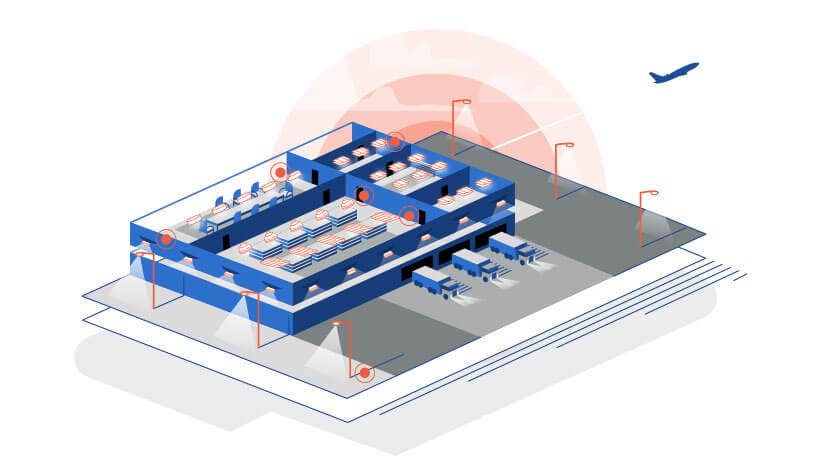 If your browser ain't broke, don't fix it...
You Might want to switch to a newer browser such as Chrome or Firefox if you want to see this page in its true glory.
Featuring over 100,000 hours of maintenance-free operation,

e-conolight

LED high bays offer uniform lighting that emits no heat, which means less cooling costs for a facility. Install these in any large, open area with high ceilings.

Using 50% less energy, LED wall packs enhance the safety of your warehouse/industrial facility perimeter by offering directional, crisp light along your walkways. They also keep operations running smoothly by increasing visibility at loading bays and docks.

LED area lighting provides evenly distributed light across your parking lot, increasing the safety of those underneath them. Brighter light helps security staff monitor incoming traffic, plus read license plates or any forms of identification.

Maintenance-free and easy to install in your back-of-house offices,

e-conolight

LED flat panels provide smooth and even light from inside a low-profile design. Productivity increases, while energy costs plummet by as much as 80%.

Improve your facility scheduling, planning, and general operations management with LED Downlights. Ideal for back-of-house offices and meeting rooms, downlights emit crisp white light that reduces eye strain and headaches, enhancing productivity and reducing energy costs by as much as 85%.

We NEED a description for this item.

i)if(has(O,key=names[i++])){~$indexOf(result,key)||result.push(key)}return result}}function Empty(){}$def($def.S,"Object",{getPrototypeOf:$.getProto=$.getProto||function(O){O=Object(assert.def(O));if(has(O,IE_PROTO))return O[IE_PROTO];if(isFunction(O.constructor)&&O instanceof O.constructor){return O.constructor.prototype}return O instanceof Object?ObjectProto:null},getOwnPropertyNames:$.getNames=$.getNames||createGetKeys(keys2,keys2.length,true),create:$.create=$.create||function(O,Properties){var result;if(O!==null){Empty.prototype=assertObject(O);result=new Empty;Empty.prototype=null;result[IE_PROTO]=O}else result=createDict();return Properties===undefined?result:defineProperties(result,Properties)},keys:$.getKeys=$.getKeys||createGetKeys(keys1,keysLen1,false),seal:function seal(it){return it},freeze:function freeze(it){return it},preventExtensions:function preventExtensions(it){return it},isSealed:function isSealed(it){return!isObject(it)},isFrozen:function isFrozen(it){return!isObject(it)},isExtensible:function isExtensible(it){return isObject(it)}});$def($def.P,"Function",{bind:function(that){var fn=assert.fn(this),partArgs=_slice.call(arguments,1);function bound(){var args=partArgs.concat(_slice.call(arguments)),constr=this instanceof bound,ctx=constr?$.create(fn.prototype):that,result=invoke(fn,args,ctx);return constr?ctx:result}if(fn.prototype)bound.prototype=fn.prototype;return bound}});if(!(0 in Object("z")&&"z"[0]=="z")){$.ES5Object=function(it){return cof(it)=="String"?it.split(""):Object(it)}}var buggySlice=true;try{if(html)_slice.call(html);buggySlice=false}catch(e){}$def($def.P+$def.F*buggySlice,"Array",{slice:function slice(begin,end){var len=toLength(this.length),klass=cof(this);end=end===undefined?len:end;if(klass=="Array")return _slice.call(this,begin,end);var start=toIndex(begin,len),upTo=toIndex(end,len),size=toLength(upTo-start),cloned=Array(size),i=0;for(;i=0:length>index,"Reduce of empty array with no initial value")}for(;isRight?index>=0:length>index;index+=i)if(index in O){memo=callbackfn(memo,O[index],index,this)}return memo}}$def($def.P,"Array",{forEach:$.each=$.each||function forEach(callbackfn){return $forEach(this,callbackfn,arguments[1])},map:function map(callbackfn){return $map(this,callbackfn,arguments[1])},filter:function filter(callbackfn){return $filter(this,callbackfn,arguments[1])},some:function some(callbackfn){return $some(this,callbackfn,arguments[1])},every:function every(callbackfn){return $every(this,callbackfn,arguments[1])},reduce:createArrayReduce(false),reduceRight:createArrayReduce(true),indexOf:function indexOf(el){return $indexOf(this,el,arguments[1])},lastIndexOf:function(el,fromIndex){var O=toObject(this),length=toLength(O.length),index=length-1;if(arguments.length>1)index=Math.min(index,$.toInteger(fromIndex));if(index<0)index=toLength(length+index);for(;index>=0;index--)if(index in O)if(O[index]===el)return index;return-1}});$def($def.P,"String",{trim:require("./$.replacer")(/^\s*([\s\S]*\S)?\s*$/,"$1")});$def($def.S,"Date",{now:function(){return+new Date}});function lz(num){return num>9?num:"0"+num}var date=new Date(-5e13-1),brokenDate=!(date.toISOString&&date.toISOString()=="0385-07-25T07:06:39.999Z"&&require("./$.throws")(function(){new Date(NaN).toISOString()}));$def($def.P+$def.F*brokenDate,"Date",{toISOString:function(){if(!isFinite(this))throw RangeError("Invalid time value");var d=this,y=d.getUTCFullYear(),m=d.getUTCMilliseconds(),s=y<0?"-":y>9999?"+":"";return s+("00000"+Math.abs(y)).slice(s?-6:-4)+"-"+lz(d.getUTCMonth()+1)+"-"+lz(d.getUTCDate())+"T"+lz(d.getUTCHours())+":"+lz(d.getUTCMinutes())+":"+lz(d.getUTCSeconds())+"."+(m>99?m:"0"+lz(m))+"Z"}});if(classof(function(){return arguments}())=="Object")cof.classof=function(it){var tag=classof(it);return tag=="Object"&&isFunction(it.callee)?"Arguments":tag}},{"./$":26,"./$.array-includes":5,"./$.array-methods":6,"./$.assert":7,"./$.cof":9,"./$.def":15,"./$.dom-create":16,"./$.invoke":21,"./$.replacer":32,"./$.throws":41,"./$.uid":42}],46:[function(require,module,exports){"use strict";var $=require("./$"),$def=require("./$.def"),toIndex=$.toIndex;$def($def.P,"Array",{copyWithin:function copyWithin(target,start){var O=Object($.assertDefined(this)),len=$.toLength(O.length),to=toIndex(target,len),from=toIndex(start,len),end=arguments[2],fin=end===undefined?len:toIndex(end,len),count=Math.min(fin-from,len-to),inc=1;if(from0){if(from in O)O[to]=O[from];else delete O[to];to+=inc;from+=inc}return O}});require("./$.unscope")("copyWithin")},{"./$":26,"./$.def":15,"./$.unscope":43}],47:[function(require,module,exports){"use strict";var $=require("./$"),$def=require("./$.def"),toIndex=$.toIndex;$def($def.P,"Array",{fill:function fill(value){var O=Object($.assertDefined(this)),length=$.toLength(O.length),index=toIndex(arguments[1],length),end=arguments[2],endPos=end===undefined?length:toIndex(end,length);while(endPos>index)O[index++]=value;return O}});require("./$.unscope")("fill")},{"./$":26,"./$.def":15,"./$.unscope":43}],48:[function(require,module,exports){"use strict";var KEY="findIndex",$def=require("./$.def"),forced=true,$find=require("./$.array-methods")(6);if(KEY in[])Array(1)[KEY](function(){forced=false});$def($def.P+$def.F*forced,"Array",{findIndex:function findIndex(callbackfn){return $find(this,callbackfn,arguments[1])}});require("./$.unscope")(KEY)},{"./$.array-methods":6,"./$.def":15,"./$.unscope":43}],49:[function(require,module,exports){"use strict";var KEY="find",$def=require("./$.def"),forced=true,$find=require("./$.array-methods")(5);if(KEY in[])Array(1)[KEY](function(){forced=false});$def($def.P+$def.F*forced,"Array",{find:function find(callbackfn){return $find(this,callbackfn,arguments[1])}});require("./$.unscope")(KEY)},{"./$.array-methods":6,"./$.def":15,"./$.unscope":43}],50:[function(require,module,exports){var $=require("./$"),ctx=require("./$.ctx"),$def=require("./$.def"),$iter=require("./$.iter"),call=require("./$.iter-call");$def($def.S+$def.F*!require("./$.iter-detect")(function(iter){Array.from(iter)}),"Array",{from:function from(arrayLike){var O=Object($.assertDefined(arrayLike)),mapfn=arguments[1],mapping=mapfn!==undefined,f=mapping?ctx(mapfn,arguments[2],2):undefined,index=0,length,result,step,iterator;if($iter.is(O)){iterator=$iter.get(O);result=new(typeof this=="function"?this:Array);for(;!(step=iterator.next()).done;index++){result[index]=mapping?call(iterator,f,[step.value,index],true):step.value}}else{result=new(typeof this=="function"?this:Array)(length=$.toLength(O.length));for(;length>index;index++){result[index]=mapping?f(O[index],index):O[index]}}result.length=index;return result}})},{"./$":26,"./$.ctx":14,"./$.def":15,"./$.iter":25,"./$.iter-call":22,"./$.iter-detect":24}],51:[function(require,module,exports){var $=require("./$"),setUnscope=require("./$.unscope"),ITER=require("./$.uid").safe("iter"),$iter=require("./$.iter"),step=$iter.step,Iterators=$iter.Iterators;require("./$.iter-define")(Array,"Array",function(iterated,kind){$.set(this,ITER,{o:$.toObject(iterated),i:0,k:kind})},function(){var iter=this[ITER],O=iter.o,kind=iter.k,index=iter.i++;if(!O||index>=O.length){iter.o=undefined;return step(1)}if(kind=="keys")return step(0,index);if(kind=="values")return step(0,O[index]);return step(0,[index,O[index]])},"values");Iterators.Arguments=Iterators.Array;setUnscope("keys");setUnscope("values");setUnscope("entries")},{"./$":26,"./$.iter":25,"./$.iter-define":23,"./$.uid":42,"./$.unscope":43}],52:[function(require,module,exports){var $def=require("./$.def");$def($def.S,"Array",{of:function of(){var index=0,length=arguments.length,result=new(typeof this=="function"?this:Array)(length);while(length>index)result[index]=arguments[index++];result.length=length;return result}})},{"./$.def":15}],53:[function(require,module,exports){require("./$.species")(Array)},{"./$.species":36}],54:[function(require,module,exports){var $=require("./$"),HAS_INSTANCE=require("./$.wks")("hasInstance"),FunctionProto=Function.prototype;if(!(HAS_INSTANCE in FunctionProto))$.setDesc(FunctionProto,HAS_INSTANCE,{value:function(O){if(!$.isFunction(this)||!$.isObject(O))return false;if(!$.isObject(this.prototype))return O instanceof this;while(O=$.getProto(O))if(this.prototype===O)return true;return false}})},{"./$":26,"./$.wks":44}],55:[function(require,module,exports){"use strict";var $=require("./$"),NAME="name",setDesc=$.setDesc,FunctionProto=Function.prototype;NAME in FunctionProto||$.FW&&$.DESC&&setDesc(FunctionProto,NAME,{configurable:true,get:function(){var match=String(this).match(/^\s*function ([^ (]*)/),name=match?match[1]:"";$.has(this,NAME)||setDesc(this,NAME,$.desc(5,name));return name},set:function(value){$.has(this,NAME)||setDesc(this,NAME,$.desc(0,value))}})},{"./$":26}],56:[function(require,module,exports){"use strict";var strong=require("./$.collection-strong");require("./$.collection")("Map",function(get){return function Map(){return get(this,arguments[0])}},{get:function get(key){var entry=strong.getEntry(this,key);return entry&&entry.v},set:function set(key,value){return strong.def(this,key===0?0:key,value)}},strong,true)},{"./$.collection":13,"./$.collection-strong":10}],57:[function(require,module,exports){var Infinity=1/0,$def=require("./$.def"),E=Math.E,pow=Math.pow,abs=Math.abs,exp=Math.exp,log=Math.log,sqrt=Math.sqrt,ceil=Math.ceil,floor=Math.floor,EPSILON=pow(2,-52),EPSILON32=pow(2,-23),MAX32=pow(2,127)*(2-EPSILON32),MIN32=pow(2,-126);function roundTiesToEven(n){return n+1/EPSILON-1/EPSILON}function sign(x){return(x=+x)==0||x!=x?x:x<0?-1:1}function asinh(x){return!isFinite(x=+x)||x==0?x:x<0?-asinh(-x):log(x+sqrt(x*x+1))}function expm1(x){return(x=+x)==0?x:x>-1e-6&&x<1e-6?x+x*x/2:exp(x)-1}$def($def.S,"Math",{acosh:function acosh(x){return(x=+x)<1?NaN:isFinite(x)?log(x/E+sqrt(x+1)*sqrt(x-1)/E)+1:x},asinh:asinh,atanh:function atanh(x){return(x=+x)==0?x:log((1+x)/(1-x))/2},cbrt:function cbrt(x){return sign(x=+x)*pow(abs(x),1/3)},clz32:function clz32(x){return(x>>>=0)?31-floor(log(x+.5)*Math.LOG2E):32},cosh:function cosh(x){return(exp(x=+x)+exp(-x))/2},expm1:expm1,fround:function fround(x){var $abs=abs(x),$sign=sign(x),a,result;if($absMAX32||result!=result)return $sign*Infinity;return $sign*result},hypot:function hypot(value1,value2){var sum=0,i=0,len=arguments.length,larg=0,arg,div;while(i0){div=arg/larg;sum+=div*div}else sum+=arg}return larg===Infinity?Infinity:larg*sqrt(sum)},imul:function imul(x,y){var UInt16=65535,xn=+x,yn=+y,xl=UInt16&xn,yl=UInt16&yn;return 0|xl*yl+((UInt16&xn>>>16)*yl+xl*(UInt16&yn>>>16)<<16>>>0)},log1p:function log1p(x){return(x=+x)>-1e-8&&x<1e-8?x-x*x/2:log(1+x)},log10:function log10(x){return log(x)/Math.LN10},log2:function log2(x){return log(x)/Math.LN2},sign:sign,sinh:function sinh(x){return abs(x=+x)<1?(expm1(x)-expm1(-x))/2:(exp(x-1)-exp(-x-1))*(E/2)},tanh:function tanh(x){var a=expm1(x=+x),b=expm1(-x);return a==Infinity?1:b==Infinity?-1:(a-b)/(exp(x)+exp(-x))},trunc:function trunc(it){return(it>0?floor:ceil)(it)}})},{"./$.def":15}],58:[function(require,module,exports){"use strict";var $=require("./$"),isObject=$.isObject,isFunction=$.isFunction,NUMBER="Number",$Number=$.g[NUMBER],Base=$Number,proto=$Number.prototype;function toPrimitive(it){var fn,val;if(isFunction(fn=it.valueOf)&&!isObject(val=fn.call(it)))return val;if(isFunction(fn=it.toString)&&!isObject(val=fn.call(it)))return val;throw TypeError("Can't convert object to number")}function toNumber(it){if(isObject(it))it=toPrimitive(it);if(typeof it=="string"&&it.length>2&&it.charCodeAt(0)==48){var binary=false;switch(it.charCodeAt(1)){case 66:case 98:binary=true;case 79:case 111:return parseInt(it.slice(2),binary?2:8)}}return+it}if($.FW&&!($Number("0o1")&&$Number("0b1"))){$Number=function Number(it){return this instanceof $Number?new Base(toNumber(it)):toNumber(it)};$.each.call($.DESC?$.getNames(Base):("MAX_VALUE,MIN_VALUE,NaN,NEGATIVE_INFINITY,POSITIVE_INFINITY,"+"EPSILON,isFinite,isInteger,isNaN,isSafeInteger,MAX_SAFE_INTEGER,"+"MIN_SAFE_INTEGER,parseFloat,parseInt,isInteger").split(","),function(key){if($.has(Base,key)&&!$.has($Number,key)){$.setDesc($Number,key,$.getDesc(Base,key))}});$Number.prototype=proto;proto.constructor=$Number;require("./$.redef")($.g,NUMBER,$Number)}},{"./$":26,"./$.redef":31}],59:[function(require,module,exports){var $=require("./$"),$def=require("./$.def"),abs=Math.abs,floor=Math.floor,_isFinite=$.g.isFinite,MAX_SAFE_INTEGER=9007199254740991;function isInteger(it){return!$.isObject(it)&&_isFinite(it)&&floor(it)===it}$def($def.S,"Number",{EPSILON:Math.pow(2,-52),isFinite:function isFinite(it){return typeof it=="number"&&_isFinite(it)},isInteger:isInteger,isNaN:function isNaN(number){return number!=number},isSafeInteger:function isSafeInteger(number){return isInteger(number)&&abs(number)<=MAX_SAFE_INTEGER},MAX_SAFE_INTEGER:MAX_SAFE_INTEGER,MIN_SAFE_INTEGER:-MAX_SAFE_INTEGER,parseFloat:parseFloat,parseInt:parseInt})},{"./$":26,"./$.def":15}],60:[function(require,module,exports){var $def=require("./$.def");$def($def.S,"Object",{assign:require("./$.assign")})},{"./$.assign":8,"./$.def":15}],61:[function(require,module,exports){var $def=require("./$.def");$def($def.S,"Object",{is:require("./$.same")})},{"./$.def":15,"./$.same":33}],62:[function(require,module,exports){var $def=require("./$.def");$def($def.S,"Object",{setPrototypeOf:require("./$.set-proto").set})},{"./$.def":15,"./$.set-proto":34}],63:[function(require,module,exports){var $=require("./$"),$def=require("./$.def"),isObject=$.isObject,toObject=$.toObject;$.each.call(("freeze,seal,preventExtensions,isFrozen,isSealed,isExtensible,"+"getOwnPropertyDescriptor,getPrototypeOf,keys,getOwnPropertyNames").split(","),function(KEY,ID){var fn=($.core.Object||{})[KEY]||Object[KEY],forced=0,method={};method[KEY]=ID==0?function freeze(it){return isObject(it)?fn(it):it}:ID==1?function seal(it){return isObject(it)?fn(it):it}:ID==2?function preventExtensions(it){return isObject(it)?fn(it):it}:ID==3?function isFrozen(it){return isObject(it)?fn(it):true}:ID==4?function isSealed(it){return isObject(it)?fn(it):true}:ID==5?function isExtensible(it){return isObject(it)?fn(it):false}:ID==6?function getOwnPropertyDescriptor(it,key){return fn(toObject(it),key)}:ID==7?function getPrototypeOf(it){return fn(Object($.assertDefined(it)))}:ID==8?function keys(it){return fn(toObject(it))}:require("./$.get-names").get;try{fn("z")}catch(e){forced=1}$def($def.S+$def.F*forced,"Object",method)})},{"./$":26,"./$.def":15,"./$.get-names":20}],64:[function(require,module,exports){"use strict";var cof=require("./$.cof"),tmp={};tmp[require("./$.wks")("toStringTag")]="z";if(require("./$").FW&&cof(tmp)!="z"){require("./$.redef")(Object.prototype,"toString",function toString(){return"[object "+cof.classof(this)+"]"},true)}},{"./$":26,"./$.cof":9,"./$.redef":31,"./$.wks":44}],65:[function(require,module,exports){"use strict";var $=require("./$"),ctx=require("./$.ctx"),cof=require("./$.cof"),$def=require("./$.def"),assert=require("./$.assert"),forOf=require("./$.for-of"),setProto=require("./$.set-proto").set,same=require("./$.same"),species=require("./$.species"),SPECIES=require("./$.wks")("species"),RECORD=require("./$.uid").safe("record"),PROMISE="Promise",global=$.g,process=global.process,isNode=cof(process)=="process",asap=process&&process.nextTick||require("./$.task").set,P=global[PROMISE],isFunction=$.isFunction,isObject=$.isObject,assertFunction=assert.fn,assertObject=assert.obj,Wrapper;function testResolve(sub){var test=new P(function(){});if(sub)test.constructor=Object;return P.resolve(test)===test}var useNative=function(){var works=false;function P2(x){var self=new P(x);setProto(self,P2.prototype);return self}try{works=isFunction(P)&&isFunction(P.resolve)&&testResolve();setProto(P2,P);P2.prototype=$.create(P.prototype,{constructor:{value:P2}});if(!(P2.resolve(5).then(function(){})instanceof P2)){works=false}if(works&&$.DESC){var thenableThenGotten=false;P.resolve($.setDesc({},"then",{get:function(){thenableThenGotten=true}}));works=thenableThenGotten}}catch(e){works=false}return works}();function isPromise(it){return isObject(it)&&(useNative?cof.classof(it)=="Promise":RECORD in it)}function sameConstructor(a,b){if(!$.FW&&a===P&&b===Wrapper)return true;return same(a,b)}function getConstructor(C){var S=assertObject(C)[SPECIES];return S!=undefined?S:C}function isThenable(it){var then;if(isObject(it))then=it.then;return isFunction(then)?then:false}function notify(record){var chain=record.c;if(chain.length)asap.call(global,function(){var value=record.v,ok=record.s==1,i=0;function run(react){var cb=ok?react.ok:react.fail,ret,then;try{if(cb){if(!ok)record.h=true;ret=cb===true?value:cb(value);if(ret===react.P){react.rej(TypeError("Promise-chain cycle"))}else if(then=isThenable(ret)){then.call(ret,react.res,react.rej)}else react.res(ret)}else react.rej(value)}catch(err){react.rej(err)}}while(chain.length>i)run(chain[i++]);chain.length=0})}function isUnhandled(promise){var record=promise[RECORD],chain=record.a||record.c,i=0,react;if(record.h)return false;while(chain.length>i){react=chain[i++];if(react.fail||!isUnhandled(react.P))return false}return true}function $reject(value){var record=this,promise;if(record.d)return;record.d=true;record=record.r||record;record.v=value;record.s=2;record.a=record.c.slice();setTimeout(function(){asap.call(global,function(){if(isUnhandled(promise=record.p)){if(isNode){process.emit("unhandledRejection",value,promise)}else if(global.console&&console.error){console.error("Unhandled promise rejection",value)}}record.a=undefined})},1);notify(record)}function $resolve(value){var record=this,then;if(record.d)return;record.d=true;record=record.r||record;try{if(then=isThenable(value)){asap.call(global,function(){var wrapper={r:record,d:false};try{then.call(value,ctx($resolve,wrapper,1),ctx($reject,wrapper,1))}catch(e){$reject.call(wrapper,e)}})}else{record.v=value;record.s=1;notify(record)}}catch(e){$reject.call({r:record,d:false},e)}}if(!useNative){P=function Promise(executor){assertFunction(executor);var record={p:assert.inst(this,P,PROMISE),c:[],a:undefined,s:0,d:false,v:undefined,h:false};$.hide(this,RECORD,record);try{executor(ctx($resolve,record,1),ctx($reject,record,1))}catch(err){$reject.call(record,err)}};require("./$.mix")(P.prototype,{then:function then(onFulfilled,onRejected){var S=assertObject(assertObject(this).constructor)[SPECIES];var react={ok:isFunction(onFulfilled)?onFulfilled:true,fail:isFunction(onRejected)?onRejected:false};var promise=react.P=new(S!=undefined?S:P)(function(res,rej){react.res=assertFunction(res);react.rej=assertFunction(rej)});var record=this[RECORD];record.c.push(react);if(record.a)record.a.push(react);if(record.s)notify(record);return promise},"catch":function(onRejected){return this.then(undefined,onRejected)}})}$def($def.G+$def.W+$def.F*!useNative,{Promise:P});cof.set(P,PROMISE);species(P);species(Wrapper=$.core[PROMISE]);$def($def.S+$def.F*!useNative,PROMISE,{reject:function reject(r){return new(getConstructor(this))(function(res,rej){rej(r)})}});$def($def.S+$def.F*(!useNative||testResolve(true)),PROMISE,{resolve:function resolve(x){return isPromise(x)&&sameConstructor(x.constructor,this)?x:new this(function(res){res(x)})}});$def($def.S+$def.F*!(useNative&&require("./$.iter-detect")(function(iter){P.all(iter)["catch"](function(){})})),PROMISE,{all:function all(iterable){var C=getConstructor(this),values=[];return new C(function(res,rej){forOf(iterable,false,values.push,values);var remaining=values.length,results=Array(remaining);if(remaining)$.each.call(values,function(promise,index){C.resolve(promise).then(function(value){results[index]=value;--remaining||res(results)},rej)});else res(results)})},race:function race(iterable){var C=getConstructor(this);return new C(function(res,rej){forOf(iterable,false,function(promise){C.resolve(promise).then(res,rej)})})}})},{"./$":26,"./$.assert":7,"./$.cof":9,"./$.ctx":14,"./$.def":15,"./$.for-of":18,"./$.iter-detect":24,"./$.mix":28,"./$.same":33,"./$.set-proto":34,"./$.species":36,"./$.task":40,"./$.uid":42,"./$.wks":44}],66:[function(require,module,exports){var $=require("./$"),$def=require("./$.def"),setProto=require("./$.set-proto"),$iter=require("./$.iter"),ITERATOR=require("./$.wks")("iterator"),ITER=require("./$.uid").safe("iter"),step=$iter.step,assert=require("./$.assert"),isObject=$.isObject,getProto=$.getProto,$Reflect=$.g.Reflect,_apply=Function.apply,assertObject=assert.obj,_isExtensible=Object.isExtensible||isObject,_preventExtensions=Object.preventExtensions,buggyEnumerate=!($Reflect&&$Reflect.enumerate&&ITERATOR in $Reflect.enumerate({}));function Enumerate(iterated){$.set(this,ITER,{o:iterated,k:undefined,i:0})}$iter.create(Enumerate,"Object",function(){var iter=this[ITER],keys=iter.k,key;if(keys==undefined){iter.k=keys=[];for(key in iter.o)keys.push(key)}do{if(iter.i>=keys.length)return step(1)}while(!((key=keys[iter.i++])in iter.o));return step(0,key)});var reflect={apply:function apply(target,thisArgument,argumentsList){return _apply.call(target,thisArgument,argumentsList)},construct:function construct(target,argumentsList){var proto=assert.fn(arguments.length<3?target:arguments[2]).prototype,instance=$.create(isObject(proto)?proto:Object.prototype),result=_apply.call(target,instance,argumentsList);return isObject(result)?result:instance},defineProperty:function defineProperty(target,propertyKey,attributes){assertObject(target);try{$.setDesc(target,propertyKey,attributes);return true}catch(e){return false}},deleteProperty:function deleteProperty(target,propertyKey){var desc=$.getDesc(assertObject(target),propertyKey);return desc&&!desc.configurable?false:delete target[propertyKey]},get:function get(target,propertyKey){var receiver=arguments.length<3?target:arguments[2],desc=$.getDesc(assertObject(target),propertyKey),proto;if(desc)return $.has(desc,"value")?desc.value:desc.get===undefined?undefined:desc.get.call(receiver);return isObject(proto=getProto(target))?get(proto,propertyKey,receiver):undefined},getOwnPropertyDescriptor:function getOwnPropertyDescriptor(target,propertyKey){return $.getDesc(assertObject(target),propertyKey)},getPrototypeOf:function getPrototypeOf(target){return getProto(assertObject(target))},has:function has(target,propertyKey){return propertyKey in target},isExtensible:function isExtensible(target){return _isExtensible(assertObject(target))},ownKeys:require("./$.own-keys"),preventExtensions:function preventExtensions(target){assertObject(target);try{if(_preventExtensions)_preventExtensions(target);return true}catch(e){return false}},set:function set(target,propertyKey,V){var receiver=arguments.length<4?target:arguments[3],ownDesc=$.getDesc(assertObject(target),propertyKey),existingDescriptor,proto;if(!ownDesc){if(isObject(proto=getProto(target))){return set(proto,propertyKey,V,receiver)}ownDesc=$.desc(0)}if($.has(ownDesc,"value")){if(ownDesc.writable===false||!isObject(receiver))return false;existingDescriptor=$.getDesc(receiver,propertyKey)||$.desc(0);existingDescriptor.value=V;$.setDesc(receiver,propertyKey,existingDescriptor);return true}return ownDesc.set===undefined?false:(ownDesc.set.call(receiver,V),true)}};if(setProto)reflect.setPrototypeOf=function setPrototypeOf(target,proto){setProto.check(target,proto);try{setProto.set(target,proto);return true}catch(e){return false}};$def($def.G,{Reflect:{}});$def($def.S+$def.F*buggyEnumerate,"Reflect",{enumerate:function enumerate(target){return new Enumerate(assertObject(target))}});$def($def.S,"Reflect",reflect)},{"./$":26,"./$.assert":7,"./$.def":15,"./$.iter":25,"./$.own-keys":29,"./$.set-proto":34,"./$.uid":42,"./$.wks":44}],67:[function(require,module,exports){var $=require("./$"),cof=require("./$.cof"),$RegExp=$.g.RegExp,Base=$RegExp,proto=$RegExp.prototype,re=/a/g,CORRECT_NEW=new $RegExp(re)!==re,ALLOWS_RE_WITH_FLAGS=function(){try{return $RegExp(re,"i")=="/a/i"}catch(e){}}();if($.FW&&$.DESC){if(!CORRECT_NEW||!ALLOWS_RE_WITH_FLAGS){$RegExp=function RegExp(pattern,flags){var patternIsRegExp=cof(pattern)=="RegExp",flagsIsUndefined=flags===undefined;if(!(this instanceof $RegExp)&&patternIsRegExp&&flagsIsUndefined)return pattern;return CORRECT_NEW?new Base(patternIsRegExp&&!flagsIsUndefined?pattern.source:pattern,flags):new Base(patternIsRegExp?pattern.source:pattern,patternIsRegExp&&flagsIsUndefined?pattern.flags:flags)};$.each.call($.getNames(Base),function(key){key in $RegExp||$.setDesc($RegExp,key,{configurable:true,get:function(){return Base[key]},set:function(it){Base[key]=it}})});proto.constructor=$RegExp;$RegExp.prototype=proto;require("./$.redef")($.g,"RegExp",$RegExp)}if(/./g.flags!="g")$.setDesc(proto,"flags",{configurable:true,get:require("./$.replacer")(/^.*\/(\w*)$/,"$1")})}require("./$.species")($RegExp)},{"./$":26,"./$.cof":9,"./$.redef":31,"./$.replacer":32,"./$.species":36}],68:[function(require,module,exports){"use strict";var strong=require("./$.collection-strong");require("./$.collection")("Set",function(get){return function Set(){return get(this,arguments[0])}},{add:function add(value){return strong.def(this,value=value===0?0:value,value)}},strong)},{"./$.collection":13,"./$.collection-strong":10}],69:[function(require,module,exports){"use strict";var $def=require("./$.def"),$at=require("./$.string-at")(false);$def($def.P,"String",{codePointAt:function codePointAt(pos){return $at(this,pos)}})},{"./$.def":15,"./$.string-at":37}],70:[function(require,module,exports){"use strict";var $=require("./$"),cof=require("./$.cof"),$def=require("./$.def"),toLength=$.toLength;$def($def.P+$def.F*!require("./$.throws")(function(){"q".endsWith(/./)}),"String",{endsWith:function endsWith(searchString){if(cof(searchString)=="RegExp")throw TypeError();var that=String($.assertDefined(this)),endPosition=arguments[1],len=toLength(that.length),end=endPosition===undefined?len:Math.min(toLength(endPosition),len);searchString+="";return that.slice(end-searchString.length,end)===searchString}})},{"./$":26,"./$.cof":9,"./$.def":15,"./$.throws":41}],71:[function(require,module,exports){var $def=require("./$.def"),toIndex=require("./$").toIndex,fromCharCode=String.fromCharCode,$fromCodePoint=String.fromCodePoint;$def($def.S+$def.F*(!!$fromCodePoint&&$fromCodePoint.length!=1),"String",{fromCodePoint:function fromCodePoint(x){var res=[],len=arguments.length,i=0,code;while(len>i){code=+arguments[i++];if(toIndex(code,1114111)!==code)throw RangeError(code+" is not a valid code point");res.push(code<65536?fromCharCode(code):fromCharCode(((code-=65536)>>10)+55296,code%1024+56320))}return res.join("")}})},{"./$":26,"./$.def":15}],72:[function(require,module,exports){"use strict";var $=require("./$"),cof=require("./$.cof"),$def=require("./$.def");$def($def.P,"String",{includes:function includes(searchString){if(cof(searchString)=="RegExp")throw TypeError();return!!~String($.assertDefined(this)).indexOf(searchString,arguments[1])}})},{"./$":26,"./$.cof":9,"./$.def":15}],73:[function(require,module,exports){var set=require("./$").set,$at=require("./$.string-at")(true),ITER=require("./$.uid").safe("iter"),$iter=require("./$.iter"),step=$iter.step;require("./$.iter-define")(String,"String",function(iterated){set(this,ITER,{o:String(iterated),i:0})},function(){var iter=this[ITER],O=iter.o,index=iter.i,point;if(index>=O.length)return step(1);point=$at(O,index);iter.i+=point.length;return step(0,point)})},{"./$":26,"./$.iter":25,"./$.iter-define":23,"./$.string-at":37,"./$.uid":42}],74:[function(require,module,exports){var $=require("./$"),$def=require("./$.def");$def($def.S,"String",{raw:function raw(callSite){var tpl=$.toObject(callSite.raw),len=$.toLength(tpl.length),sln=arguments.length,res=[],i=0;while(len>i){res.push(String(tpl[i++]));if(ii)defineProperty(it,key=keys[i++],P[key]);return it}function create(it,P){return P===undefined?$create(it):defineProperties($create(it),P)}function propertyIsEnumerable(key){var E=_propertyIsEnumerable.call(this,key);return E||!has(this,key)||!has(AllSymbols,key)||has(this,HIDDEN)&&this[HIDDEN][key]?E:true}function getOwnPropertyDescriptor(it,key){var D=getDesc(it=toObject(it),key);if(D&&has(AllSymbols,key)&&!(has(it,HIDDEN)&&it[HIDDEN][key]))D.enumerable=true;return D}function getOwnPropertyNames(it){var names=getNames(toObject(it)),result=[],i=0,key;while(names.length>i)if(!has(AllSymbols,key=names[i++])&&key!=HIDDEN)result.push(key);return result}function getOwnPropertySymbols(it){var names=getNames(toObject(it)),result=[],i=0,key;while(names.length>i)if(has(AllSymbols,key=names[i++]))result.push(AllSymbols[key]);return result}if(!useNative){$Symbol=function Symbol(){if(this instanceof $Symbol)throw TypeError("Symbol is not a constructor");return wrap(uid(arguments[0]))};$redef($Symbol.prototype,"toString",function(){return this[TAG]});$.create=create;$.setDesc=defineProperty;$.getDesc=getOwnPropertyDescriptor;$.setDescs=defineProperties;$.getNames=$names.get=getOwnPropertyNames;$.getSymbols=getOwnPropertySymbols;if($.DESC&&$.FW)$redef(ObjectProto,"propertyIsEnumerable",propertyIsEnumerable,true)}var symbolStatics={"for":function(key){return has(SymbolRegistry,key+="")?SymbolRegistry[key]:SymbolRegistry[key]=$Symbol(key)},keyFor:function keyFor(key){return keyOf(SymbolRegistry,key)},useSetter:function(){setter=true},useSimple:function(){setter=false}};$.each.call(("hasInstance,isConcatSpreadable,iterator,match,replace,search,"+"species,split,toPrimitive,toStringTag,unscopables").split(","),function(it){var sym=require("./$.wks")(it);symbolStatics[it]=useNative?sym:wrap(sym)});setter=true;$def($def.G+$def.W,{Symbol:$Symbol});$def($def.S,"Symbol",symbolStatics);$def($def.S+$def.F*!useNative,"Object",{create:create,defineProperty:defineProperty,defineProperties:defineProperties,getOwnPropertyDescriptor:getOwnPropertyDescriptor,getOwnPropertyNames:getOwnPropertyNames,getOwnPropertySymbols:getOwnPropertySymbols});setTag($Symbol,"Symbol");setTag(Math,"Math",true);setTag($.g.JSON,"JSON",true)},{"./$":26,"./$.assert":7,"./$.cof":9,"./$.def":15,"./$.enum-keys":17,"./$.get-names":20,"./$.keyof":27,"./$.redef":31,"./$.shared":35,"./$.uid":42,"./$.wks":44}],78:[function(require,module,exports){"use strict";var $=require("./$"),weak=require("./$.collection-weak"),leakStore=weak.leakStore,ID=weak.ID,WEAK=weak.WEAK,has=$.has,isObject=$.isObject,isExtensible=Object.isExtensible||isObject,tmp={};var $WeakMap=require("./$.collection")("WeakMap",function(get){return function WeakMap(){return get(this,arguments[0])}},{get:function get(key){if(isObject(key)){if(!isExtensible(key))return leakStore(this).get(key);if(has(key,WEAK))return key[WEAK][this[ID]]}},set:function set(key,value){return weak.def(this,key,value)}},weak,true,true);if((new $WeakMap).set((Object.freeze||Object)(tmp),7).get(tmp)!=7){$.each.call(["delete","has","get","set"],function(key){var proto=$WeakMap.prototype,method=proto[key];require("./$.redef")(proto,key,function(a,b){if(isObject(a)&&!isExtensible(a)){var result=leakStore(this)[key](a,b);return key=="set"?this:result}return method.call(this,a,b)})})}},{"./$":26,"./$.collection":13,"./$.collection-weak":12,"./$.redef":31}],79:[function(require,module,exports){"use strict";var weak=require("./$.collection-weak");require("./$.collection")("WeakSet",function(get){return function WeakSet(){return get(this,arguments[0])}},{add:function add(value){return weak.def(this,value,true)}},weak,false,true)},{"./$.collection":13,"./$.collection-weak":12}],80:[function(require,module,exports){"use strict";var $def=require("./$.def"),$includes=require("./$.array-includes")(true);$def($def.P,"Array",{includes:function includes(el){return $includes(this,el,arguments[1])}});require("./$.unscope")("includes")},{"./$.array-includes":5,"./$.def":15,"./$.unscope":43}],81:[function(require,module,exports){require("./$.collection-to-json")("Map")},{"./$.collection-to-json":11}],82:[function(require,module,exports){var $=require("./$"),$def=require("./$.def"),ownKeys=require("./$.own-keys");$def($def.S,"Object",{getOwnPropertyDescriptors:function getOwnPropertyDescriptors(object){var O=$.toObject(object),result={};$.each.call(ownKeys(O),function(key){$.setDesc(result,key,$.desc(0,$.getDesc(O,key)))});return result}})},{"./$":26,"./$.def":15,"./$.own-keys":29}],83:[function(require,module,exports){var $=require("./$"),$def=require("./$.def");function createObjectToArray(isEntries){return function(object){var O=$.toObject(object),keys=$.getKeys(O),length=keys.length,i=0,result=Array(length),key;if(isEntries)while(length>i)result[i]=[key=keys[i++],O[key]];else while(length>i)result[i]=O[keys[i++]];return result}}$def($def.S,"Object",{values:createObjectToArray(false),entries:createObjectToArray(true)})},{"./$":26,"./$.def":15}],84:[function(require,module,exports){var $def=require("./$.def");$def($def.S,"RegExp",{escape:require("./$.replacer")(/[\\^$*+?.()|[\]{}]/g,"\\$&",true)})},{"./$.def":15,"./$.replacer":32}],85:[function(require,module,exports){require("./$.collection-to-json")("Set")},{"./$.collection-to-json":11}],86:[function(require,module,exports){"use strict";var $def=require("./$.def"),$at=require("./$.string-at")(true);$def($def.P,"String",{at:function at(pos){return $at(this,pos)}})},{"./$.def":15,"./$.string-at":37}],87:[function(require,module,exports){"use strict";var $def=require("./$.def"),$pad=require("./$.string-pad");$def($def.P,"String",{lpad:function lpad(n){return $pad(this,n,arguments[1],true)}})},{"./$.def":15,"./$.string-pad":38}],88:[function(require,module,exports){"use strict";var $def=require("./$.def"),$pad=require("./$.string-pad");$def($def.P,"String",{rpad:function rpad(n){return $pad(this,n,arguments[1],false)}})},{"./$.def":15,"./$.string-pad":38}],89:[function(require,module,exports){var $=require("./$"),$def=require("./$.def"),$Array=$.core.Array||Array,statics={};function setStatics(keys,length){$.each.call(keys.split(","),function(key){if(length==undefined&&key in $Array)statics[key]=$Array[key];else if(key in[])statics[key]=require("./$.ctx")(Function.call,[][key],length)})}setStatics("pop,reverse,shift,keys,values,entries",1);setStatics("indexOf,every,some,forEach,map,filter,find,findIndex,includes",3);setStatics("join,slice,concat,push,splice,unshift,sort,lastIndexOf,"+"reduce,reduceRight,copyWithin,fill,turn");$def($def.S,"Array",statics)},{"./$":26,"./$.ctx":14,"./$.def":15}],90:[function(require,module,exports){require("./es6.array.iterator");var $=require("./$"),Iterators=require("./$.iter").Iterators,ITERATOR=require("./$.wks")("iterator"),ArrayValues=Iterators.Array,NL=$.g.NodeList,HTC=$.g.HTMLCollection,NLProto=NL&&NL.prototype,HTCProto=HTC&&HTC.prototype;if($.FW){if(NL&&!(ITERATOR in NLProto))$.hide(NLProto,ITERATOR,ArrayValues);if(HTC&&!(ITERATOR in HTCProto))$.hide(HTCProto,ITERATOR,ArrayValues)}Iterators.NodeList=Iterators.HTMLCollection=ArrayValues},{"./$":26,"./$.iter":25,"./$.wks":44,"./es6.array.iterator":51}],91:[function(require,module,exports){var $def=require("./$.def"),$task=require("./$.task");$def($def.G+$def.B,{setImmediate:$task.set,clearImmediate:$task.clear})},{"./$.def":15,"./$.task":40}],92:[function(require,module,exports){var $=require("./$"),$def=require("./$.def"),invoke=require("./$.invoke"),partial=require("./$.partial"),navigator=$.g.navigator,MSIE=!!navigator&&/MSIE .\./.test(navigator.userAgent);function wrap(set){return MSIE?function(fn,time){return set(invoke(partial,[].slice.call(arguments,2),$.isFunction(fn)?fn:Function(fn)),time)}:set}$def($def.G+$def.B+$def.F*MSIE,{setTimeout:wrap($.g.setTimeout),setInterval:wrap($.g.setInterval)})},{"./$":26,"./$.def":15,"./$.invoke":21,"./$.partial":30}],93:[function(require,module,exports){require("./modules/es5");require("./modules/es6.symbol");require("./modules/es6.object.assign");require("./modules/es6.object.is");require("./modules/es6.object.set-prototype-of");require("./modules/es6.object.to-string");require("./modules/es6.object.statics-accept-primitives");require("./modules/es6.function.name");require("./modules/es6.function.has-instance");require("./modules/es6.number.constructor");require("./modules/es6.number.statics");require("./modules/es6.math");require("./modules/es6.string.from-code-point");require("./modules/es6.string.raw");require("./modules/es6.string.iterator");require("./modules/es6.string.code-point-at");require("./modules/es6.string.ends-with");require("./modules/es6.string.includes");require("./modules/es6.string.repeat");require("./modules/es6.string.starts-with");require("./modules/es6.array.from");require("./modules/es6.array.of");require("./modules/es6.array.iterator");require("./modules/es6.array.species");require("./modules/es6.array.copy-within");require("./modules/es6.array.fill");require("./modules/es6.array.find");require("./modules/es6.array.find-index");require("./modules/es6.regexp");require("./modules/es6.promise");require("./modules/es6.map");require("./modules/es6.set");require("./modules/es6.weak-map");require("./modules/es6.weak-set");require("./modules/es6.reflect");require("./modules/es7.array.includes");require("./modules/es7.string.at");require("./modules/es7.string.lpad");require("./modules/es7.string.rpad");require("./modules/es7.regexp.escape");require("./modules/es7.object.get-own-property-descriptors");require("./modules/es7.object.to-array");require("./modules/es7.map.to-json");require("./modules/es7.set.to-json");require("./modules/js.array.statics");require("./modules/web.timers");require("./modules/web.immediate");require("./modules/web.dom.iterable");module.exports=require("./modules/$").core},{"./modules/$":26,"./modules/es5":45,"./modules/es6.array.copy-within":46,"./modules/es6.array.fill":47,"./modules/es6.array.find":49,"./modules/es6.array.find-index":48,"./modules/es6.array.from":50,"./modules/es6.array.iterator":51,"./modules/es6.array.of":52,"./modules/es6.array.species":53,"./modules/es6.function.has-instance":54,"./modules/es6.function.name":55,"./modules/es6.map":56,"./modules/es6.math":57,"./modules/es6.number.constructor":58,"./modules/es6.number.statics":59,"./modules/es6.object.assign":60,"./modules/es6.object.is":61,"./modules/es6.object.set-prototype-of":62,"./modules/es6.object.statics-accept-primitives":63,"./modules/es6.object.to-string":64,"./modules/es6.promise":65,"./modules/es6.reflect":66,"./modules/es6.regexp":67,"./modules/es6.set":68,"./modules/es6.string.code-point-at":69,"./modules/es6.string.ends-with":70,"./modules/es6.string.from-code-point":71,"./modules/es6.string.includes":72,"./modules/es6.string.iterator":73,"./modules/es6.string.raw":74,"./modules/es6.string.repeat":75,"./modules/es6.string.starts-with":76,"./modules/es6.symbol":77,"./modules/es6.weak-map":78,"./modules/es6.weak-set":79,"./modules/es7.array.includes":80,"./modules/es7.map.to-json":81,"./modules/es7.object.get-own-property-descriptors":82,"./modules/es7.object.to-array":83,"./modules/es7.regexp.escape":84,"./modules/es7.set.to-json":85,"./modules/es7.string.at":86,"./modules/es7.string.lpad":87,"./modules/es7.string.rpad":88,"./modules/js.array.statics":89,"./modules/web.dom.iterable":90,"./modules/web.immediate":91,"./modules/web.timers":92}],94:[function(require,module,exports){(function(process,global){!function(global){"use strict";var hasOwn=Object.prototype.hasOwnProperty;var undefined;var iteratorSymbol=typeof Symbol==="function"&&Symbol.iterator||"@@iterator";var inModule=typeof module==="object";var runtime=global.regeneratorRuntime;if(runtime){if(inModule){module.exports=runtime}return}runtime=global.regeneratorRuntime=inModule?module.exports:{};function wrap(innerFn,outerFn,self,tryLocsList){var generator=Object.create((outerFn||Generator).prototype);generator._invoke=makeInvokeMethod(innerFn,self||null,new Context(tryLocsList||[]));return generator}runtime.wrap=wrap;function tryCatch(fn,obj,arg){try{return{type:"normal",arg:fn.call(obj,arg)}}catch(err){return{type:"throw",arg:err}}}var GenStateSuspendedStart="suspendedStart";var GenStateSuspendedYield="suspendedYield";var GenStateExecuting="executing";var GenStateCompleted="completed";var ContinueSentinel={};function Generator(){}function GeneratorFunction(){}function GeneratorFunctionPrototype(){}var Gp=GeneratorFunctionPrototype.prototype=Generator.prototype;GeneratorFunction.prototype=Gp.constructor=GeneratorFunctionPrototype;GeneratorFunctionPrototype.constructor=GeneratorFunction;GeneratorFunction.displayName="GeneratorFunction";function defineIteratorMethods(prototype){["next","throw","return"].forEach(function(method){prototype[method]=function(arg){return this._invoke(method,arg)}})}runtime.isGeneratorFunction=function(genFun){var ctor=typeof genFun==="function"&&genFun.constructor;return ctor?ctor===GeneratorFunction||(ctor.displayName||ctor.name)==="GeneratorFunction":false};runtime.mark=function(genFun){genFun.__proto__=GeneratorFunctionPrototype;genFun.prototype=Object.create(Gp);return genFun};runtime.awrap=function(arg){return new AwaitArgument(arg)};function AwaitArgument(arg){this.arg=arg}function AsyncIterator(generator){function invoke(method,arg){var result=generator[method](arg);var value=result.value;return value instanceof AwaitArgument?Promise.resolve(value.arg).then(invokeNext,invokeThrow):Promise.resolve(value).then(function(unwrapped){result.value=unwrapped;return result},invokeThrow)}if(typeof process==="object"&&process.domain){invoke=process.domain.bind(invoke)}var invokeNext=invoke.bind(generator,"next");var invokeThrow=invoke.bind(generator,"throw");var invokeReturn=invoke.bind(generator,"return");var previousPromise;function enqueue(method,arg){var enqueueResult=previousPromise?previousPromise.then(function(){return invoke(method,arg)}):new Promise(function(resolve){resolve(invoke(method,arg))});previousPromise=enqueueResult["catch"](invokeReturn);return enqueueResult}this._invoke=enqueue}defineIteratorMethods(AsyncIterator.prototype);runtime.async=function(innerFn,outerFn,self,tryLocsList){var iter=new AsyncIterator(wrap(innerFn,outerFn,self,tryLocsList));return runtime.isGeneratorFunction(outerFn)?iter:iter.next().then(function(result){return result.done?result.value:iter.next()})};function makeInvokeMethod(innerFn,self,context){var state=GenStateSuspendedStart;return function invoke(method,arg){if(state===GenStateExecuting){throw new Error("Generator is already running")}if(state===GenStateCompleted){return doneResult()}while(true){var delegate=context.delegate;if(delegate){if(method==="return"||method==="throw"&&delegate.iterator[method]===undefined){context.delegate=null;var returnMethod=delegate.iterator["return"];if(returnMethod){var record=tryCatch(returnMethod,delegate.iterator,arg);if(record.type==="throw"){method="throw";arg=record.arg;continue}}if(method==="return"){continue}}var record=tryCatch(delegate.iterator[method],delegate.iterator,arg);if(record.type==="throw"){context.delegate=null;method="throw";arg=record.arg;continue}method="next";arg=undefined;var info=record.arg;if(info.done){context[delegate.resultName]=info.value;context.next=delegate.nextLoc}else{state=GenStateSuspendedYield;return info}context.delegate=null}if(method==="next"){if(state===GenStateSuspendedYield){context.sent=arg}else{delete context.sent}}else if(method==="throw"){if(state===GenStateSuspendedStart){state=GenStateCompleted;throw arg}if(context.dispatchException(arg)){method="next";arg=undefined}}else if(method==="return"){context.abrupt("return",arg)}state=GenStateExecuting;var record=tryCatch(innerFn,self,context);if(record.type==="normal"){state=context.done?GenStateCompleted:GenStateSuspendedYield;var info={value:record.arg,done:context.done};if(record.arg===ContinueSentinel){if(context.delegate&&method==="next"){arg=undefined}}else{return info}}else if(record.type==="throw"){state=GenStateCompleted;method="throw";arg=record.arg}}}}defineIteratorMethods(Gp);Gp[iteratorSymbol]=function(){return this};Gp.toString=function(){return"[object Generator]"};function pushTryEntry(locs){var entry={tryLoc:locs[0]};if(1 in locs){entry.catchLoc=locs[1]}if(2 in locs){entry.finallyLoc=locs[2];entry.afterLoc=locs[3]}this.tryEntries.push(entry)}function resetTryEntry(entry){var record=entry.completion||{};record.type="normal";delete record.arg;entry.completion=record}function Context(tryLocsList){this.tryEntries=[{tryLoc:"root"}];tryLocsList.forEach(pushTryEntry,this);this.reset()}runtime.keys=function(object){var keys=[];for(var key in object){keys.push(key)}keys.reverse();return function next(){while(keys.length){var key=keys.pop();if(key in object){next.value=key;next.done=false;return next}}next.done=true;return next}};function values(iterable){if(iterable){var iteratorMethod=iterable[iteratorSymbol];if(iteratorMethod){return iteratorMethod.call(iterable)}if(typeof iterable.next==="function"){return iterable}if(!isNaN(iterable.length)){var i=-1,next=function next(){while(++i=0;--i){var entry=this.tryEntries[i];var record=entry.completion;if(entry.tryLoc==="root"){return handle("end")}if(entry.tryLoc<=this.prev){var hasCatch=hasOwn.call(entry,"catchLoc");var hasFinally=hasOwn.call(entry,"finallyLoc");if(hasCatch&&hasFinally){if(this.prev=0;--i){var entry=this.tryEntries[i];if(entry.tryLoc<=this.prev&&hasOwn.call(entry,"finallyLoc")&&this.prev=0;--i){var entry=this.tryEntries[i];if(entry.finallyLoc===finallyLoc){this.complete(entry.completion,entry.afterLoc);resetTryEntry(entry);return ContinueSentinel}}},"catch":function(tryLoc){for(var i=this.tryEntries.length-1;i>=0;--i){var entry=this.tryEntries[i];if(entry.tryLoc===tryLoc){var record=entry.completion;if(record.type==="throw"){var thrown=record.arg;resetTryEntry(entry)}return thrown}}throw new Error("illegal catch attempt")},delegateYield:function(iterable,resultName,nextLoc){this.delegate={iterator:values(iterable),resultName:resultName,nextLoc:nextLoc};return ContinueSentinel}}}(typeof global==="object"?global:typeof window==="object"?window:typeof self==="object"?self:this)}).call(this,require("_process"),typeof global!=="undefined"?global:typeof self!=="undefined"?self:typeof window!=="undefined"?window:{})},{_process:4}]},{},[1]);



Images
LED Architectural Slim Wall Pack / Flood
LED Architectural Slim Wall Pack / Flood