The Best U.S. Cities to See Santa
He makes a list, checks it twice, and now he even has an army of surveillance elves on shelves to track our movements as we get closer to Christmas. Santa sure likes to keep his eyes on us but doesn't seem to welcome the same level of scrutiny. Where is Santa Claus and why can't we ever catch a glimpse of jolly old St. Nick?
For this study, the team at e-conolight set out to discover in which U.S. cities you have the best chance of catching a glimpse of Mr. Claus himself. We looked at several factors, including the number of malls, Christmas light displays, Santa impersonators, and toy stores in a given city. You can always try to follow Santa's progress using the Santa Tracker, but this year we're finally going to catch him!
Key Findings
High visibility: Riverside, CA, makes cruising through California a breeze every year for Santa Claus because they have the highest number of Christmas light displays per capita.
Ever wonder where St. Nick gets the blueprints for the toys his elves make? Orlando, FL, has the highest number of toy stores per capita. We would never accuse Santa of plagiarism, but we may know where he gets his inspiration.
Will the real Santa Claus please stand up? Oregon has the highest concentration of Santa impersonators for hire per capita.
The 20 Best U.S. Cities to See Santa
If you want to have a shot at catching Santa in the act this Christmas, this city in Pennsylvania might be your best chance. Residents in Harrisburg, PA, are sure to have front-row seats to see the man himself this year due to a large concentration of Christmas spirit in a single area. According to Google Trends, people in Harrisburg searched for "Christmas" and "Santa," the most compared to any other city in our study. Not only that, Pennsylvania has a dense state-wide population of deer. Maybe this is where Santa scouts his delivery drivers?
The next stop on Santa's travel itinerary is none other than the Empire State. Poughkeepsie, NY, came in as St. Nick's second-favorite stateside destination, probably because the kind locals graciously set him up for success with adequate lighting and an abundance of chimneys for him to shimmy into. Poughkeepsie has a higher number of bright LED Christmas light displays than most cities in our study, meaning Mr. Claus won't have to worry about low visibility while dropping off gifts for all the good boys and girls in town.
Even Santa needs a day off once in a while. This might be difficult to hear, but you'll likely encounter an impersonator at one of his meet-and-greets. Monitoring everyone around the clock is a tough job, so if there's anyone who deserves a break, it's Santa Claus. The question is, where does Santa host the hiring events to find his stunt doubles? If you guessed Oregon, then you are correct! The Beaver State has more Santa impersonators for hire per capita than any other state in the country. If you're an aspiring actor in the area, watch out next time you answer a Christmas-related casting call – a bad performance could land you on the naughty list this year.
The 10 U.S. Cities With the Most Holiday Spirit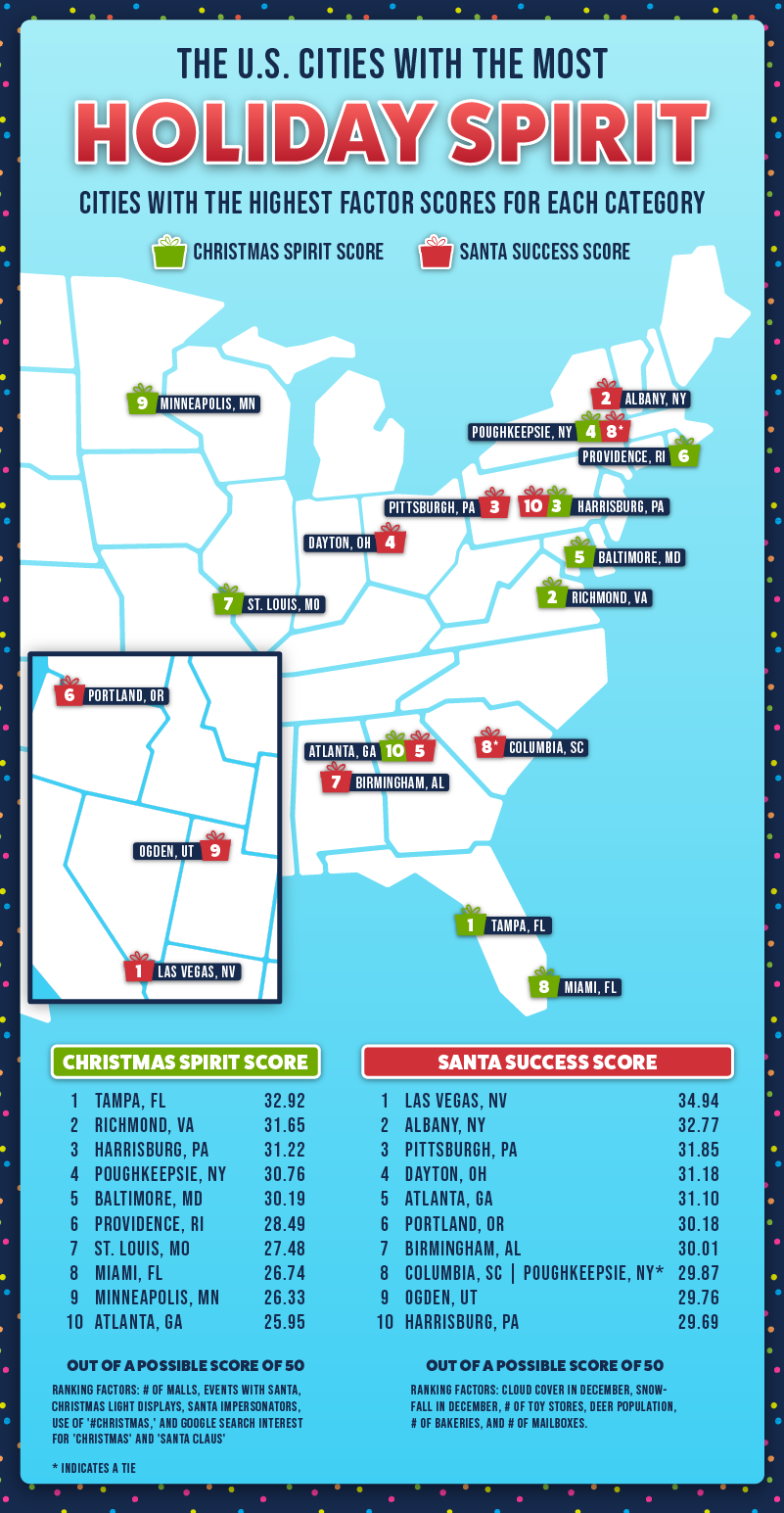 It's hard for a guy like Santa to feel like the hometown hero. Since he's one of the few residents who live at the North Pole, it's tough for him to feel like he's getting the credit he deserves. Touring musicians tend to avoid hitting cities where there isn't a high demand to see them. Well, the same goes for Santa Claus. When he's not diligently delivering gifts all over the globe, you can catch him at one of his guest appearances in cities with a high level of Christmas spirit. What cities does Santa visit when he's on tour?
Tampa, FL, is a favorite destination for Santa when he's not on the clock, likely because of the warm weather and even warmer locals. Tampa ranks high for Christmas spirit because of its number of Christmas light displays and events with Santa impersonators per capita. The use of the #FloridaChristmas hashtag on Instagram was also higher than in many other states. Florida called, and Santa answered.
Another favorite vacation spot for Mr. and Mrs. Claus is Las Vegas, NV. Ironically, living in Sin City won't put you on the naughty list because it has everything Santa likes. Vegas is chock-full of toy stores for Santa to explore and get ideas from to take home to his toy-building troop of elves. On Christmas day, Santa also enjoys cruising through Las Vegas because it has very little cloud cover in December.
Closing Thoughts
Santa might only make one delivery every year, but he's been working tirelessly around the clock to ensure every good boy and girl gets a gift they'll love on Christmas day. When he gets a few days off, he tends to gravitate toward places he feels welcomed. Now that you know what he likes and where he prefers to go, you can plan a trip to see the man himself, or even better, show some Christmas spirit and put up some lights in your town to make him feel at home!
Sure, some cities will always have more Christmas spirit than others, but a little bit can go a long way. Whether you're trying to raise your city's level of holiday spirit or just trying to make the road easier to see for his reindeer, e-conolight has the lighting solutions to ensure you have the best odds of catching St. Nick when he comes to your place this year.
Methodology
To determine the best cities to see Santa, we started with a list of the 100 most populated cities in the U.S. and ranked them from 1 to 100 based on 14 different factors that would impact one's ability to catch a glimpse of Jolly Old Saint Nick this year.
We assigned cities with a score of 0 to 5 for each factor, with a score of 5 representing the most favorable conditions. We determined each city's total score from the total of its individual factor scores, which were weighted according to their impact on seeing Santa. Individual factor scores were then added together to give each city a final score from 0 to 100. Higher scores indicated cities are better for people hoping to finally catch the man with the bag.
Ranking Factor
Weight
Source
Christmas Spirit Factors
Number of Malls
2.0
Wikipedia
Events with Santa
2.0
Eventbrite
Christmas Light Displays
1.5
Yelp
Santa Impersonators
1.5
Santa for Hire
Use of '#Christmas'
0.5
Instagram
Search Interest for 'Christmas'
1.0
Google Trends
Search Interest for 'Santa Claus'
1.0
Google Trends
Santa Success Factors
Cloud Cover in December
1.5
Weather-US
Snowfall in December
0.5
Weather-US
Houses With Chimneys for Sale
3.5
Redfin
Number of Toy Stores
1.0
Yellow Pages
Deer Population
1.0
Wildlife Informer
Number of Bakeries
1.0
Yellow Pages
Number of Mailboxes
1.5
Mailbox Locate