The Most Popular Charcuterie Board Ingredients Across the U.S.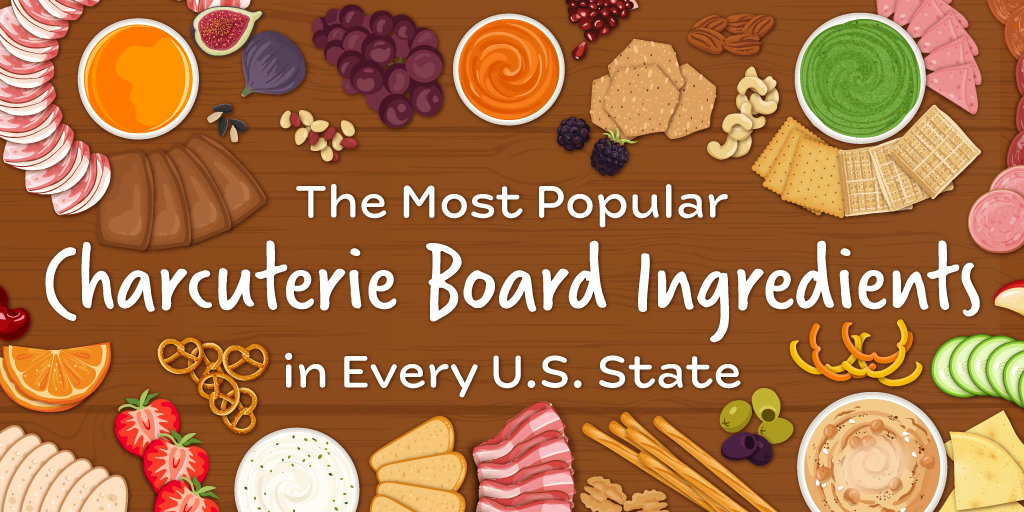 Charcuterie boards are an easy way to really wow guests during a get-together! It is a unique way to provide an array of foods and offers the host a chance to get creative with the presentation. Since the pandemic, people have even started replacing traditional wine nights with BYOCB (bring your own charcuterie board) nights. We know charcuterie boards will be a crowd pleaser, but that leads us to the question—what ingredients are musts to include on the board? And, how do preferences vary across the country?
At e-conolight, we love to see people light up in response to a well-made appetizer. That's why we wanted to dive into the most popular meats, cheeses, breads, and more for charcuterie boards. We turned to Google Trends data to determine each state's go-to charcuterie board items. Read on to see what we found!
The Most Popular Charcuterie Board Ingredients in Every U.S. State

Creating a charcuterie board is one of the simplest and tastiest ways to satisfy everyone's food preferences—even the pickier ones! Between the meats, cheeses, crackers, fruits, vegetables, dips, and nuts, there is something for everyone to nibble on. It might even be the main attraction at your next get-together with friends and family.
Charcuterie boards can be created in many ways depending on whether you enjoy sweet, savory, or spicy food. Based on our research, Hawaiians enjoy assembling a sweet board by adding macadamia nuts and marmalade spread. Pennsylvanians also appreciate a sweet-style board that includes biscotti, cranberries, honey, and walnuts.
Delaware and Washington both enjoy more of a spicy food palate by incorporating chutney as the "go-to" dip. Louisianans enjoy a sweet and spicy board featuring corn chips, strawberries, pecans, and pepper jelly, which is popular in the southern regions.
Given how well-known Alaskan salmon is, it should come as no surprise that salmon is often featured on their charcuterie boards. Alaskans often use a salmon dip paired with sourdough, raspberries, cashews, brie cheese, and pâté to entertain guests at their dinner parties.
The Most Popular Charcuterie Board Ingredients Overall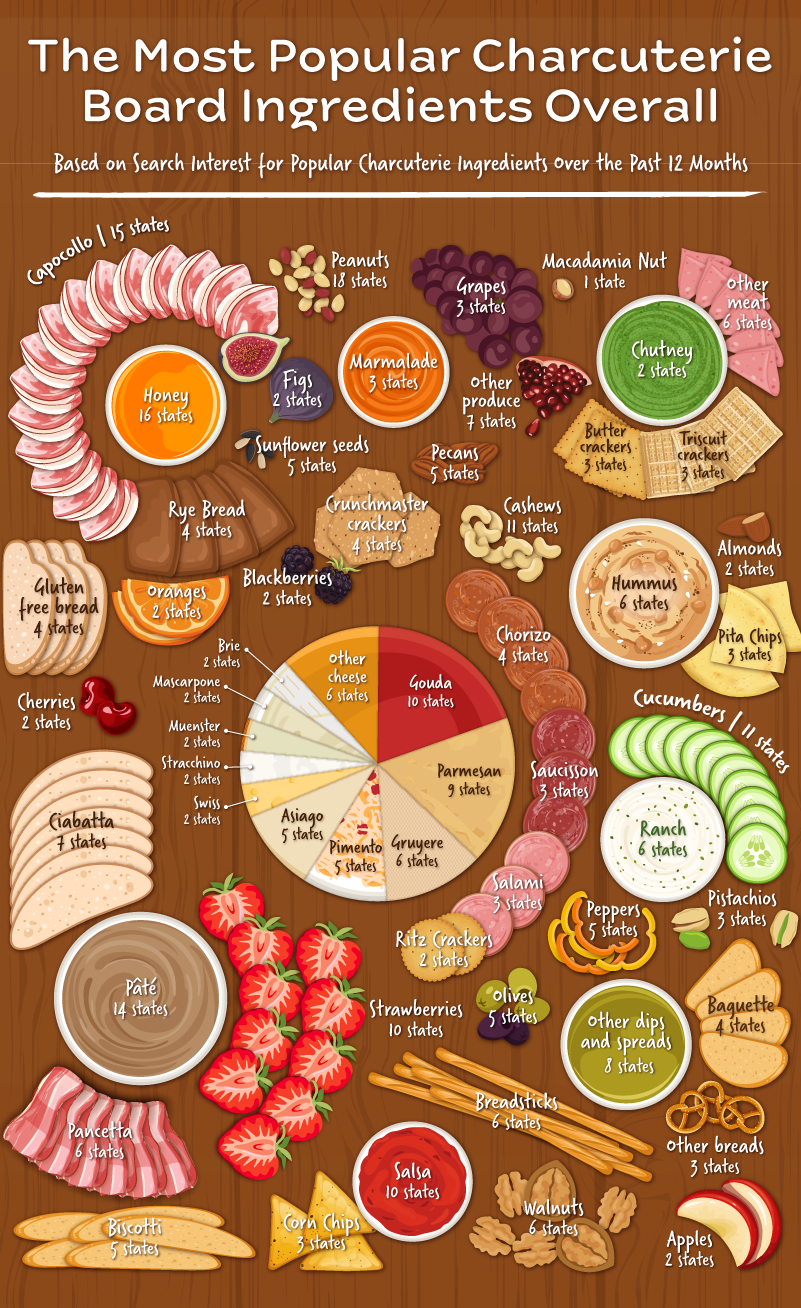 Beyond just the beautiful, vibrant assortment of bite-sized foods lies the responsibility of combining all the flavors. The pairing of meat and cheese with the crackers, dip, and other additives of choice can make or break a board. So which meats are most common to tie a bow on an appetizer? The most popular charcuterie meat is capocollo, a thin Italian pork cold cut, which is most popular in 15 states, including Nebraska and Pennsylvania. Following closely behind in 14 states is pâté, a variety of different meats ground together to create a meat paste.
Getting creative with selecting cheese to add to your charcuterie board can be great fun; there are soft cheeses, semi-hard cheeses, and hard cheeses to pick from, and many people will choose one of each! Because it is so "good-a," gouda cheese is the most popular charcuterie cheese in ten states. If you're seeking a traditional charcuterie pairing, gouda is paired exquisitely with capocollo. Parmesan cheese, a hard texture cheese that pairs well with crackers, is the second most popular cheese in nine states.
The preferred bread for creating an impressive charcuterie board is ciabatta, which is the most popular bread in seven states. The most popular vegetable in 11 states is cucumber, which will add a refreshing aspect to the cheese and crackers. Strawberries are ranked the second most popular in the fruits and vegetables category and will enhance the board's sweeter components. Surprisingly, despite their frequent usage on charcuterie boards, olives are one of the least preferred toppings.
Incorporating nuts into a board adds to the aesthetic appeal and nutritional value. Peanuts are the most popular nut to add to a board and are preferred in 18 states, followed by cashews and walnuts. Finally, the dip is the communal dish that connects everything together. The most popular dip is honey in 16 states, which complements the savoriness of the meat, cheese, and crackers.
Closing Thoughts
When it's time to host a gathering, the best way to set the tone is by preparing the proper food and using the correct lighting. The team at e-conolight knows that the spotlight is anywhere the food is, and you will want to make your party as beautiful as your charcuterie board. Consider accentuating this centerpiece with LED lights, or browse our residential lighting solutions to ensure you set the tone for your guests.
Methodology
To find the most popular charcuterie board ingredients in every state, we compiled a list of 119 ingredients you might find on charcuterie boards using websites like Reluctant Entertainer, Home Made Simple, and Tastes Better from Scratch, along with our own charcuterie experience. To organize the data, we broke our search terms into six categories: meats, cheeses, breads/crackers, fruits/veggies, dips/spreads, and nuts. This gave us a good look into what a charcuterie board might look like from different parts of the country.
We then analyzed the regional interest of the 119 ingredients on our list using Google Trends search data from June 2021 to June 2022. Finally, we compared the popularity of each ingredient in terms of Google's search interest metric to determine what residents in each state might be filling their charcuterie boards with for their next dinner party!