Best Outdoor LED Lighting For Summer
Ah, summer.
A time of grilling, get-togethers, late-night swims, karaoke parties…
Oh, wait. That's just us. Ahem.
But even so, when you invite friends or neighbors to your house for some good ole fashioned fun, you want your home to look its best. And not only on the inside.
Use high quality LED accent lighting to make your home look and feel more welcoming, the second the sun goes down.
Without further ado, here's our top picks for the best outdoor LED lighting for summer.
Welcome to LED Dusk to Dawn Lights 101
You'll find LED dusk to dawns at places like barns, garages, driveways, sheds, and yards.
The main draw to these fixtures is that they contain a built-in photocell that automatically turns the light on when it gets dark and then off again when the sun comes up.
So if you're really busy (which you are), they basically do all the thinking for you.
What else does this mean? It means you or your client will save hundreds on your electric bill by not remembering to turn the lights on and off.
We call that maintenance-free, my friends.
Not to mention, dusk to dawn outdoor lights can increase security around your house or barn by giving potential intruders the idea that people are home, even when they're not. Plus, with the bright and even light of LED all through the night, thieves won't even dare to come close.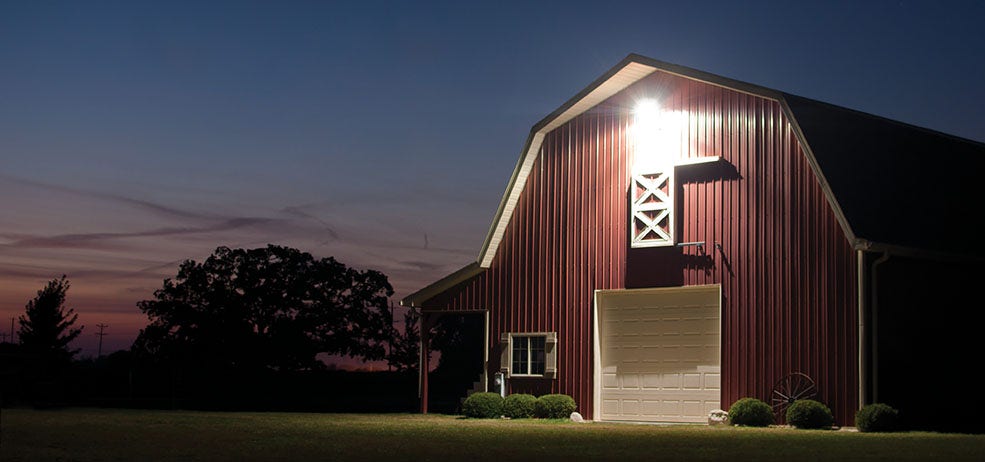 But how do photocells actually work?
They use semiconductors to control the electric current. Once a certain level of light hits these semiconductors, the current flows and the luminaire shuts off. And, since photocells detect ambient light levels, they naturally adjust during daylight savings time.
How to Light Your Home And Flag Like a Boss with LED Flood Lights
Outdoor LED flood lights are a great way to make your home appear more warm and inviting under those summer skies.
Place them low in your landscape and direct them upward. Use their bright and even light to accent certain areas or architectural features, like stone accents, arching columns, brick highlights, or maybe even a statue.
For all those spots in between, lateral floods get the job done perfectly.
In fact, narrower beams work best to highlight vertical features of your home, while wider beams are more suited for horizontals.
This method can give your home some serious curb appeal.
Here's a secret:
Home LED flood lights look the best when they're combined with other layers. Why?
Because layering creates a full spectrum of light – anything from a soft hue to a more intense shine. This lets you highlight desired areas, rather than lining up ten floods soldier-style and blasting your entire house like a parking lot.
Plus, if you add soft showers of light across the front of your home, it carries visitors' eyes across the entire front, in all its glory.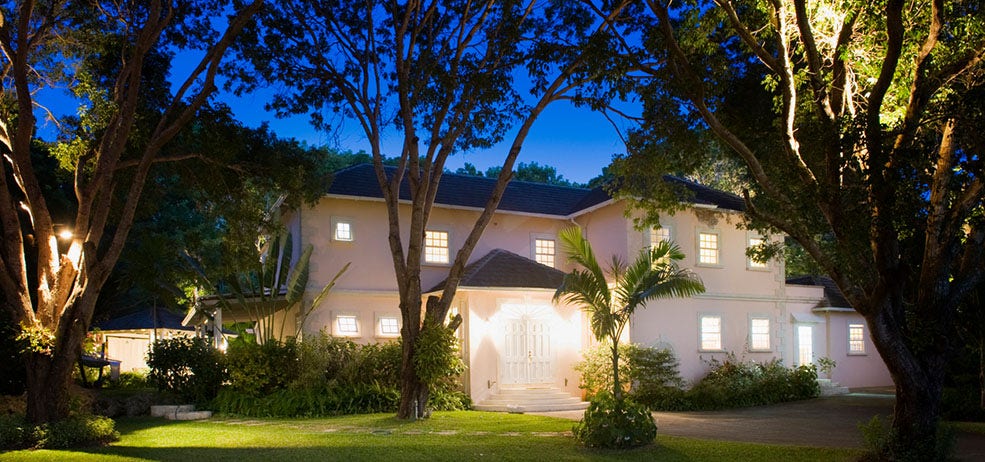 But what kind of flood light, exactly, should you use? You know, considering there's only a thousand or so.
Start with a lateral wash flood fixture. Its oval shape is perfectly suited to shoot a wide wash of light towards your home.
A bullet flood light, on the other hand, has more concentrated light and is better for shooting light up trees, or poles.
Like for lighting your flag on 4th of July.
These are also called directional lights, and you'll probably need two or three to get the job done.
If you have a flag up to 4 x 6 feet, two should be enough. Use three for anything up to 6 x 10 feet.
Find the narrowest beam spread you can, whether it's a flood or spot light, with at least 150 lumens. Keep in mind, it needs to be wide enough to keep that flag lit, regardless of whichever way the wind swings it around the pole.
Next, install your fixtures about three feet from the pole. Then aim your light at the ball at the top of the pole.
The result? A flag that'll make spectators 'ooh' and 'ahh.'
LED Landscape Lighting Made Simple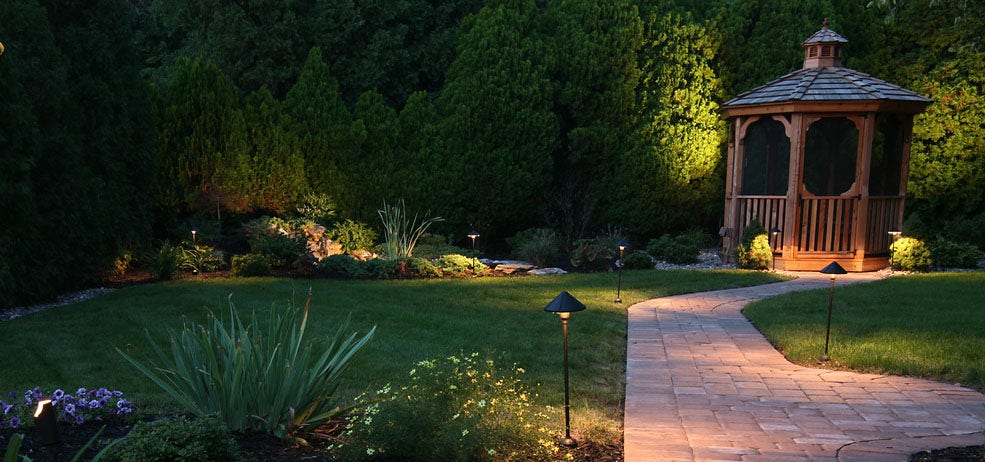 LED Landscape Lights are the perfect way to bring your backyard to life in summer, essentially making it an additional room of your house.
Depending on the intensity and placement of the lights, you can set a soft mood during evening hours, illuminate darker areas to improve a sense of security, or simply highlight your favorite features, like a bench, pond, or statue.
Once you have your goal in mind, you can put led outdoor landscape lighting underneath shrubs or bushes to create that softness we mentioned earlier. Or, if you have a path along your patio or within the grass, you could consider putting short stake lights along the border, as means of lighting the way.
Try to space out the lighting within equal distance of each other. (It looks the nicest this way.)
Not sure where to start? Meet the Equalizer Hub Wiring System.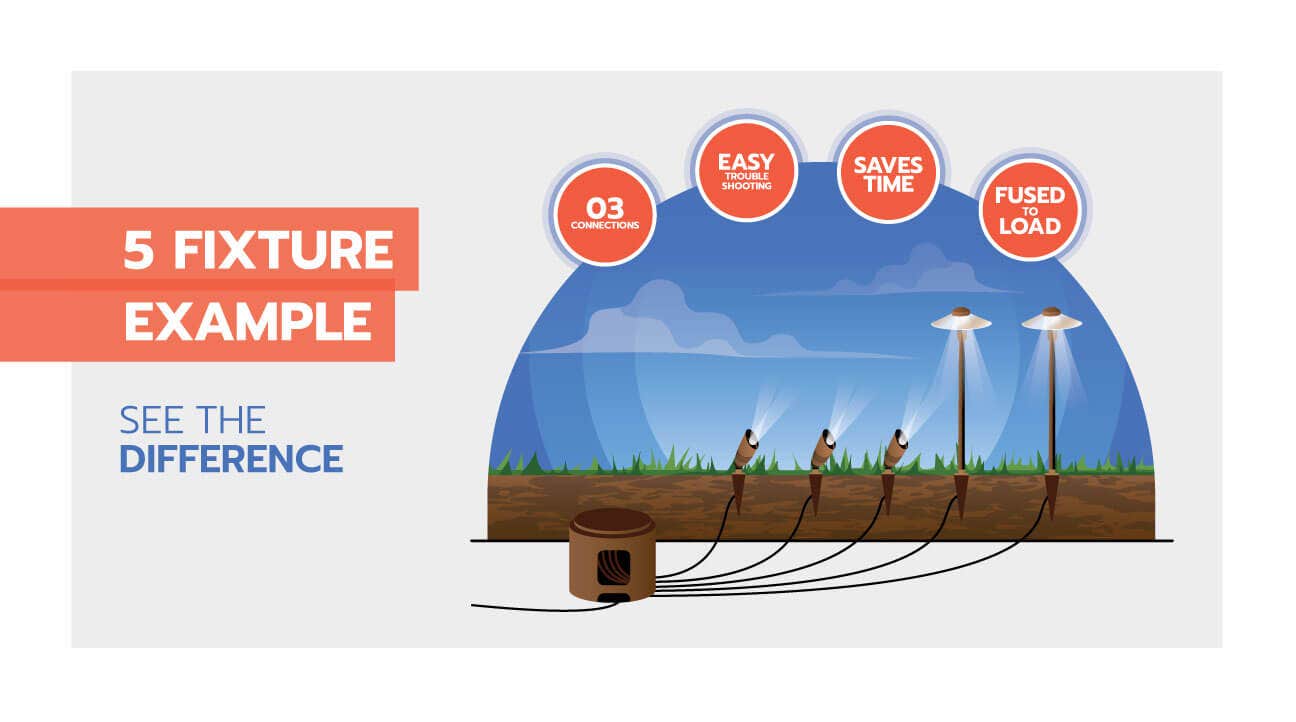 With an 18/2 – 25' wire lead on each fixture, the Equalizer Hub uses a HUB Wiring Method to give you 20 and 10 amp replaceable fuses at the connecting point, plus a single connection point per homerun.
This allows you to easily adjust the fuse size to your load or wire size, which then gives you simple and accessible trouble-shooting.
And, since you can check the voltage only at the hub, rather than at each fixture, it'll save you time.
The Satellite Hub comes equipped with 3 barrel lugs with lithium-greased caps, in addition to an In-Line 5-, 10-, and 20-amp fuse. It allows equal voltage at every lamp, and connections stay protected in a direct burial enclosure.
Bonus: each part of the Wiring System has earth-toned housing that blends right into the scenery.
Here's a graphic that outlines the installation process, step-by-step: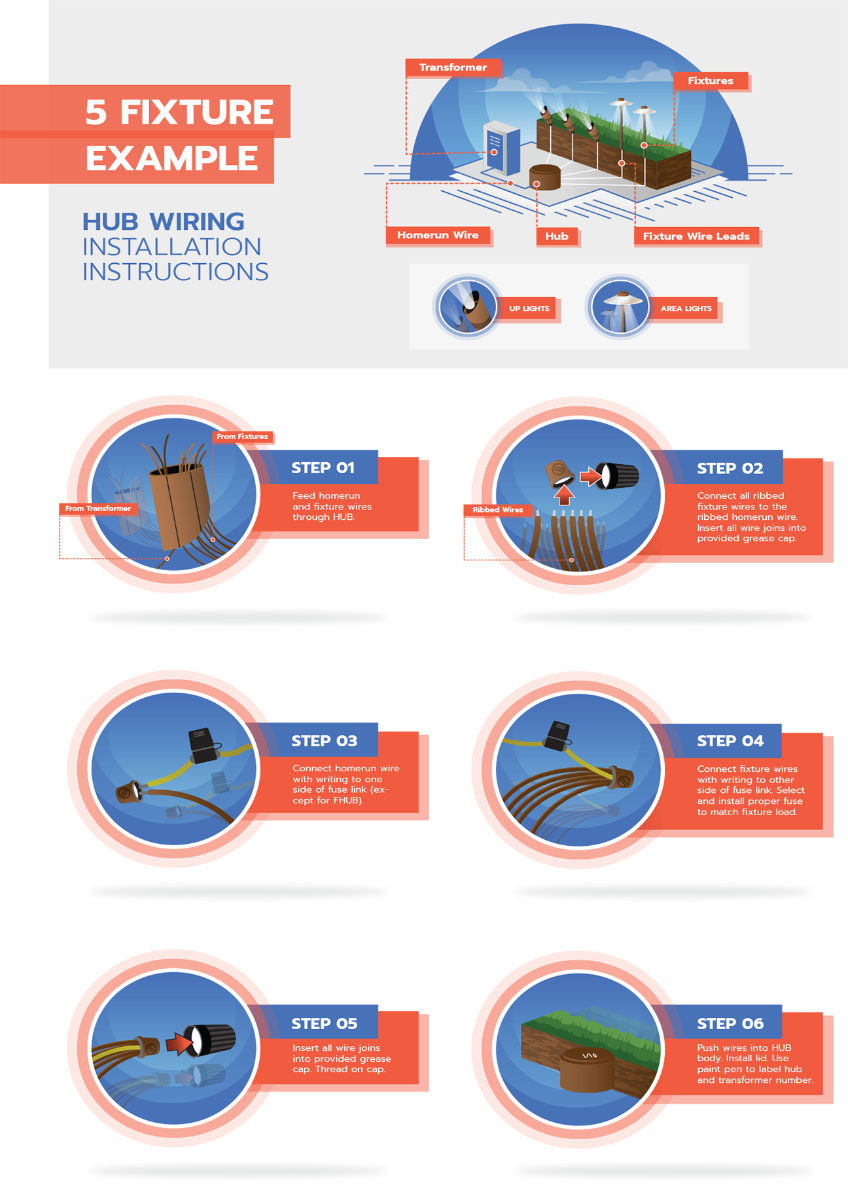 To sum it all up...
Hey, thanks for getting this far. We hope this article inspired you to pick out the perfect outdoor led dusk to dawn, flood, or landscape fixtures for summer.
Before you know it, your home will be gracing the cover of magazines…
Or maybe just earning the nod of approval from your neighbors. Even the cranky one.
Not sure how many fixtures you need? We have a lighting layout tool for that. It lets you enter the dimensions of a customized area, then calculates how many fixtures you'll need and where to place them to achieve the desired effect.
It's basically a lighting fortune teller, without the hefty price tag. In fact, it's completely free.
Know what else is free?
Advice and trouble-shooting from our very own lighting experts. Also, if you need help picking out the right lighting, give them a ring at 1-888-243-9445. They're here Monday-Thursday 6:30 AM-5:30 PM CT, Friday: 6:30am - 5:00pm CT, and can certainly point you in the right direction.
Like this blog? Want more helpful articles, plus access to exclusive offers and new product releases before everyone else?
.