The Best & Worst States at Family Feud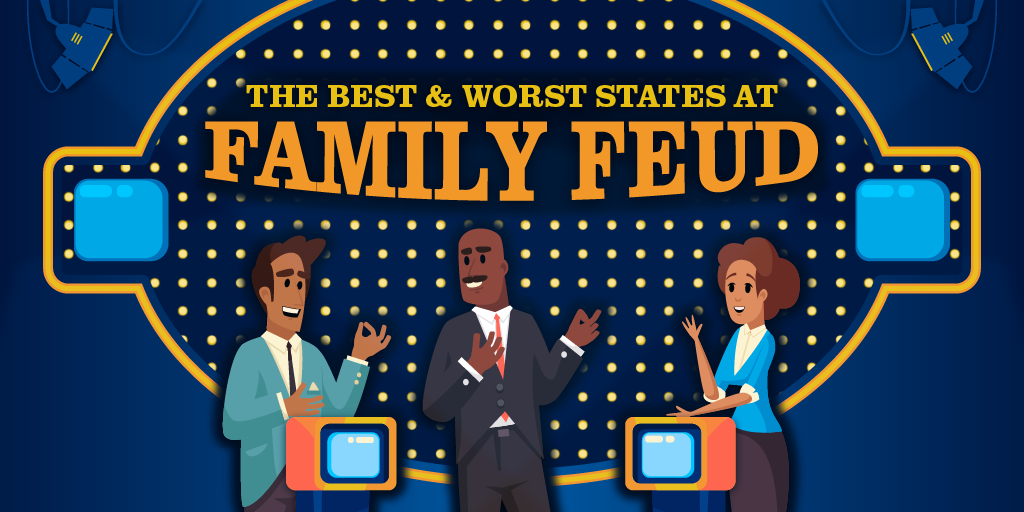 It's time to play… Family Feud! Whether you're a Richard Dawson fan or more of a Steve Harvey person, we can all agree that Family Feud is one of America's greatest game shows. The show recently announced its season renewal through 2026, which will mark 50 years since its debut in July 1967.
To celebrate, we wanted to find out which U.S. states are the best (and worst) at playing Family Feud, so we created our own version of the game for states to battle it out! Some of the results might surprise you, so step up to the podium, hover over the buzzer, and get ready to see how your state stacks up. Survey says... let's go!
"We Surveyed 100 Americans, the Top Answer is on the Board..."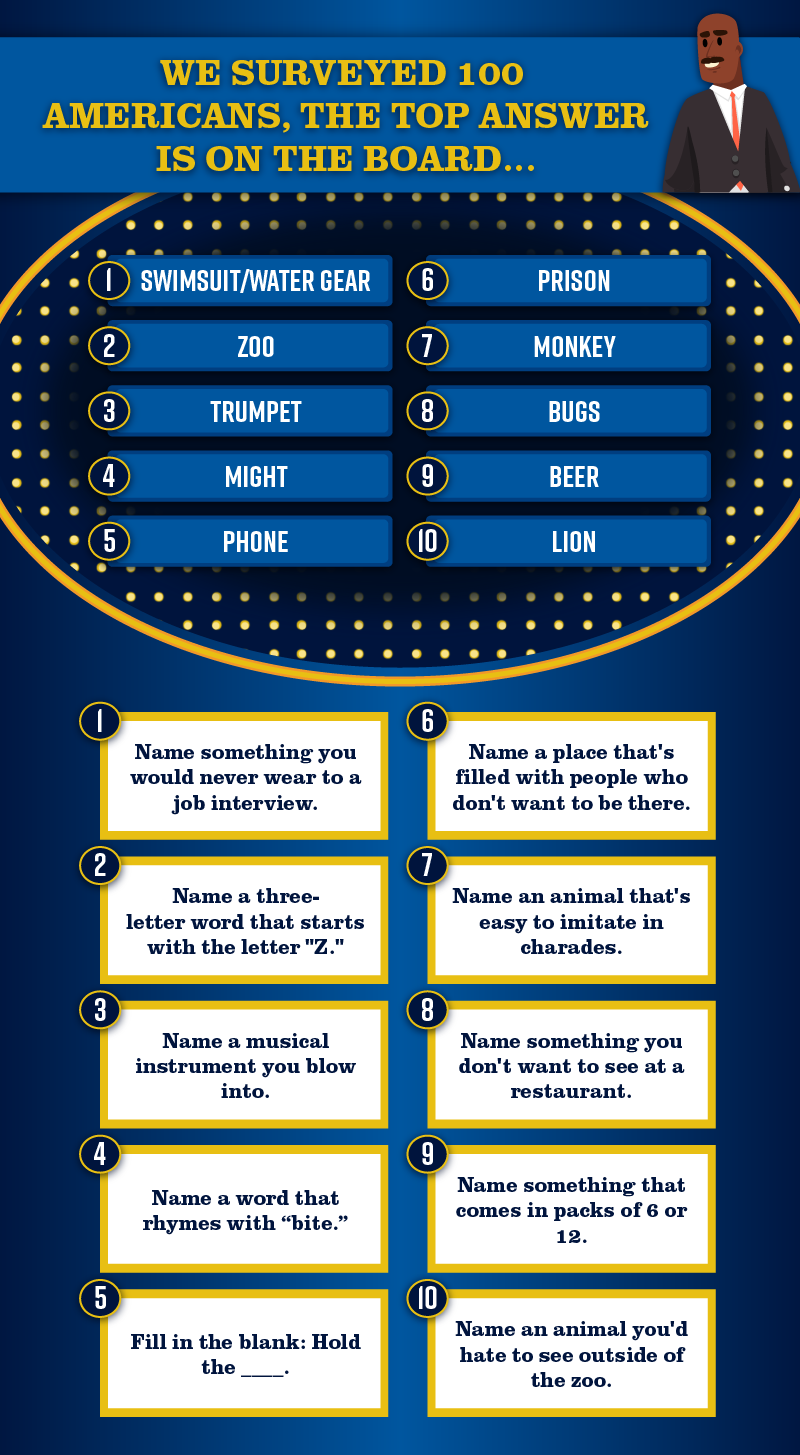 Our study would be meaningless if we didn't stick to strict Family Feud conventions, right? So, in true FF sudden death style, "the top answers are on the board.."
Next up, we bring in the competitors: every state battled it out as if they were one family. Their hope at making it to the "Fast Money" round was to have the most matching top answer responses of any state.
The Best U.S. States at Family Feud
Survey says… South Carolina is the clear winner and the best state at Family Feud! The Palmetto State has a knack for nailing the top answers more often than any other U.S. state. It's almost like they have a direct line to Steve Harvey's brain!
But it's not just South Carolina that's got game. In a surprising twist, Alabama, Arizona, Kansas, Missouri, New Hampshire, and Washington all tied for second place in our Family Feud rankings. These states may not have gotten a perfect score like SC, but they definitely know what Americans are thinking!
What's one thing every state is united on? "Zoo" being the first three-letter word that starts with "Z" comes to mind in every state that participated. Who knew, right? If Steve Harvey had asked us, we probably would have said "zag," but what do we know?
The Worst U.S. States at Family Feud & Their Incorrect Top Answers
Our state vs. state Family Feud game was a stumper for several, with Illinois and Indiana duking it out for the dubious honor of finishing dead last. Close behind were Kentucky and Nevada with only getting half of the correct answers.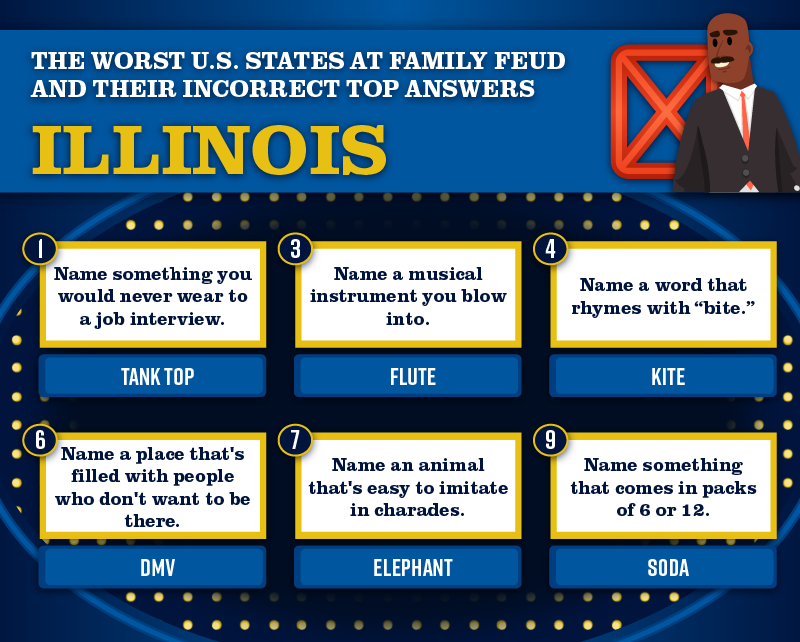 Though some of these states' top answers were not the number ones we were looking for, we've got to hand it to them for coming up with some other applaudable responses that we know would have gotten a resounding "good answer, good answer."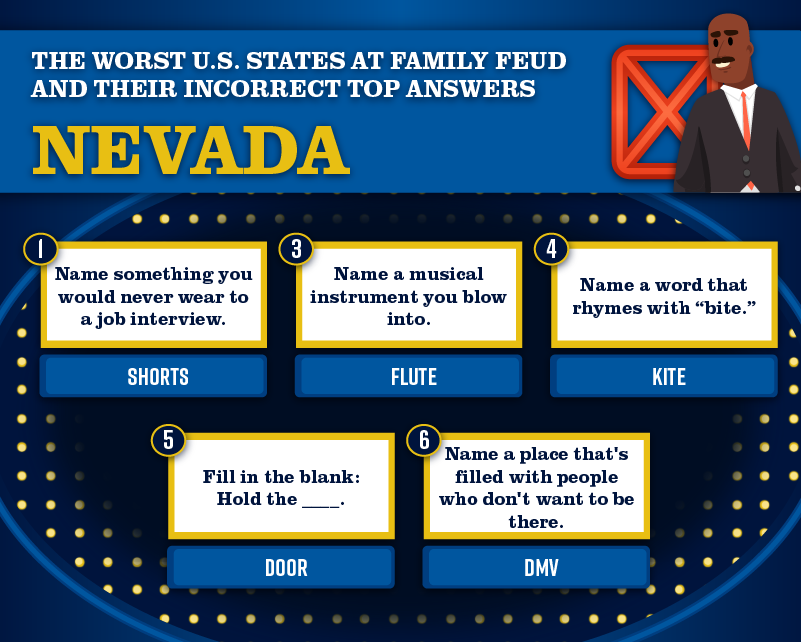 For example, for question six? (Name a place that's filled with people who don't want to be there.) Both Illinois and Kentucky said "the DMV" - which is honestly pretty spot on - but compared to prison, the DMV probably seems like a comfy lounge.
When it comes to question 5, we have to give props to Indiana, Kentucky, and Nevada for their impeccable manners. All three states immediately thought "door," which, although wrong, is a very polite and considerate answer!
Also, there are SO many things we'd never wear to a job interview– pajamas, superhero costumes, a shirt with a picture of our face on it; the list goes on. So we're really not in a position to blame these states for their question 1 fails.
Closing Thoughts
Ah, Family Feud. The only place where you can argue with your relatives and still have a chance to win a prize. That's a wrap for our state vs. state Family Feud game, and it's clear that while some states have a natural talent for the game, others could use a bit more practice. But no matter where your state ranks, we can all agree that Family Feud is always a blast and that Steve Harvey and his impeccable mustache are a true national treasure!
For many of us, nothing beats a night in with the family watching your favorite TV shows, whether playing along with game shows like Family Feud or binge-watching the latest Netflix series. But when it's time to dim the lights and set the mood, it's crucial to have the right lighting in your home. That's where e-conolight comes in - our versatile range of high-efficiency interior lighting options helps you create the perfect atmosphere for your cozy night in.
Full Data
If your state isn't in the top 7 or bottom 4, and you want to dig deeper to see how your state answered, check out our interactive data table below. Search for the activity or click on the column heading to sort findings by question.
Methodology
In true Family Feud fashion, we started by surveying 100 Americans in February 2023 with 16 questions one might typically see on the show. From there, we pulled out the 10 best questions with the most answer variance and surveyed every state accordingly (about 2,500 respondents). We determined the rankings by comparing each state's most common answer responses to the nation's most common answer responses. The states with the most matching top answers were the winners ("of a whole lotta cash and the chance at a brand new car!"). It's worth noting that due to their lower populations, we didn't receive enough responses from Alaska, Montana, North Dakota, South Dakota, Vermont, and Wyoming to accurately gauge their success in our mock game.