The Most Popular Casserole in Every State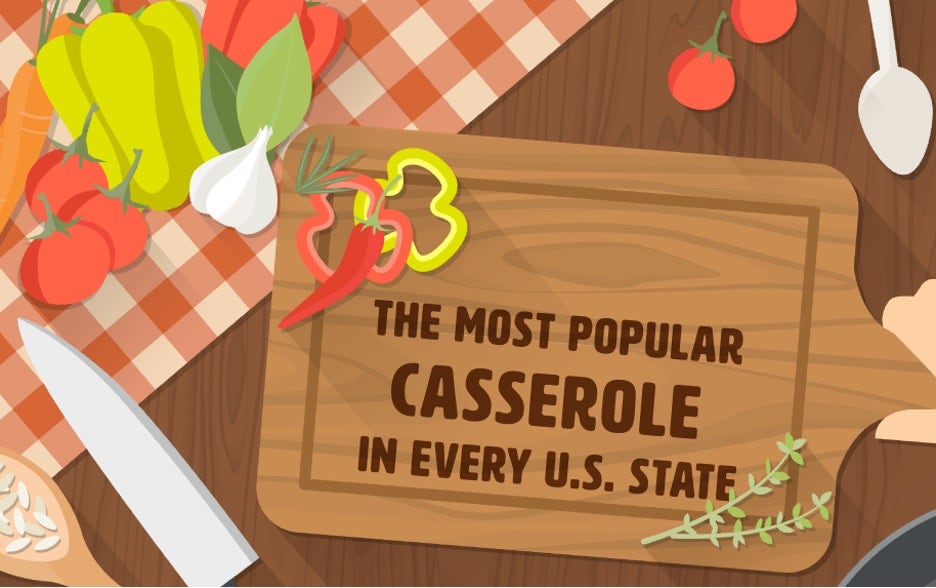 "We brought the green bean casserole!" This is the tragic line we hear in our foyers year after year as guests bring the same tired dish to our holiday parties. Somehow, every year, so many of our family and friends convince themselves that they will be the only ones to come up with green bean casserole. No, thanks.
Now, we have nothing against green beans or casserole (ok, maybe we're a little prejudiced against green beans). But we love casserole! That's why we used a list of popular casseroles and Google Trends search interest to find out which casserole variety is the most popular in every state. That way, maybe, just maybe, this year our guests will bring varied and unique casseroles from all corners of the U.S.
Read on to find out which casserole is your state's green bean casserole.
The Most Popular Casserole in Every U.S. State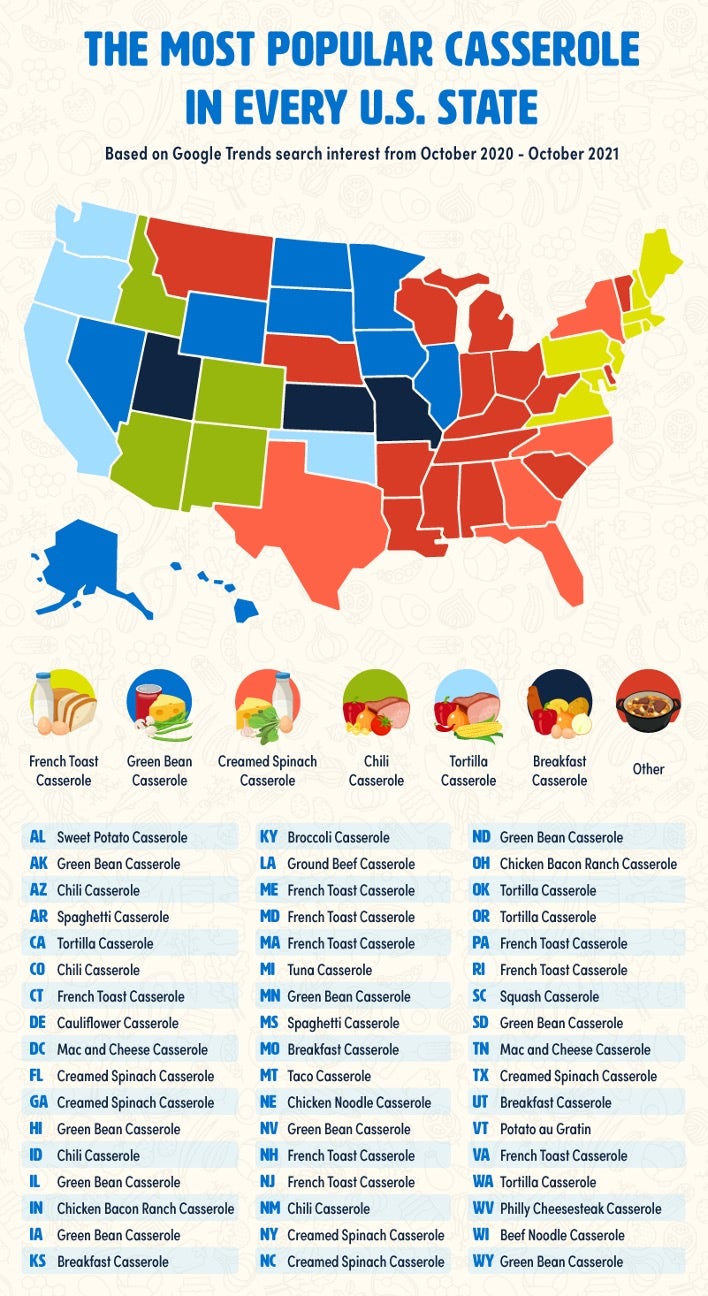 Overall, 20 unique casserole dishes managed to win in at least one state across the country. Some were more popular than others, but before we get to the best casseroles overall, let's look at some of the honorable mentions.
Pennsylvanians are evidently tired of their hometown classic, the Philly cheesesteak casserole, which was the top searched in West Virginia alone. Instead, french toast casserole made Keystone State natives nostalgic for a home sweet(er) home.
Beware of Michigan, where guests are most likely to bring tuna casserole, and Delaware, where cauliflower casserole is most prominent. Instead, consider visiting loved ones in Indiana or Ohio, where guests are most likely to have chicken bacon ranch casserole in hand.
The Most Popular Casserole by Region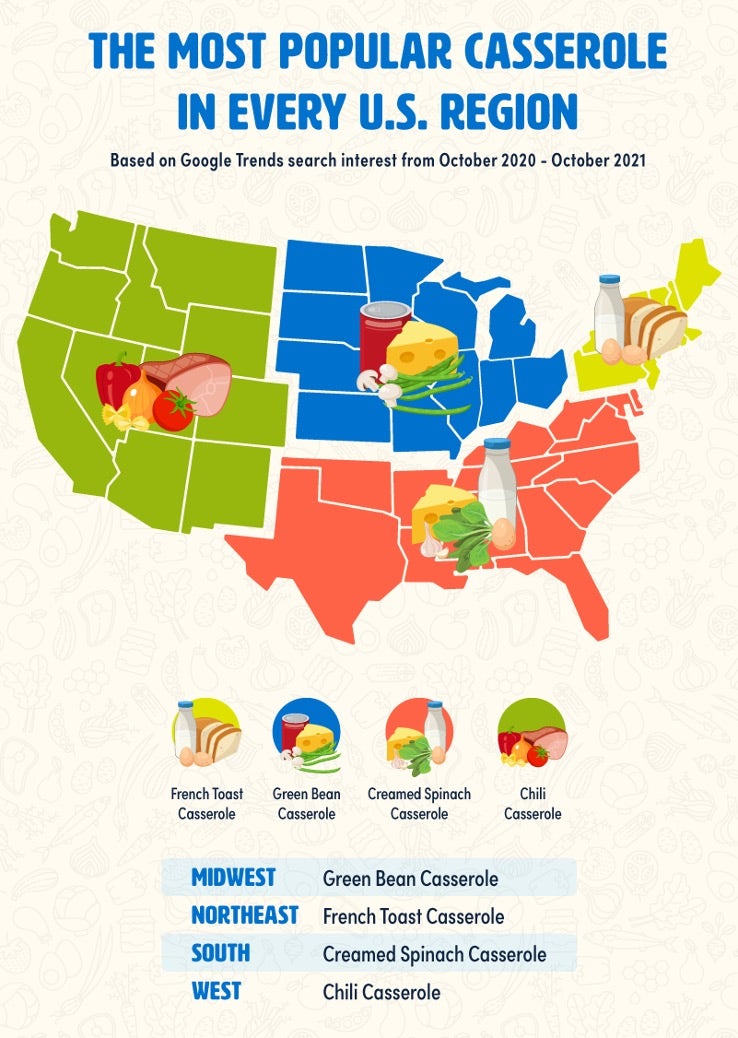 We're not surprised to see green bean casserole win the most hearts and stomachs in the midwest. It is the quintessential holiday dish of the region, lending credence to decades of tradition. Maybe green bean casserole isn't so bad, after all.
But more excitingly, french toast casserole is the most popular in the Northeast. Combining a main course and a dessert, this franken-dish is bound to light up hearts, faces, and stomachs over the holidays. Southerners, with their love for all things creamed, vouched for creamed spinach casserole over all others. Lastly, those in the wild West prefer the kick of spicy casserole to wake up their holiday meal with a punch.
But which casserole takes up the most table space across the country?
The Most Popular Casserole Overall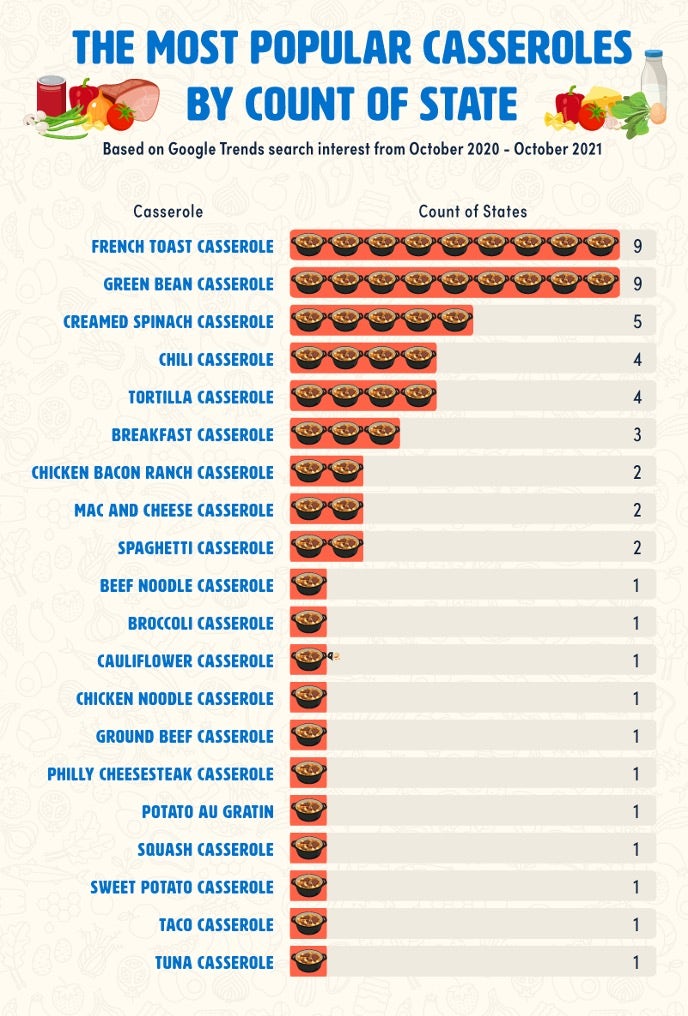 You guessed it! Green bean casserole won nine states, making it one of the most popular casseroles overall. However, the timeless classic shares the number one spot with none other than french toast casserole—leading us to question how many parents are allowing their children to peruse Google unsupervised?
There is a big gap between these twin winners and the runners up, with creamed spinach casserole taking only five states to its name. Chilli and tortilla casseroles were each most popular in four states while the humble breakfast casserole satisfied early risers in just three.
Final Thoughts
We understand that indoor LED lighting is just one component of a great holiday gathering. You can't forget great food. In tandem, this combination will light up the faces and spirits of loved ones anywhere in the country. Whether you're a fan of the classics or in the mood for something new, the above map has the right casserole for you to bring to a holiday party this year.