Wallets Out! Black Friday and Cyber Monday Shopping Habits
Most years, Black Friday shopping starts when the clock strikes midnight and thousands of crazed shoppers shamble from the warmth of their cars toward the harsh fluorescent glow of retail heaven. In just a matter of days, the shopping urge returns, and holiday-focused shoppers log on to their computers for another bout of spending during Cyber Monday.
Many Americans will do anything to catch a great deal on a product, whether for themselves or as holiday gifts for family and friends. We at e-conolight are no strangers to these shopping sprees and reward our own customers with blinding deals and doorbusters.
And yet, it seems these events are so ingrained into tradition at this point that they are taken for granted by many. Stores offer deals, consumers buy merchandise. Rinse and Repeat.
Methodology
That's why we wanted to enlighten ourselves on the specifics of Black Friday and Cyber Monday traditions in the United States. Specifically, we surveyed more than 1,000 American shoppers to shine a light on the who, what, when, where, why, and how of these behaviors. Read on to see what we found!
Who We Shop For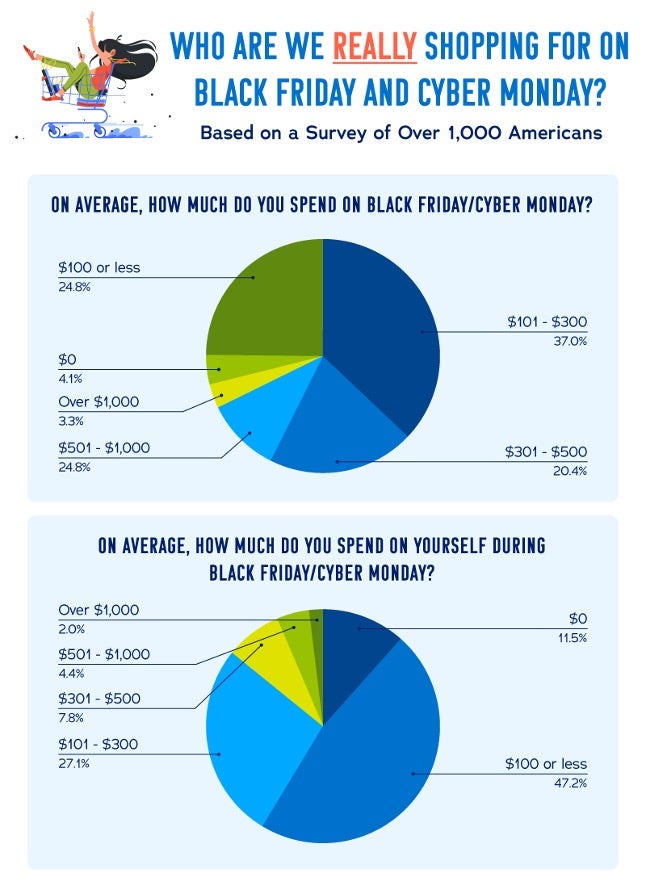 The weekend composed of Black Friday and Cyber Monday is often hailed as the official start of holiday shopping. And indeed, many holiday gifts are bought over this stretch of time. But individuals also put off big-ticket purchases for themselves in order to take advantage of these floor-scraping deals. So, who benefits most from these shopping events?
According to our survey, $101-300 is the most common amount to spend overall, with 37.0% of respondents doing so. Another 20.4% spend $301-500, while 28.1% are highly dedicated shoppers who spend more. But before patting these high-spenders on the back for their generosity, let's take a look at how much they're spending on themselves.
Nearly half (47.2%) spend up to $100 on themselves, which seems reasonable. However, 27.1% take home $101-300 worth of merchandise for their own benefit—two-thirds as many shoppers who spend that much overall. We saw that 7.8% spend $301-500 on themselves and 6.4% surpass that sum. It's these shoppers who are likely furnishing the living room with a new TV or next-generation gaming console.
What We Shop For
<
>
Interestingly, clothes are the first thing to fly off of the department store racks with 19.5% of respondents claiming them as their main item for Black Friday and Cyber Monday shopping. In second and third place, respectively, laptops and computers are the most-purchase item for 1.6% of respondents, video games capture the wallets of 10.8%.
Some of the less-coveted items include furniture (3.2%), sports equipment (3.6%), and cell phones (4.3%). It's understandable that furniture sits lower on the list amid the mountains of flashy advertisements for the next big gadget, but don't forget about your own living space this year. A set of smart LED bulbs would go great with that new OLED TV or smart hub purchase.
When We Shop
There's a popular misconception that Black Friday shoppers storm the malls at 12 am on the last Friday of November and don't stop piling goods into their carts until they drop from exhaustion. But this really isn't the case—at least not anymore.
According to our results, the majority of shoppers (58.8%) actually spend just 2-4 hours combined between Black Friday and Cyber Monday. Another 23.5% of shoppers are done in under an hour. Many retailers now advertise deals online ahead of the big event, which may help consumers decide what deals to take advantage of and complete their shopping without fanfare.
When it comes to what time shoppers start, the results were, again, less dramatic than we expected. Shoppers aren't lining up in the middle of the night with camping gear. Instead, the most common time to start shopping is between 9 am and 12 am. In all, 69.5% of shoppers wait until after 9 am to start shopping. We can't blame them—with the combination of convenience from the Internet and lethargy from Thanksgiving feasts, it's getting harder and harder to justify brick and mortar shopping.
Where We Shop
Confirming our suspicions, when doors open on Black Friday, consumers flock to—Amazon. Yes, the e-commerce giant is the most-shopped vendor on Black Friday, according to 23.7% of respondents. Runners up included Walmart, Target, and Best Buy, which were shopping destinations for 15.9%, 15.7%, and 9.8% of respondents, respectively.
When it comes to Cyber Monday shopping, Amazon is in the lead by far. Two in five respondents reported shopping there, while just 14.5% and 13.7% shop at runners-up Best Buy and Target, respectively. Overall, while enthusiasm is healthy for these shopping events, consumers seem to be taking a more reasonable approach than the Black Friday hysteria we've heard about from years past.
Illustrating this point, the majority of Cyber Monday shoppers don't stay up until midnight to start shopping. Even though they don't have to leave their homes (or even their pajamas), 73.81% of respondents say it can wait until morning. Similarly, for Black Friday, 85.98% of respondents said camping out in front of a store is an activity they simply are not willing to accommodate.
Why We Shop
The answer to why we shop on Black Friday and Cyber Monday is as obvious as it seems. We do it for the deals! So a more relevant question might be, how good do the deals need to be to get us to spend our hard-earned money on Cyber Monday? Pretty good, according to our data.
The main contenders for minimum Cyber Monday discounts are at least 25%, at least 35%, and at least 50% and the results between these three were split fairly evenly. One in 4 respondents requires half off their purchase of choice, while one in three will settle for a still-hefty 35% discount. Finally, 29.5% of respondents will take 25% off everything in their cart.
How We Shop
As we hinted at earlier, Black Friday is becoming more of an online event like its sister shopping day, Cyber Monday, is. An astonishing 52.6% of shoppers plan to go Black Friday shopping virtually from the comfort of their keyboards. Another 26% plan to shop virtually and in-person, while a tiny 4.6% of shoppers are exclusively trudging through isles of deals in the flesh.
Not only that, but Cyber Monday has become a bigger phenomenon, despite being about 50 years younger than the in-person event. According to our data, two in three shoppers plan to do more Cyber Monday Shopping and just one in three will shop more on Black Friday—and even then, not necessarily in-person!
Of course, the ongoing global pandemic is contributing to the high number of online shoppers this year, skewing the results. In fact, 46.5% say they are shopping less than they did before the pandemic overall, and just 16.2% say the pandemic has caused them to shop more. When it comes to the shopping they are doing, 83.8% of respondents reported they are accomplishing more of it online this year due to the pandemic.
Final Thoughts
We had fun exploring the ins and outs of these legendary shopping traditions, including who we shop for, where and when we shop, and how our shopping experience is coasting steadily toward the digital realm. And remember, if you plan to be among the online shoppers this November, make sure you stop by e-conolight.com to see what bright deals we have for you.