The Most Popular Light Beer or Hard Seltzer in Every State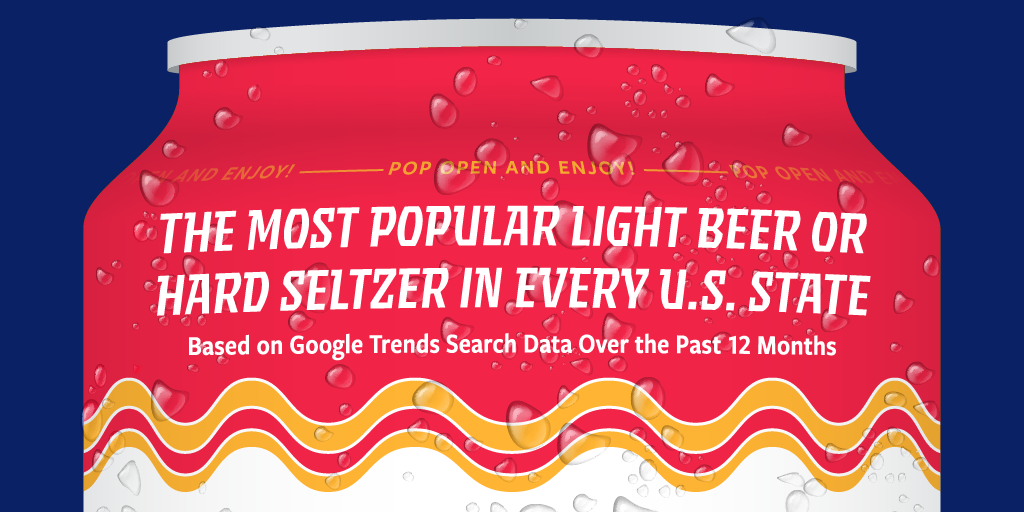 There's a healthier way to "get lit" with friends! Low carb and low-calorie drinks allow you to imbibe with your pals, while still staying true to those fitness goals you set for yourself, post-New Year's. In homage to a low-cal lifestyle, e-conolight analyzed the search volume of 40 light beers and low-calorie, spiked seltzers using Google Trends to find the most popular low-calorie alcoholic beverages in each state.
Cheers to happiness in a can! Read on to see which low-calorie drink is most popular in your state.
The Most Popular Low-cal Beer or Seltzer in Every U.S. State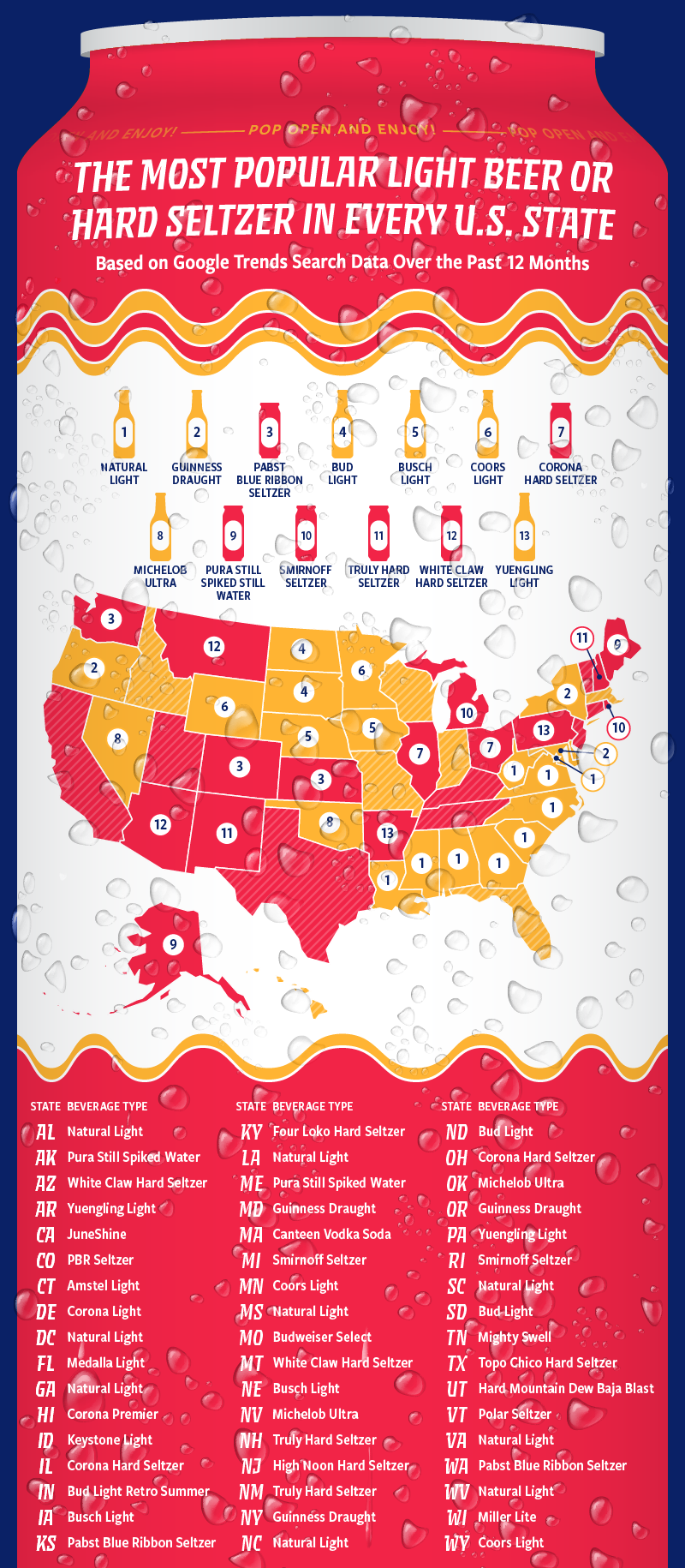 Beloved among fraternity brothers, tailgaters, and grillmasters alike, Natural Light (or "Natty Light," its popular nickname), reigns supreme as the most popular low-calorie alcoholic drink in the U.S. The iconic 95-calorie, light beer is most searched in nine states (mostly located in the South). Natty Light gets a fair amount of ridicule, but we think this result checks out. Even after 40 years, Natty Light is still one of the top 10 best-selling beers in America.
Runners up are Guinness Draft and, shockingly, PBR Seltzer, both most searched in three states. Perhaps PBR Seltzer's 8% alcohol content prompted its popularity in search. The sought-after, Irish export Guinness Draft may not be your first thought when it comes to light beers (it certainly wasn't ours!), but the fact that it contains a reasonable 125 calories makes it only slightly heavier than other light beer options. And, it doesn't compromise on taste with residents in Maryland, New York, and Oregon enjoying its chocolate-y, coffee notes. Several other popular brands like Bud Light, Corona Hard Seltzer, and White Claw Hard Seltzer are sprinkled across the map, each most searched in two states.
Light Beer Vs. Hard Seltzer Regional Preferences
When we zoom in on regional trends, spiked seltzer is most searched in the Northeast and the West, while light beer is most searched in the South and Midwest. Natty Light, specifically, dominates the South––southerners in Alabama, Georgia, Louisiana, Mississippi, and South Carolina can't resist its low price and easy-to-drink nature. Natural Light has also been dubbed "Flatty Light," so their loyal customer base may continue to drink it for nostalgia, rather than flavor.
Americans out west have a taste for spiked seltzers over light beer. While some Americans moan that hard seltzers give them acid reflux, westerners are happy to down a pineapple-melon concoction in a brightly-decorated can! PBR Seltzer is most popular in Colorado and Washington, while the Southwest (Arizona and New Mexico) prefer "the claw" (White Claw) and Truly. Not surprisingly, JuneShine Hard Kombucha is most searched in the wellness-obsessed state of California, and Hard Mountain Dew Baja Blast is most searched in one, lone state––Utah.
The Most Popular Light Beers and Hard Seltzers Overall
Is the White Claw/Truly phenomenon finally coming to an end? These well-known cans have been fixtures on boats and beaches over the last few years, but now more and more beer companies want a piece of the seltzer action. We see clear evidence of that in Google search volume. We never thought we'd see the day when PBR's seltzers would outrank the likes of Truly.
Closing Thoughts
And there you have it––the most popular light beers or seltzers around the country! If you ask us, "lighter" is always better, whether that refers to fewer calories or brighter rooms. Browse our full portfolio of indoor LED lights.
Methodology
We created a list of low-calorie beers and spiked seltzers using articles from Good Housekeeping, Delish, Vinepair, and Renegade Brewing, as well as our own knowledge. In total, we analyzed 40 low-calorie beverages using Google Trends to see which drink was most searched in each state, region, and nationwide from March 2021 to March 2022.