Outdoor LED Lighting Guide: Security Edition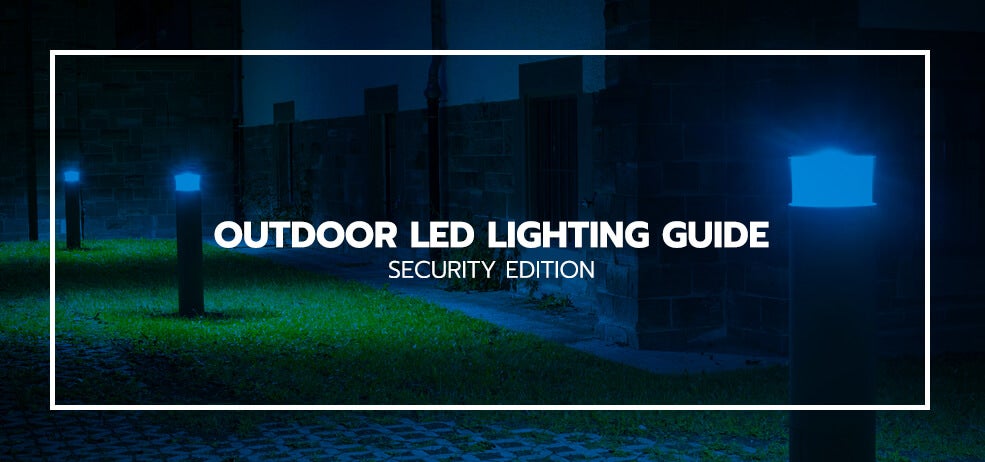 Choosing the best outdoor security lighting is no small task. After all, high quality lighting can make a huge impact on the way people perceive a location.
And guess what?
If a person doesn't feel safe in a parking lot or on a walkway, chances are they'll go out of their way to avoid it. Which means less business for your customer.
If security guards at industrial buildings or warehouses, for example, can't see proper identification under sub-par lighting, that's a problem.
If security camera footage is blurry because outdoor light fixtures don't have the proper lumen output or can't render colors properly, it could have serious consequences.
You definitely don't want a poor lighting choice to reflect on you.You want to choose the absolute best products that won't have customers calling you months, or even weeks, later, saying the wall pack you installed failed, or that the new flood lights just aren't bright enough.
How, you ask?
With this guide.

First, install outdoor LED lighting instead of traditional technologies like High Pressure Sodium or Metal Halide.
Here's why:
LED lighting last significantly longer than traditional lighting
Whereas, traditional lighting need to be replaced every 2-3 years, LED lighting lasts for 20. Yes, 20. And that's maintenance-free, by the way. Which means you're not taking time out of your day to relamp a fixture, rent a scissor lift in some cases, and potentially shut off operations to replace it.
Energy savings
LED lights reduce energy costs by up to 90%. Think about it: with those kinds of energy savings, LED lighting can pay for itself in as a little as a year. And after that, your customers can move that cash to more important things.
Brighter, more focused light
LED lights produce a brilliant white light that's less yellow than their traditional counterparts. Set in brighter light, buildings and objects appear how they would in daylight, making the area feel safer and more secure.
Now that the case has been made for LED, where do you start?
First off, let's start with the certifications.
You may not know this, but a lot of online lighting retailers don't rigorously test their products to make sure they perform as promised. Why? Because it costs time and money. Which they save (and you don't) the moment their products fail.
When looking for the best lighting, it's important to look on the product specifications on the box or website for icons or emblems from nationally-recognized testing organizations. If your exterior security light fixture has one of these, it means that it's passed extensive tests and performs the way it should. Here's some to look for:
UL – Underwriter Laboratories, the largest independent safety company in the world. They test for things like fires, shocks, and other surprises.


DLC – The DesignLights Consortium®. This is your go-to certification for commercial lighting; it's all they do, which means they have very high standards, from quality to energy efficiency to warranty. If a product isn't "DLC listed" or "DLC approved," it means it either failed to meet their qualifications, or it just wasn't sent in for testing at all. (Hmmm.)
And with that, below are our recommendations for the best outdoor security lighting to use in warehouses, office buildings, parking garages, and educational institutions.
Outdoor Light Fixtures To Secure A Warehouse
Facilities managers care about three things: maintenance costs, productivity, and downtime. Warehouses operate on a 24/7 basis, which means there's no time to stop to replace faulty lighting.
Here's the kicker:
Quality tested LED lighting lasts over 100,000 hours, with virtually no maintenance. Once you install it, you can forget about it. Just like your warehouse client can forget about losing money-zapping hours relamping.
Not only that, he or she won't have to use precious space to stock lighting replacement inventory.
Have a warehouse lighting job coming up? Here's how to turn your warehouse into a crime-proof machine…building:
Want to make a warehouse perimeter feel safe and sound? Not only do LED wall packs use 50% less energy than incandescent lighting, but they shine light only where you need it, which eliminates wasteful spending.


Shine these on loading bays and docks to increase visibility and keep operations running smoothly.
Don't just take it from us; hear what Product Manager Andrew Stevens has to say about wall packs.
LED area lights shine brightly and evenly across warehouse parking lots, which makes anyone working under them feel safer.


They eliminate dark spots, which can hinder productivity and potentially become a safety concern when loading and unloading.


Stronger light also helps security staff oversee incoming traffic, plus gives them plenty of visibility to read license plates or other forms of identification.
With their wide beam angles, LED Dusk to Dawn lights are perfect for lighting up the exterior of a warehouse .


They're motion-activated, only turning on when needed, which means super savings for your customer.


Using dusk to dawn lights are also a great way to ensure workplace safety, especially around crosswalks or building access points. Since they light only when needed, an activated dusk to dawn light in the middle of the night is the perfect way to alert security to any unwanted or suspicious activity.
Top Commercial Outdoor Security Lighting
Employees are bound to work late. But just because the sky turns dark doesn't mean the perimeter has to. Keep a commercial building feeling safe and secure by installing outdoor light fixtures, like the ones below:
Give those hard-working late-night employees one less thing to stress about. Use LED bollards to light up corporate walkways at night and enhance a feeling of security.
Need more of a visual? Check out LED bollards in action in this video, featuring Product Manager Jason Strommen:
Use flood lights to improve nighttime visibility for employees and visitors by emitting uniform, shadow-free white light that stays bright.


Standard lighting dims the farther you get from the light source, which can make it harder to identify suspicious activity.
Darkened parking lots are also a common place for crime to occur, leaving late-night employees or customers vulnerable as they search for their car keys. With flood lights, turn night into day.
LED Premium Floodlight | E-FFA26 Series
One of our bestsellers, this outdoor LED Flood light isn't called Premium for nothing. It's DLC listed, UL Listed, and comes with a 5-year limited warranty. It also emits 26,300 lumens and has a beam spread of 98 degrees. Want it in Cool White (5000k)? We've got it. Want it in Neutral White (4000k)? We've got that, too. And, as icing on the security cake, it's estimated to last over 100,000 hours. That's without maintenance, by the way.

Area lights are perfect for illuminating office building entry points, pathways, stairways, or parking lots.


With their crisp and even light, they help remove shadows in recessed areas, which decreases the risk of tripping or other accidents.


Since windows are a primary entry point for burglars, use area lighting to keep them bright and crime-free.
Go-to Outdoor LED Lighting For Parking Garages
If your client is using traditional high-intensity discharge lamps (HID) and high pressure sodium (HPS) luminaires to light their parking garage, it might be is a problem. One that takes the form of a dark cavern, with uneven lighting and shadows in corners and between cars. Which means more stress for anyone walking to and from their car.
Also, without proper lighting, potential collisions are waiting to happen.
Not to mention, according to the Bureau of Justice Statistics, 1 in 10 property crimes occur in parking lots or garages.
Make sure you pick the following LED outside lights to remove dark spots and brighten a parking garage up like the sun. Or something close to it.
These deliver bright and even light throughout parking garages.


Not only do parking garage fixtures create a higher sense of security, but they also help prevent accidental collisions due to poor lighting.


Certain parking garage lights come equipped with an energy-saving occupancy sensor. Using a photocell, it senses motion, only turning on when needed and saving your client money.


Quality tested LED parking garage lights last over 100,000 hours, which means after you install it, you can forget it. For 100,000 hours, at least.


Find one that's backed by at least a 5-year warranty.
Need to see to believe? Us too. Check out Product Manager Jason Strommen's take on LED parking garage and canopy lights:
What's the difference between canopy lights and garage lights? Canopy lights typically need more lumens, depending on how high up they are. In a parking garage, the 5000-7000 lumens range is perfect.


Canopy lights also have a higher beam spread that covers more ground, which means their lower glare levels don't blind drivers.


Think about it: a well-lit parking garage could be someone's first impression of a business.


A dark and gloomy atmosphere sends out danger signs, which can cause a potential customer to head elsewhere.


Traditional HID lights run yellow, which casts odd shadows and gives off a murky effect, making it difficult to see signs and other forms of guidance.
What good is a well-lit parking garage that has dark and dreary stairways? You don't want the safety to end once walkers need to get to the next (or previous) floor.


Regardless of how bright a parking garage is, many stairways are hidden behind concrete, far enough away from the well-lit areas to make a difference. And not in a good way.
Best Exterior Lighting To Secure Educational Institutions
C'mon. Moms already have enough to worry about, like sending their kids off the college. Campus lighting not working properly – or not working, period – should be last on the list. Not to mention, colleges aren't always located within the safest areas, so opportunities for theft, vandalism, or worse, can be a real concern. If you don't install great outdoor lighting, that is.
Here's a few to get you started:
You know how college kids are: late-night study sessions, intramural sports, a quick bite of pizza from the restaurant across the street. As they're on their way back to their dorms, they're an easy target for people with bad intentions. This is a great reason to install LED bollards along campus walkways.


They're bright enough to scare anyway any criminals or thieves; not to mention, they're also vandal-proof, so you'll get double the security.
Put these on every. single. wall. Just kidding. But the more, the brighter. Installing these on buildings help give the impression of daylight, even at night.


A late study session in the library shouldn't have to end in fear the moment a student exits the doors. Same goes for the professor who stayed in their office late to grade papers.


Wall Packs are also a great way to discover emergency situations, like a fire or other hazards.
Wall pack lighting is directional, which means the smallest and most unusual crevices get the light they need.
Architectural Full-Cutoff Wall Pack | E-WFG Series
With an estimated 100,000 hours of zero-maintenance operation, the E-WFG Series Wall Packs combine a popular modern style with max energy savings. They're available in 4 lumen outputs (from 1,350 to 8,900) and 3 different color temperatures (3000K, 4000K, and 5000K), which makes them suitable for many applications. Tack on a UL certification, plus a 5-year warranty, and pedestrians will never have to fear for their safety again. Not under these, at least.

Not all students are out partying at night. Many are taking night classes, which means they'll be moving between classrooms.


LED area lights ensure that even the darkest crevices, outdoor gymnasiums, administrative offices, parking lots, and walkways stay bright and shiny.


They help security personnel better monitor their assigned areas, which means they can respond more quickly to a potential emergency.
Since area lights – and LED lighting in general – are vibration and shock resistant, they're more durable than HID, which means less broken glass on the ground.
Check LED area lights out in all their glory in the video below:
Choosing the best outdoor security lighting can make a huge difference in someone's safety. It can also shape someone's impression of a building or facility; if it's dark and gloomy, chances are a potential customer won't use it, which could have an impact on your client's business.
Be sure to pick outdoor LED lighting that you know has been tested – look for testing icons on the packaging or on a lighting retailer's website. If they don't have a website, that's a red flag.
But whether you're looking to secure a warehouse, office building, parking garage, or educational institution, this article should steer you in the right direction. And of course, if you have any questions, give our customer service experts a call at 888-243-9445. They study outdoor light fixtures in their sleep (not really; that would be weird), and are happy to help with lighting advice or installation troubleshooting.
You can also use our lighting layout tool to help figure out how much light you need for an upcoming product. It's completely free.
Have a favorite outdoor security fixture of your own? Tell us about it in the comments below. Bonus points for pictures.
Like this blog? Want more helpful articles, plus access to exclusive offers and new product releases before everyone else?
.