Before and After: Premium LED Wall Pack Shines the Right Light
Homeowner Gary Kelly in Kansas City, MO, recently replaced a metal halide fixture on his garage with a one of our premium LED wall packs, and the difference in the light output in the before and after photos is dramatic.
Before installing the LED wall pack, Kelly's light provided a small circle of yellow light that barely penetrated the darkness around the building, the sidewalk leading to his house or down the length of his driveway.
Once the LED wall pack was in place, though, shadows around the garage were eliminated, the walk up to the house was bright and visibility along the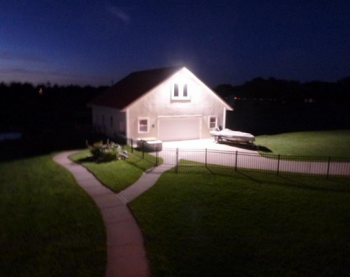 "I really like the downward and side-to-side throw of the light, that's what I really needed," he said. "And when you look toward the garage from the house, you aren't blinded."driveway improved so drivers can better watch out for obstacles. Kelly said the design of the wall pack is what makes all the difference for him.
Kelly was a first-time e-conolight customer when he purchased his LED wall pack. He found the website by doing a Google search and decided to purchase after reading other reviews about the LED wall pack's construction and easy installation.
"The design of the mounting box and how the light connects to it makes for an easy install," he wrote in his review on e-conolight.com. "The housing is solid and has a quality feel to it … I would definitely recommend this product."
Customers from different industries and who are using the LED wall pack in a variety of ways agree with Kelly's positive review of the fixture. E-conolight welcomes feedback; just click the "Review" tab on the product information page and the blue, "Write a review" button.