LED Exit & Emergency Light the Way to Safety
When it comes to safety and security, emergency lighting should be bright, long-lasting and provide peace of mind.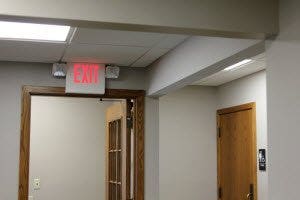 e-conolight's huge selection of emergency lighting gives shoppers a variety of quality choices that come with industry-standard features and the long-lasting bright light customers have come to expect.
Exit signs have bright LED letters in either red or green and can be used in either a single- or double-face configuration. Housings are constructed of injection-molded, flame retardant ABS white virgin plastic, are sealed and include a virtually maintenance-free lead-calcium battery that provides 90 minutes of emergency operation. Signs are wall mountable and include a canopy for top mounting.
Emergency lights are conveniently equipped with two, 180-degree adjustable T5 wedge base lighting heads at just 6 volts and 5.4 watts each.
Exit and emergency lights offered by e-conolight can be used in indoor commercial, retail, or industrial applications. Browse the full selection of exit and emergency lighting at e-conolight.com/eande.