The Cost of a Campfire in Every U.S. State | e-conolight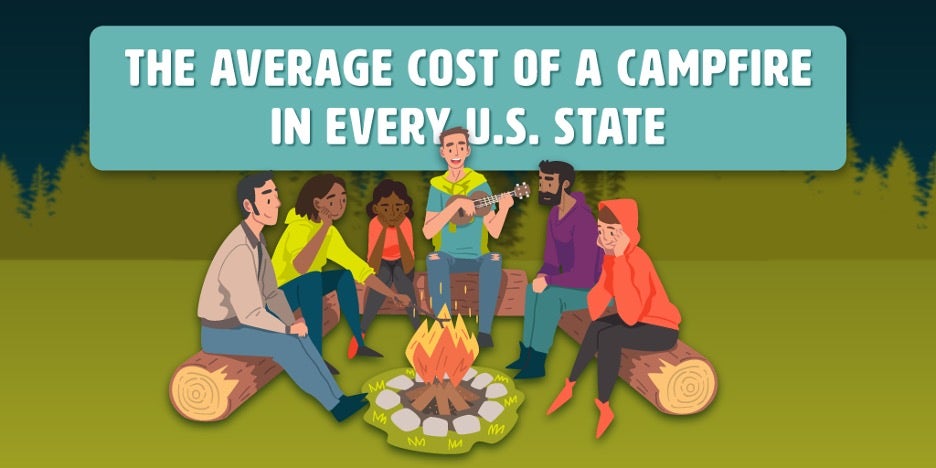 No matter where you live, there is no season as nostalgic as summer. It's the season that holds laughter, joy, and memorable experiences that bring us closer together. Ice cream trucks putz through neighborhoods with palpable temptation in their wake. Tidal waves of chlorinated water muffle every "Cannonball!" squeal. The soft glow of backyard campfires lights up giddy faces of children bouncing with anticipation for perfectly roasted marshmallows.
After a dark and dreary 2020, summer campfires with friends and family are exactly what we need to reignite our spirits this year. But if there's one thing that can dim the excitement of a summer campfire, it's making the shopping list. How much will it cost to feed the fire and all of your guests? That depends on which state you call home.
To help brighten your summer nights, the team at e-conolight conducted a data study to determine which cities in the U.S. have the most and least expensive campfires.
Methodology
To determine the cost of a campfire in every state, we compiled our own list of essentials. We looked at the cost of:
To calculate the cost of each item on our list, we looked at the cost in at least three Target stores in highly populous zip codes from each state. Then we averaged the costs from multiple stores to determine the average cost of each item per state. Finally, we collected the total average cost of a campfire for each state by calculating the sum of the nine factors.
The Least Expensive States for a Campfire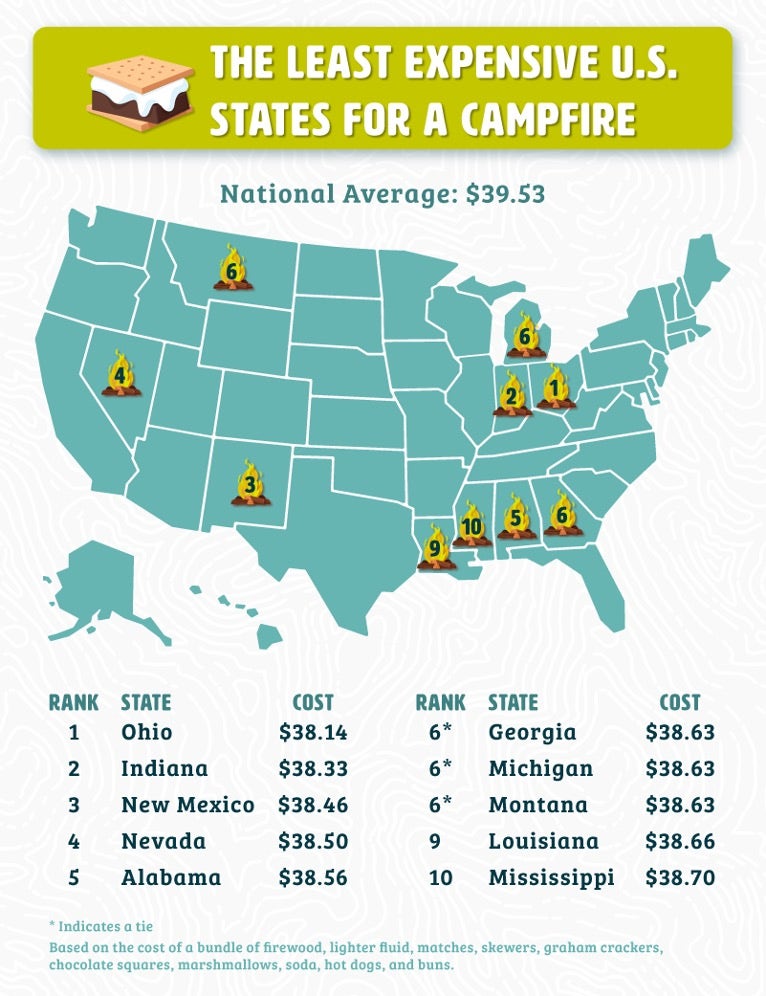 Ohio came out on top as the least expensive city for campfires overall. Residents pay just $38.14 on average to light up summer nights with fire's dancing reds and oranges. Hopefully this doesn't have anything to do with Cincinnati being the first city with a professional fire department!
Indiana came in second place with below average prices for seven out of nine cost factors. It rang in at a similarly low average cost of $38.33. In fact, every state on the top 10 least expensive list totaled up to 38 dollars and some odd cents to host a campfire. It must be nice burning firewood instead of cash in any of the top 10 least expensive states for campfires!
The Most Expensive States for a Campfire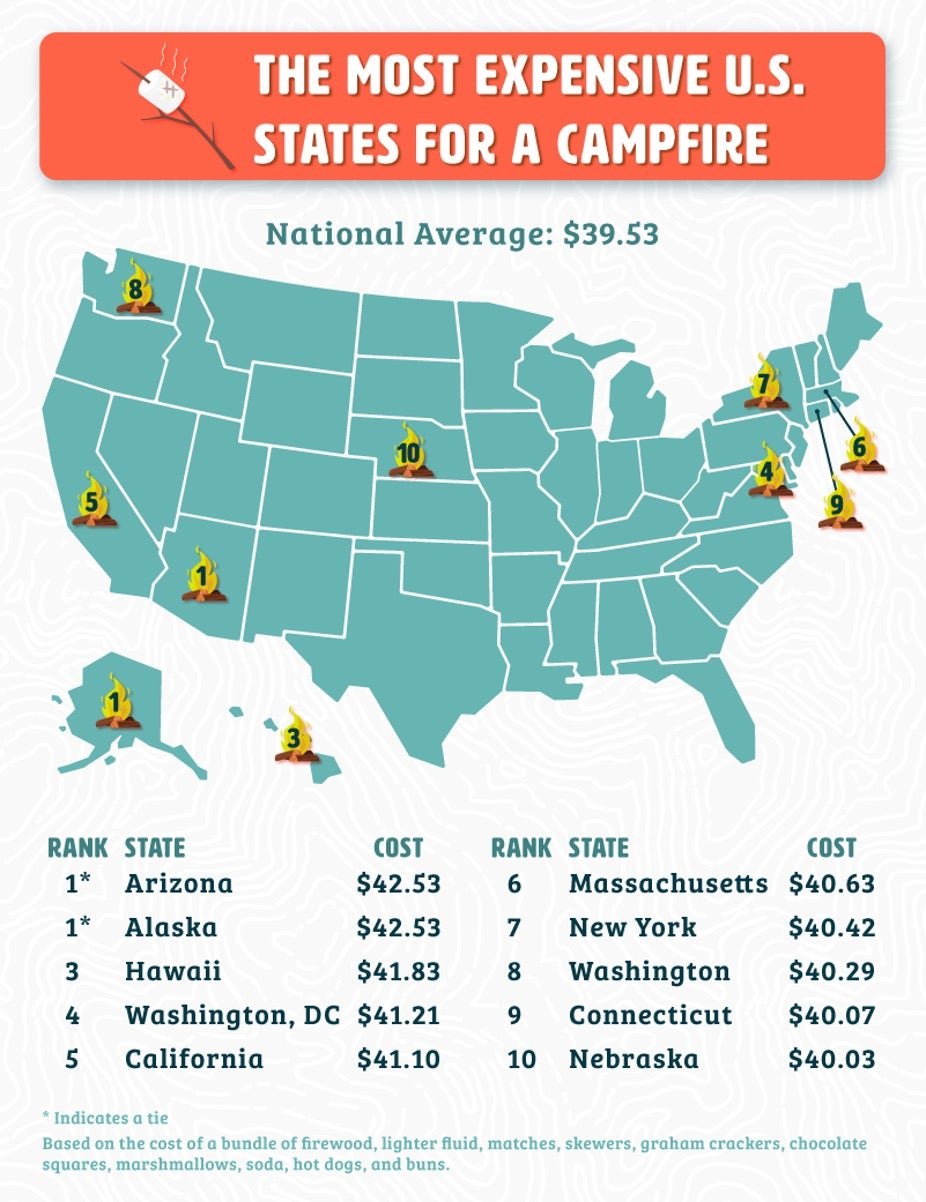 Those who live in Alaska, arguably the state with the most campfire necessity, aren't so lucky. They cough up the most cheddar for campfire essentials—$42.53 to be exact. Arizona, a state that arguably has no business making the ambient temperature any hotter, ties with Alaska for having the most expensive campfire essentials.
We weren't surprised to see states like Hawaii (No. 3), California (No. 4), and New York (No. 7) having higher average costs for campfires, considering the standard of living is generally higher in these regions and everything costs relatively more for these residents. So which campfire must-haves are putting these states' residents in the red?
Campfire Essentials with the Biggest Difference in Cost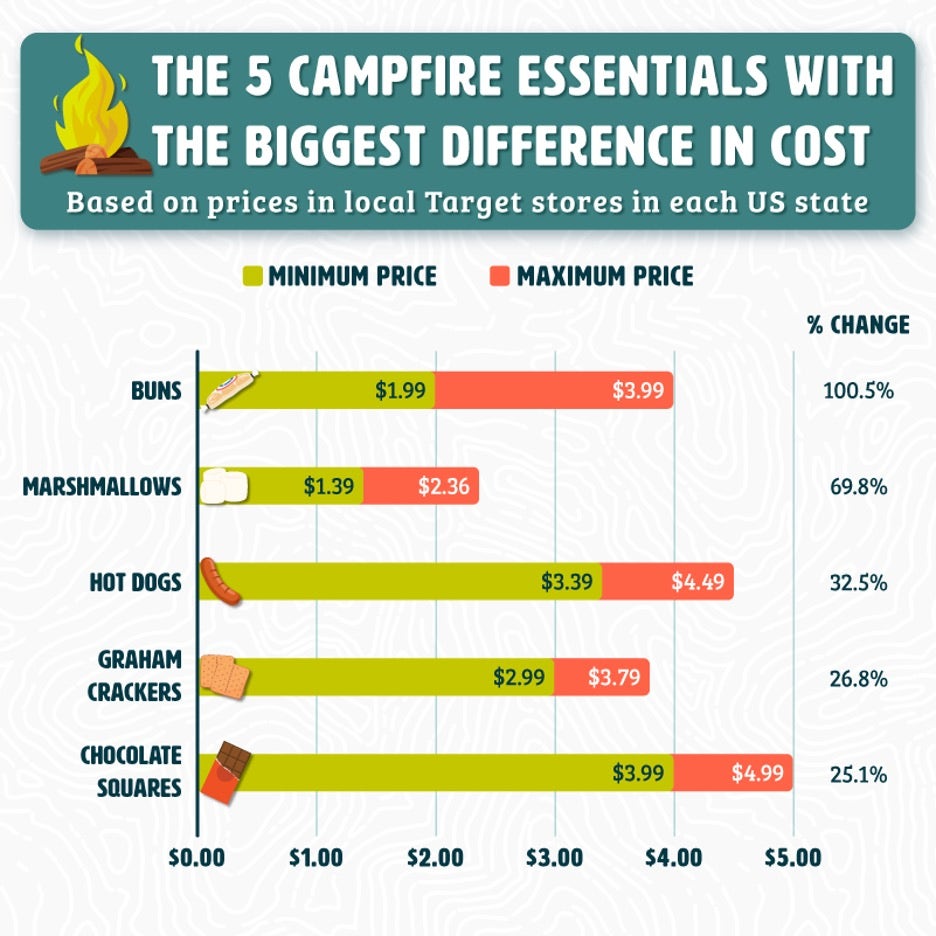 Hot dog buns saw a 100.5% increase in price across all 50 states, costing only $1.99 in some and a hefty $3.99 in others. Marshmallows, the gooey goodness we all expect with a fire, cost Ohioans $1.39 and Kentuckians $2.36—a 69.8% markup for residents of the Bluegrass State! Hotdogs (32.5% change), Graham crackers (26.8% change), and chocolate squares (25.1% change) round out the campfire ingredients with the biggest price gaps across America.
Final Thoughts
If you're planning on having campfires this summer (who isn't?), hopefully this study helps you prepare your mind and your wallet for the numbers that appear on the cash register at your local grocery store. Regardless of price, though, campfires are a great way to brighten up the sunny season and connect with your favorite people after a long drought of socialization.
Even after the last ember fizzles out and your guests make their way home, you don't have to let darkness creep in. e-conolight specializes in high-quality LED lighting that gives users ultimate control over brightness and color temperature. Let bright light flood into your home, or emulate that warm, rhythmic glow for just a little longer.