How Much Do Americans Work During a Workweek?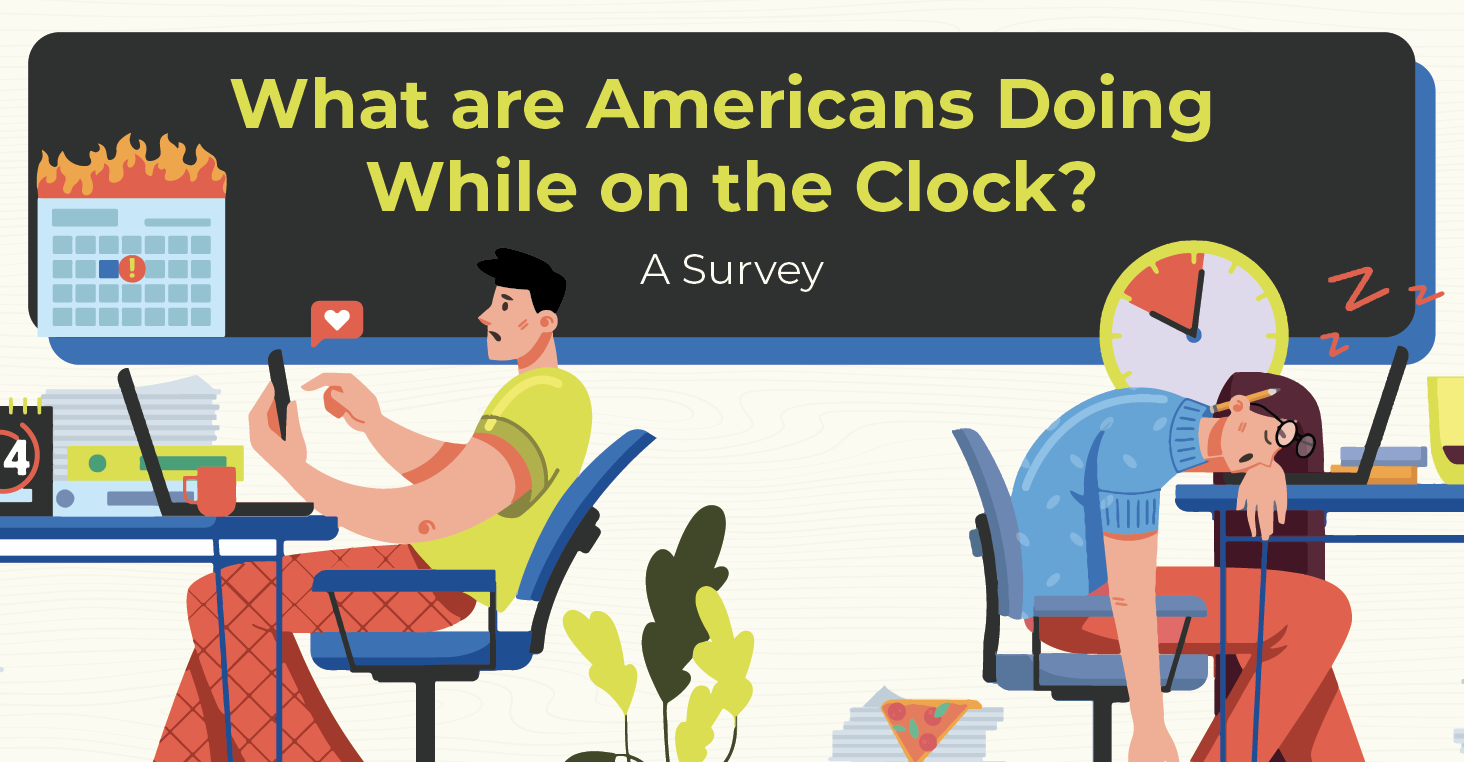 Over the last year, stay-at-home orders and workplace closures have made working from home the new normal. Zoom meetings are held in pajamas, important emails are sent poolside, and 5 o'clock glasses of wine are poured earlier each day. And while working where we live comes with its benefits—comfortable seating, no commute or business casual clothes, and time home with pets—blurring the boundaries between work life and home life may have made it difficult to stay focused while on the clock, especially with reports of increased psychological stress and work burnout related to the pandemic. So, we wanted to know: how much of the 40-hour workweek are Americans actually devoting to work?
Methodology
To find out, we surveyed over 1000 people with questions exploring the following:
How much time do Americans spend focused on work and non-work activities?
What non-work activities are they most likely to do while on the clock?
How workday time-wasting has changed during the pandemic?
Read on for more!
Clocking In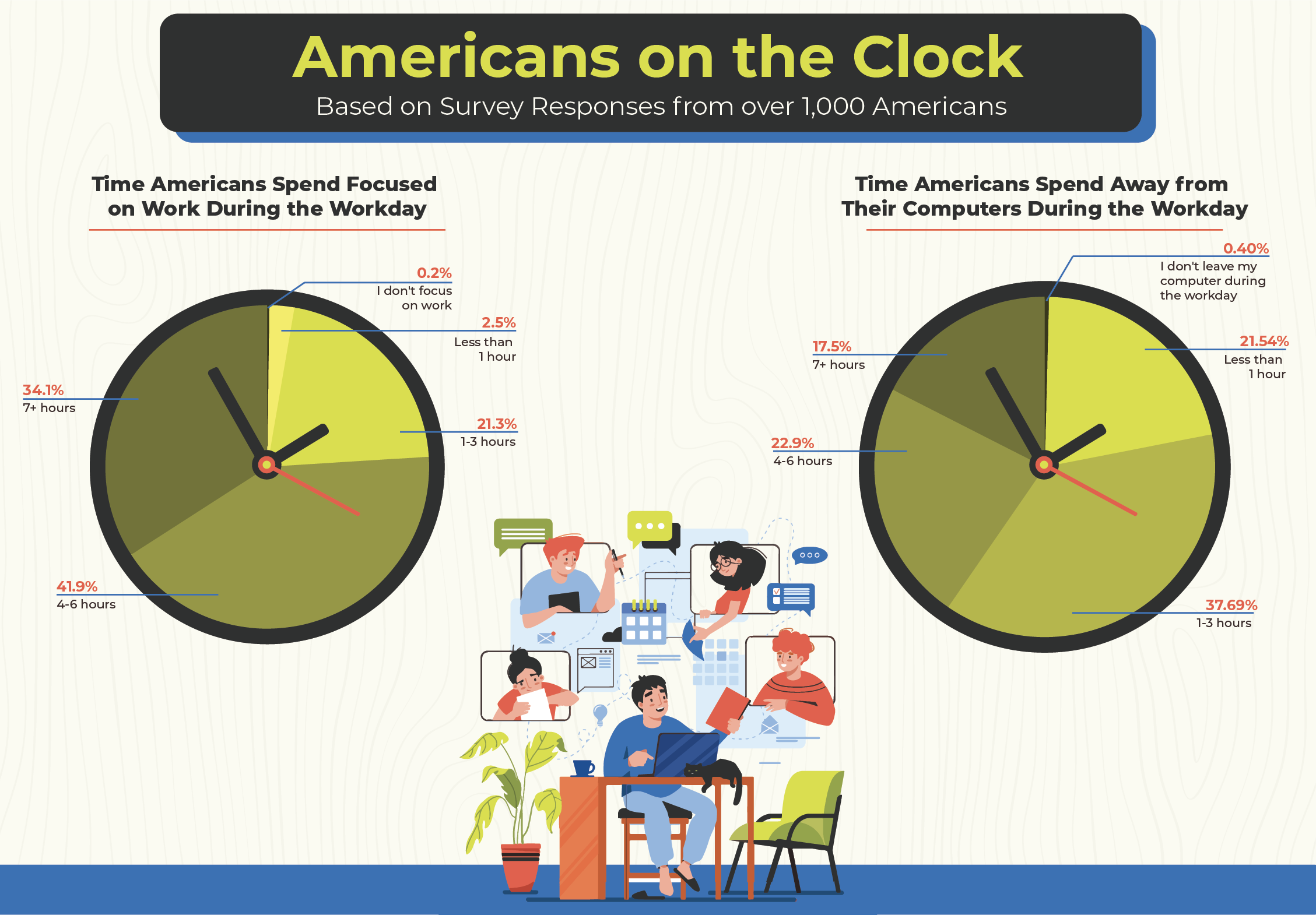 While the majority of respondents (76%) spend four or more hours focused on work during the workday, 24% of respondents may spend three or fewer hours working. 25% of men are also working for only three or fewer hours at a time, while for Gen-Z respondents, that number is even higher at almost 31%.
Despite a high percentage of respondents who spend the majority of their workday focused on work, 40% of survey participants report spending four or more hours away from their computers. 42% of women 41% of millennials also spend four or more hours away from their computers. This is not entirely surprising—taking time out of the workday is more easily done at home, away from the prying eyes of nosy coworkers or the oversight of managers. But with a significant portion of the population spending half of the workday or more away from their computers, we have to wonder—what are they really doing?
Working Hard or Hardly Working?
Over half of respondents (60%) have taken a nap at least once while on the clock. 42% of people surveyed have been on a date at least once during the workday, and 23% are likely to call a friend or family member during a quick break.
56% of men have started drinking while on the clock, and 76% of women shop online when they should be working at least once a week. 61% of Gen-Z respondents spend at least one hour of the workday scrolling social media, and 56% of millennial respondents have taken a personal day without telling a manager. And how do they get away with this? By faking it—74% of respondents pretend to be working when they aren't at least once a week. Ultimately, across genders and generations, Americans are using paid time to unwind or escape.
Almost half of respondents (49%) have missed an important deadline at least once because they were doing a non-work activity while on the clock. For men, that number is even higher at 55%. Another 55% of men have been late to a meeting at least once due to non-work engagements, while 42% of women have been caught wasting work time by a manager or coworker at least once.
Worst of all, 28% of people say doing non-work activities while clocked in has had a negative impact on their work performance. It comes as no surprise, then, that 39% of people have been let go for doing non-work activities while on the clock. It's clear that wasting company time is no small offense, but is everyone using their workday to destress, or are there other motives for pretending to work?

Cashing Out
Of all the insights collected during the course of this survey, the next was the most unexpected. We were shocked to learn that almost half of respondents have worked for another company while on the clock with their employer. This number was also high among male and millennial respondents, at 49% and 48% respectively. However, it's worth noting that the pandemic's impact on employment has pushed many to make ends meet through side jobs and contract positions. It's possible that the 45% of people who have done work for another company while on the clock are simply trying to cover living expenses and rebuild their savings after a financially devastating year.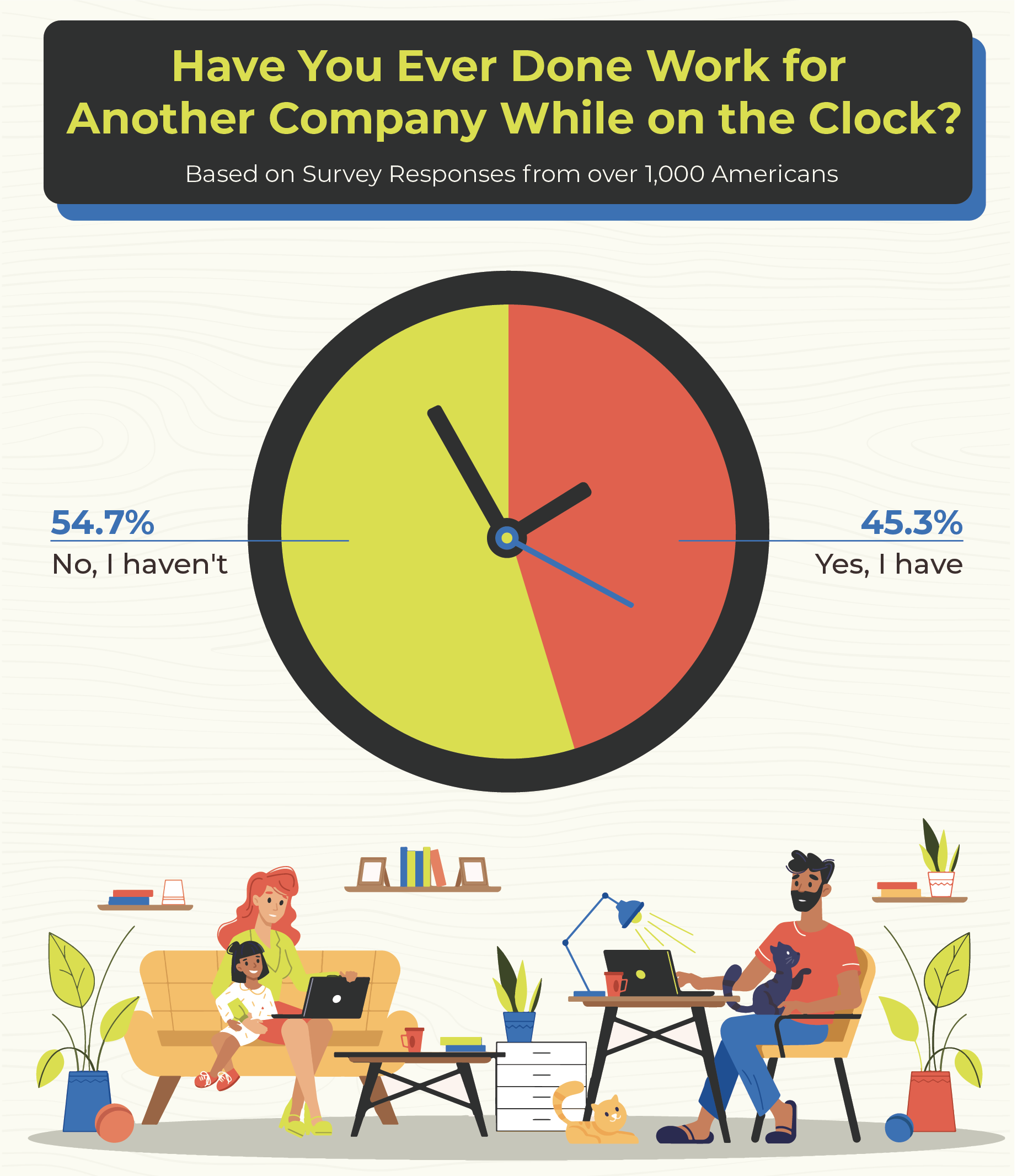 Working During the Pandemic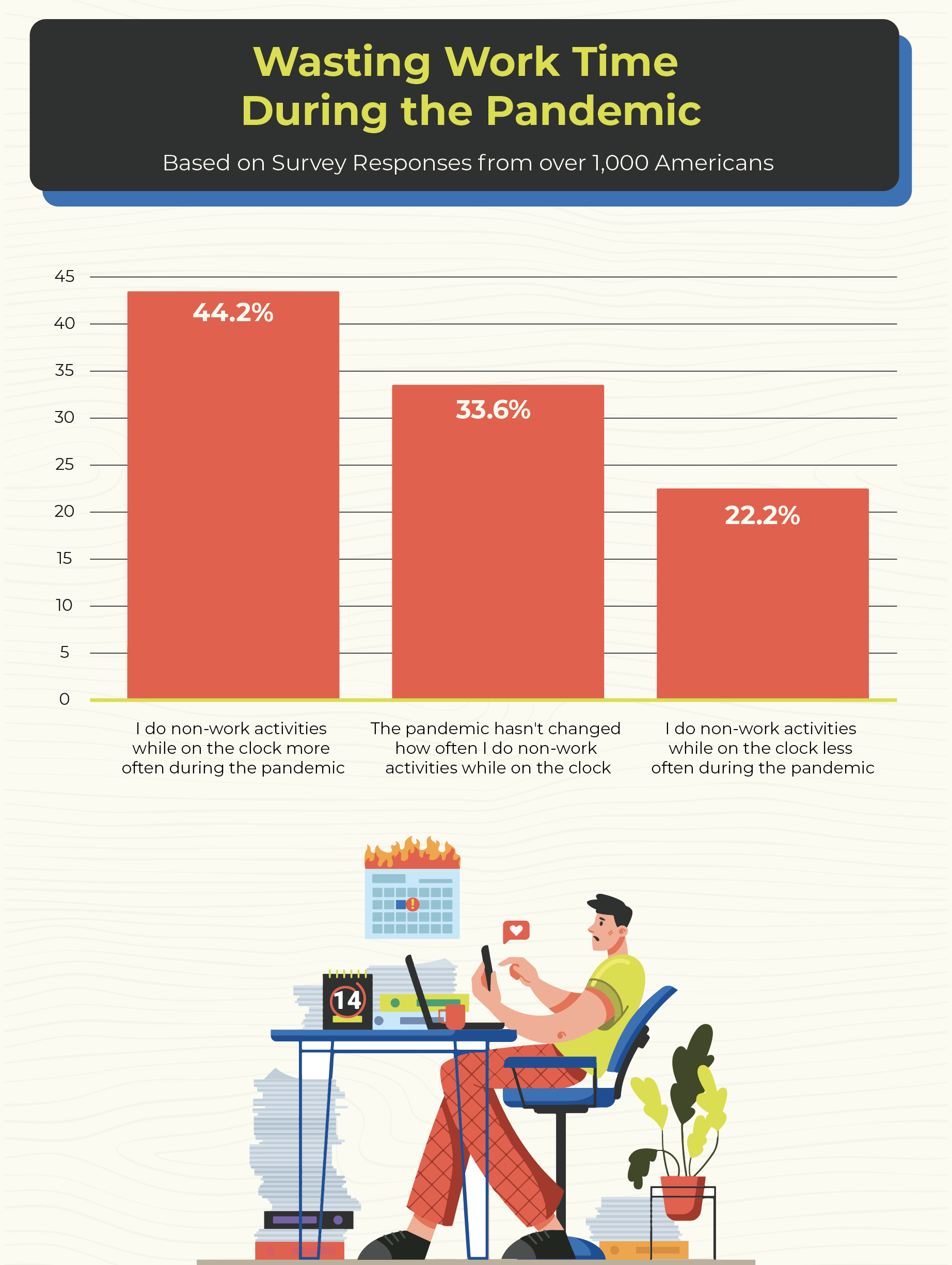 Without any in-person oversight and a widespread need to fend off work burnout, Americans are increasingly investing in the other parts of their lives, like love and leisure—but not as much as we expected. While a majority of survey respondents (44%) reported an increase in non-work activities during the at-home workday, this number was slightly lower than predicted given the distractions available while working remotely. A slightly higher percentage of men (47%) also reported increased time spent on non-work activities, while 54% of Gen-Z respondents say they do non-work activities while on the clock more often during the pandemic. Still, this number may continue to increase as we move into the summer months, when there are options beyond being cooped up indoors and in front of a computer.
Final Thoughts
While many Americans are spending at least some part of their workday exploring other activities, most are still devoting much of their time on the clock to the work they're paid to do. With more people working from home and powering their lights, phones, and computers on a daylong basis, electricity use has increased. e-conolight sells energy-efficient lighting that may be of interest to people looking to save on their next electricity bill—and then use those savings during their next workday online shopping spree!