High Bay Lights Buying Guide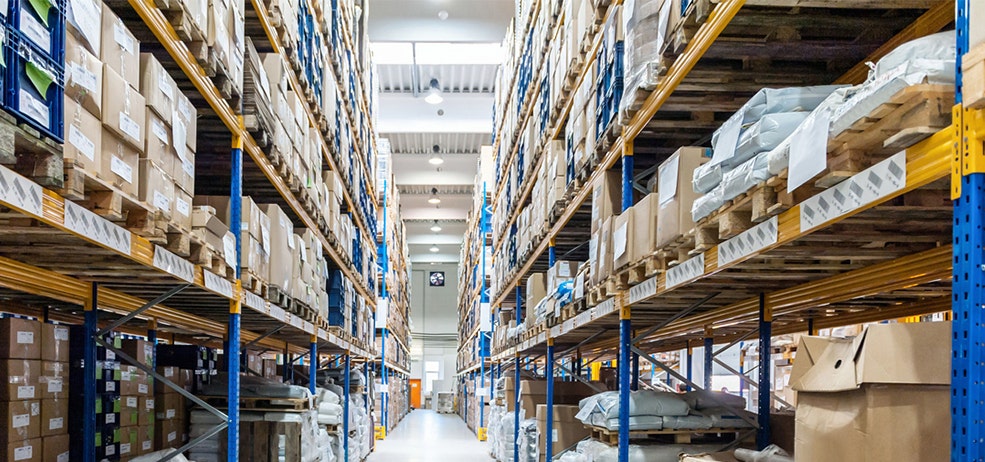 Buying the right LED high bay light can mean the difference between saving or wasting billions of dollars a year. In commercial settings, especially, any time spent replacing faulty high bay lights means time and productivity lost. Your client needs fixtures that are built to last, to ensure operations continue to run as smooth as possible.
What Are LED High Bay Lights?
LED high bay lights are designed to provide clear and even light to areas with high ceilings. This includes warehouses, gymnasiums, and certain retail stores. A long lifespan, combined with energy efficiency, makes them a more desirable option than their fluorescent and incandescent options.
You might be wondering what the difference is between high bay and low bay lighting. Wonder no more. High bay lights are perfect for applications with ceilings that are 20-45 feet tall, while low bay lights are for ceilings that are between 12-20 feet high.
What Are the Benefits of High Bay Lights?
Besides clear, uniform lighting with little glare? Where do we start?
Lower Expenses to Run & Maintain
High bay lights are easy to install and have a lifespan of 100,000 hours—which means less time worrying about replacing burnt-out bulbs and more time being able to commit to work and other important matters. High bay lights are long-lasting and some are equipped with an emergency backup so you're never without light when you need it most.
High-Quality Light Performance
If you've ever been on the road and noticed another car's bright high beams, chances are they could be equipped with LED headlights. LED lights have remarkable color accuracy (CRI) and color temperature (CCT). The Color Rendering Index is a reflection of how well light can match an object's objectionable appearance when compared to natural daylight. Anything above 80 is typically good quality. CCT denotes the amount of yellow, white, or blue tinges that are outputted visibly. LED bay lights continually outperform in all areas when compared to traditional lighting sources. In addition, LED lights can easily replace a variety of bulbs and light bases.
Unmatched Energy Efficiency
LEDs can reduce energy output by up to 85%, making them a must-have for businesses of all types. Some LED bay lights also have dimmers for additional savings on your electric bill. Their energy-efficient characteristics allow businesses to save money and put more direct saving back into their pocket. High bay lights are equipped with reflectors, which allow light to spread down and away from the ceiling, covering areas that need more light. This direct dispersal of light is essential for warehouses for safe working conditions, as well as for illuminating cars in dealerships where optimal lighting conditions are warranted. LED bay lights can be mounted in a variety of options, which makes them the ideal choice for warehouses, factories, dealerships, gymnasiums, etc.
What Are the Primary Types of LED High Bays?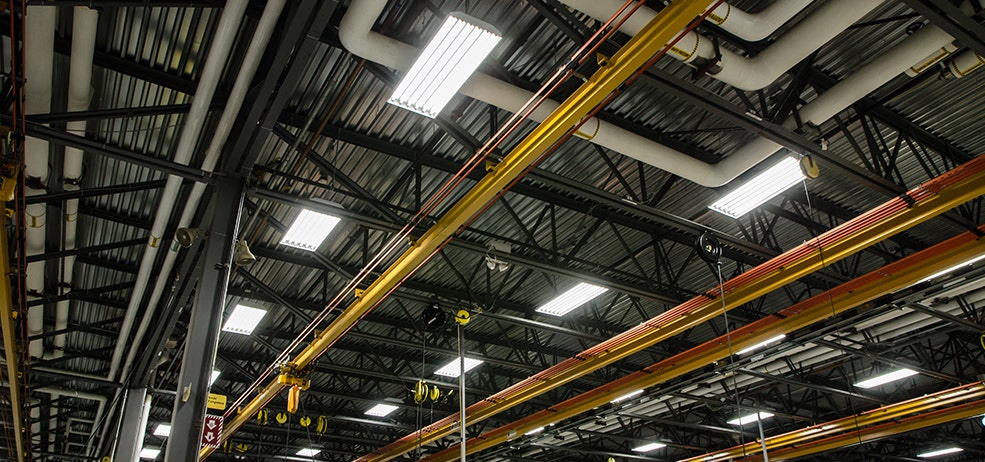 Round High Bay Lights
Commonly called UFO high bays because of their saucer-like shape, round LED high bay lights have only one contact point with the ceiling, making them the easiest high bays to install. Round high bay LED lights typically provide a circular light beam angle of about 120 degrees. This fairly large beam spread allows for widespread, but powerful, illumination. These are an excellent choice for open areas, like factories, warehouses, sports arenas, grocery and wholesale retailers, and even aircraft hangars.
Linear High Bay Lights
Linear high bay lights are commonly seen in grocery stores, wholesale retailers, warehouses, and any other wide-open spaces with a lot of aisles or shelving. They provide ideal lighting for conference halls, event centers and fitness centers, too. Similar in appearance to a fluorescent T8, linear high bays are long, with differing widths to offer rectangular illumination to suit your space's needs. They can be mounted directly to the ceiling or hung with chains or cables, depending on your needs.
Where Are High Bay Lights Most Appropriate?
Warehouses
LED high bays ensure that warehouse operations run as smoothly as possible, with little to no interruption. They also emit less heat, which means less cooling costs for a facility. Uniform light levels make it easy to see inventory shelves from top to bottom.
Auto and Metal Shops
LED high bay lights bring out the true colors of everything underneath them. That includes making cars look their best, which entices potential customers to buy.
Grocery Stores and Supermarkets
Crisp and clear LED lighting, featuring an 80+ CRI, makes the produce section of any grocery store look its best. Think of the strawberries, the raspberries, the fruit…each needs to be sold before they go to waste. And what better way to do it than with LED high bay lights?
How to Pick the Appropriate Wattage and Lumens
High Bay LED lights are available in different watts, but its the lumens you need to keep an eye on. As LEDs get more efficient, they will use less and less watts. You can easily choose one depending on the height where the high bay lights are installed. There are different watts for different levels of height:
10-15 feet – This height is ideal for lights with 10,000 to 15,000 lumens.
15-20 feet – This height is ideal for lights with 16,000 to 20,000 lumens.
25-35 feet – For this height, lights with 33,000 lumens are ideal.
Spacing
The spacing between lights is also an important factor in choosing high bay LED High Bay lights. There are three most common cases that you can consider to find the best light for your space. These are listed below:
At 15 feet height, about 12 feet spacing is essential for a bright light. However, if you need normal light, a space of 15 feet should be present.
At 20 feet high you can go to 15 feet spacing for generating bright light and if you need normal light, a spacing of 18 feet should be used.
At 30 feet height, you can go for 20 feet spacing between the lights in order to get a brighter light. However, for normal light, you can go for 25 feet spacing.
Number of Lights
After you've determined the spacing between the lights, you'll need to figure out how many lights you're going to need. The number of lights depends on the available space. Using the spacing and quality of brightness you need, you can calculate the number of lights you'll be needing for a particular space. You can also create a lighting layout with our free tool.
Type of Lights
High Bay lights are available in a variety of shapes. We offer both round lights and LED Linear High Bay Lights. And some people might not know that if you hang round high bays a few feet higher, they might just spread out illumination the way you need it. Above about 15 feet, we recommend round high bays. Why? They're easier to install. But in areas with aisles and lower heights, linear lights are ideal.
Always Get Crossover Lighting
In order to get better light, you should have light coming from different directions. This is called crossover lighting and, ideally, it needs to come from at least 3 locations. This way, the light coming from opposite sides reduces shadows and evens the lighting. As a result, you get better light that avoids hot spots. You may have to plan for lower lumens but more fixtures to get the right combination.
Lumens
Last but not least, you should always look for lumens, not watts. No matter how many watts you choose, if there aren't enough lumens, you won't be able to get the light you need.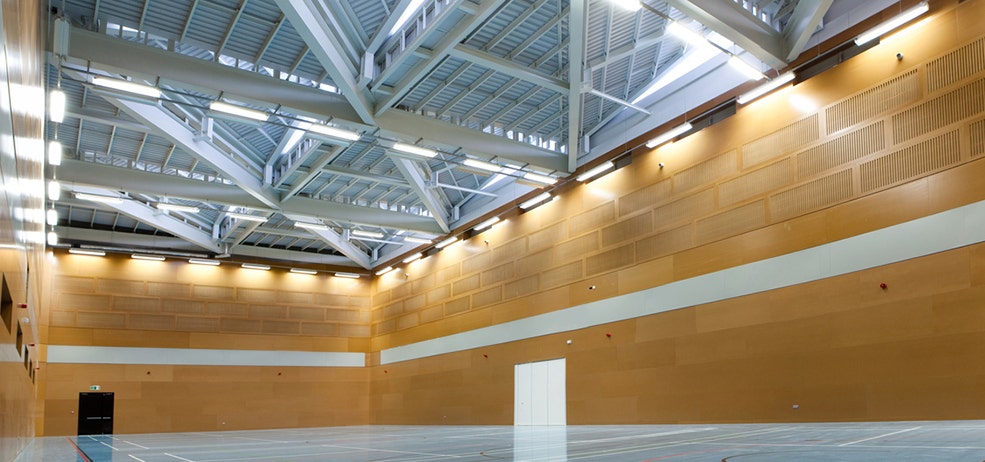 That's a Wrap
Now that you're an expert on LED high bays, take a look at ours. Not only are they all UL/ETL listed, but they'll last you over 100,000 hours of maintenance-free operation.
Need help picking the right LED high bay for you? We have lighting experts available to you at 1-888-243-9445. Give them a ring. They're happy to help.