The Most Popular Comfort Food Recipes in Every State
Some days, it can seem like everything is going wrong. Gloomy weather, infuriating co-workers, and even a few too many cars on our evening commute all have ways of bringing us down. For a lot of people, the best cure for life's little pains is comfort food.
That's right. A gooey bowl of mac and cheese, an overflowing carton of fried rice or a big scoop of ice cream straight-from-the-pint do wonders in making us feel better on days the world is just too much.
At e-conolight, we know that stimulating our senses can make us all feel great, that's why we offer a huge variety of lighting solutions to brighten all parts of your life. With the variety of lighting solutions we offer, we realized that there are probably just as many meals that bring people comfort.
That made us wonder - what is the most popular comfort food?
How We Did It
We decided to find out which dishes give the most people joy by looking at the most popular recipes. After all, we know that when cravings hit, you have to search for a way to get your pick-me-up.
We identified over 100 foods that people classify as "comfort foods" – the foods they reach for when they need a pick-me-up. Then, using Google Trends, we determined which foods were most popular across the country and in each state based on search volume in 2020. We took special note of individual categories like desserts and side dishes to find which comfort foods people love most overall and which they love most within a certain category.
The Most Popular Comfort Food in Every State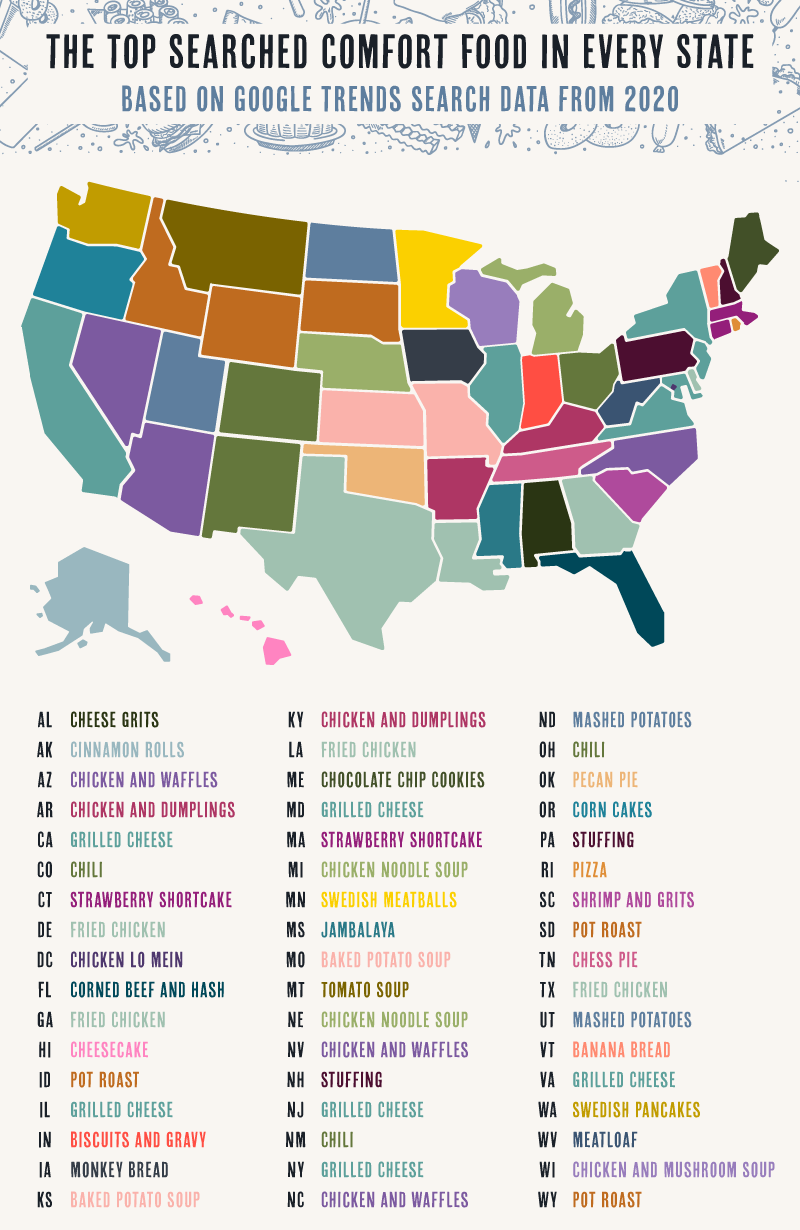 First, we determined which comfort foods were being searched for the most in every state and which foods had the most #1 state popularities to determine nationwide favorites. The results showed that Americans certainly do love our cheese, chicken, and deep-fried goodness.
Notably, we saw some unique comfort foods with surprising statewide popularity. Some unconventional favorites that were the most popular in a couple of states were Swedish pancakes in Washington and baked potato soup in Missouri.
Exploring Nationwide Favorite Comfort Foods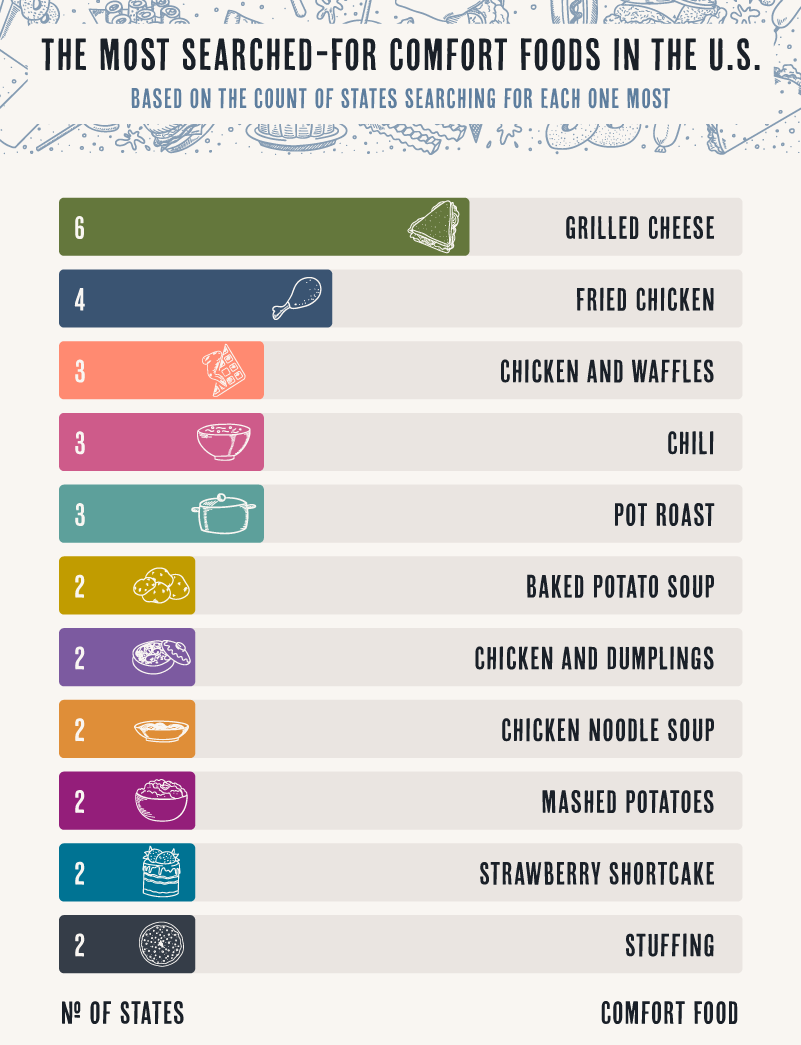 The most popular comfort food in the country, earning the most searched spot in six states was a quintessential grilled cheese. Who doesn't love a perfectly crispy crust or the joy of stretching the gooey cheese glue between the bread? We also love that grilled cheeses can be as simple or crazy as you like. In fact, some restaurants across the country have built entire menus around customizable grilled cheese masterpieces.
Other comfort foods that were popular across many states were fried chicken, chicken and waffles, chili, and pot roast. Certainly, Americans love to get their protein in the form of stick-to-your-bones soul food.
The Most Popular Comfort Foods Broken Down by Category
Once we found the general trends for the most popular comfort foods across the country, we dove a little deeper to also determine each state's favorite comfort food main dish, side dish and dessert. After all, there's a difference between craving a full, comforting meal at the end of a long day or just a little treat to cap off the night.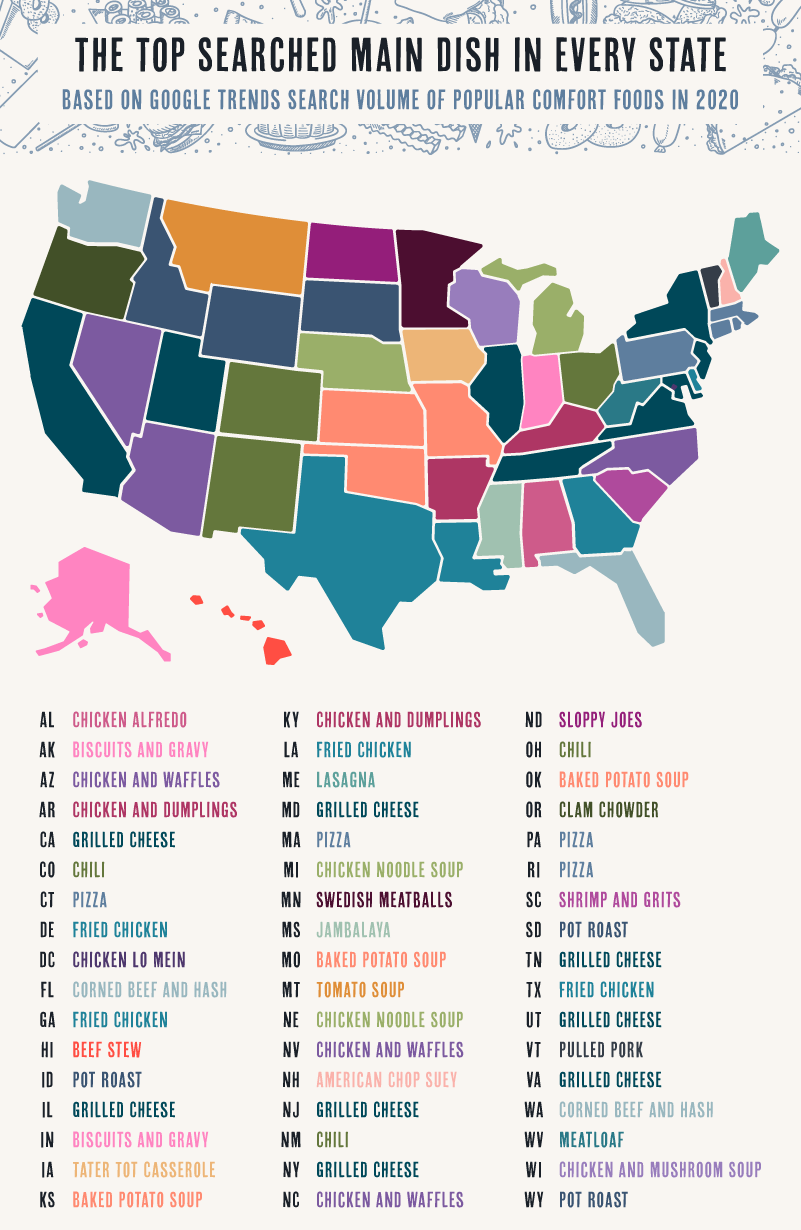 The most popular comfort food main dish in the country was once again grilled cheese. Hungry residents everywhere from New Jersey to Utah were googling grilled cheese. Overall, it was the top-searched main dish comfort food in eight states.
Behind grilled cheese came fried chicken, which was especially popular in Southern states including Georgia, Louisiana, and Texas. Interestingly, fried chicken lovers across the state may be craving very different types of crispy, juicy chicken. Certain states each have their own unique methods of sizzling the bird, differing in fry methods, spices, and cuts of meat. Just don't make us choose.
Other popular main dishes were pizza, baked potato soup, and chicken and waffles.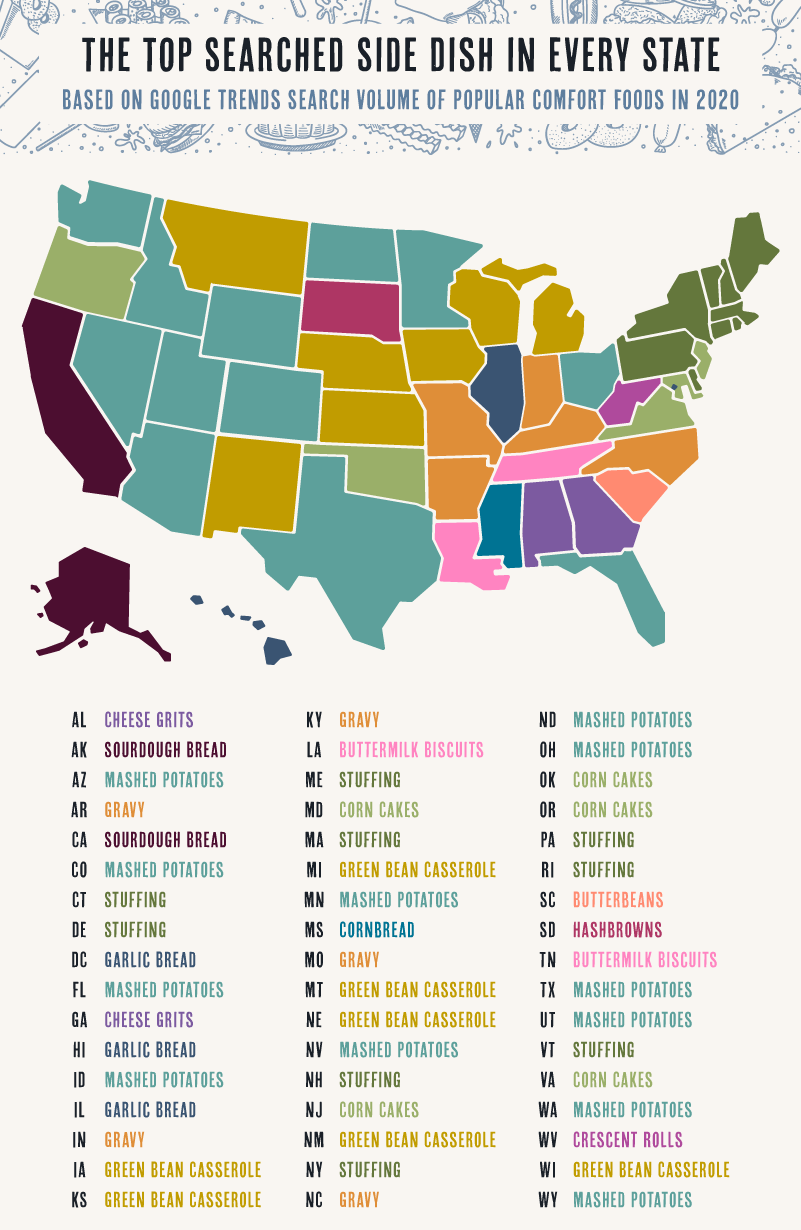 Moving on to the sides, the most popular comfort side dishes were mashed potatoes, stuffing, and green bean casserole.
In fact, in a surprising 12 states, mashed potatoes were the top-searched side dish. Who would have thought that a dish so simple would be the perfect comfort add-on?
We also noted that, of the most popular side breads, cornbread was the top-searched side in six states, outranking garlic bread, biscuits, sourdough, and crescent rolls. We could never get enough sweet and salty cornbread, but given the fan following of other types of restaurants biscuits and dinner rolls, it's popularity was a pleasant surprise.
Last but certainly not least, we looked at the most popular comfort food desserts. The clear winner was strawberry shortcake – the top-searched dessert in 19 states.
Some sweet-toothed eaters prefer biscuit bases versus syrup-soaked cakes and everyone has their own idea of what makes a perfect consistency for strawberry jam, but many people agree that this dessert makes you smile and say yum!
Other top-searched desserts favored chocoholics including chocolate chip cookies, chess pie, and brownies, though cinnamon rolls, monkey bread, and cheesecake were also popular.
Our Takeaways
Altogether, our biggest takeaway was that there is an incredible variety of Americans' favorite comfort foods. Luckily, comfort foods are only improved when we add our own personal touches and enjoy them in our own happy places.
What else makes comfort food even better? When you're eating it under LED lighting that's designed to make everything under them look better. Our products are designed to deliver superb color quality and complete controllability so not only does your comfort food taste good, it looks good too.
So here's to lights up on a home-cooked...or ordered-in comfort classic.